Gear - Item Level - Help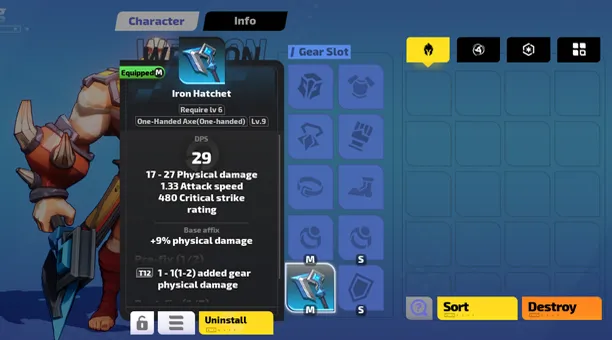 As you progress through the story, the level of maps will increase.
>In higher-level maps, you'll find gear with higher item levels>.
>Gear with a higher item level is more likely to receive rare affixes via crafting>.>
Gear - Affix Level - Help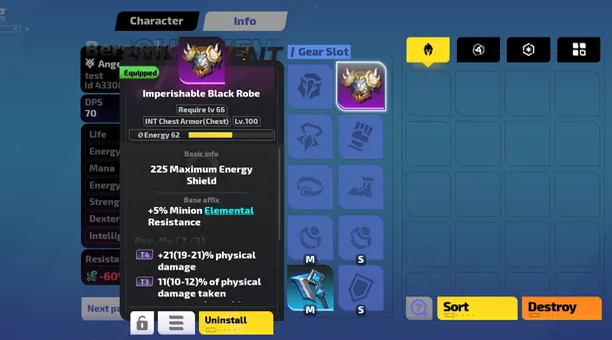 Each affix on gear is assigned a >level> that can be inspected in the gear details. Affix levels are related to the item level. For every 10 levels, a higher grade of affixes is unlocked.
The higher the affix level, the stronger the effects.>
Gear - Energy - Help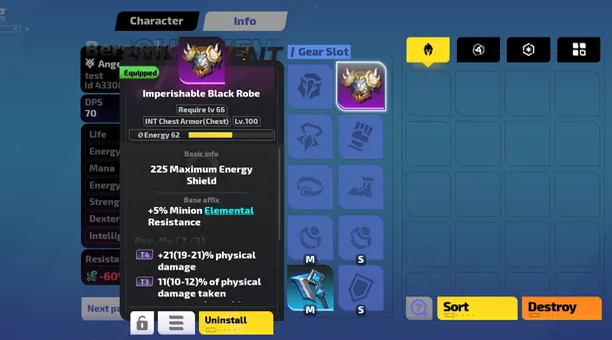 Energy is one of the base gear stats. It only appears on items with a sufficient item level.
Weapons and Chest Armor usually provide more Energy than other items while trinkets don't have Energy.
Gear - Legendary Gear Rarity - Help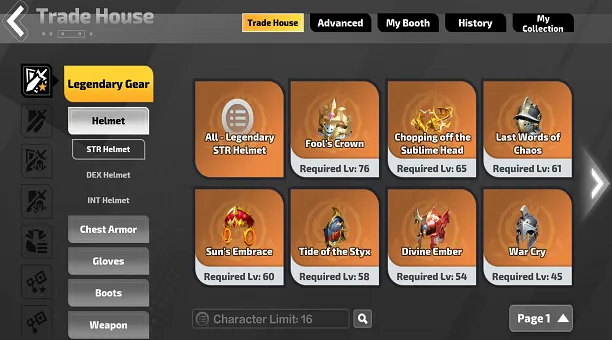 Legendary gear is categorized into various rarities: Common Legendary gear, Fine Legendary gear, Precious Legendary gear, Rare Legendary gear, and Ultimate Legendary gear. These rarities will be visually indicated by drop frames with distinct colors.
Gear - Trait Decks /18
icon
name
Magnanimous
Gear

---

% chance for Normal monsters to drop additional piece(s) of Super Rare gear
Expectant
Gear

---

% chance for Magic monsters to drop additional piece(s) of Basic Rare gear
Forthright
Gear

---

% chance for Rare monsters to drop additional piece(s) of Magic gear
Yearning
Gear

---

Increases the chance for gear to appear among base drops to % of the original probability
Admiring
Gear

---

% chance for the base of the gear dropped to change to a fine base
Unrestrained
Gear

---

% chance for Bosses to drop additional pieces of Legendary gear
Stability
Gear

---

Increases the chance for Fine Legendary Gear to appear among base drops to % of the original probability
Solemnity
Gear

---

% chance for Legendary gear dropped by bosses to become Fine Legendary gear
Desire
Gear

---

Draw

1

random gear Chaos Card(s)
Gear - Slight Vanity
Gear

---

Bosses drop additional piece(s) of rare gear
Gear - Vanity
Gear

---

Bosses drop additional piece(s) of rare gear
Radical
Gear

---

Increases level of dropped gear to Lv.
Gear - Luxury
Gear

---

There is a % chance that gear will drop pieces of Super Rare Gear with a fine base
Gear - Greed
Gear

---

% chance for Bosses to drop additional pieces of Legendary gear
Gear - Ultimate Greed
Gear

---

% chance for Bosses to drop additional pieces of Legendary gear
Weapon - Greed
Gear

---

Bosses drop additional Legendary Weapons
Armor - Greed
Gear

---

Bosses drop additional pieces of Legendary Armor
Trinket - Greed
Gear

---

Bosses drop additional Legendary Trinkets
Gear - Confusion Card Library /11
icon
name
Slightly Jealous I
Gear

---





+81

% additional Gear Drop Quantity
(Takes effect when at Max Progress)



+100

% additional Drop Quantity
Slightly Jealous II
Gear

---





+192

% additional Gear Drop Quantity
(Takes effect when at Max Progress)



+100

% additional Drop Quantity
Slightly Jealous III
Gear

---





+345

% additional Gear Drop Quantity
(Takes effect when at Max Progress)



+100

% additional Drop Quantity
Slight Vanity I
Gear

---





9.1

% chance for Rare monsters to drop 1 additional piece of Legendary gear
(Takes effect when at Max Progress)



+100

% additional Drop Quantity
Slight Vanity II
Gear

---





21.4

% chance for Rare monsters to drop 1 additional piece of Legendary gear
(Takes effect when at Max Progress)



+100

% additional Drop Quantity
Slight Vanity III
Gear

---





38.6

% chance for Rare monsters to drop 1 additional piece of Legendary gear
(Takes effect when at Max Progress)



+100

% additional Drop Quantity
Vanity
Gear

---





0.38

% chance for Rare monsters to drop 1 additional piece of Precious Legendary gear
(Takes effect when at Max Progress)



+100

% additional Drop Quantity
Extreme Vanity
Gear

---





0.14

% chance for Rare monsters to drop 1 additional piece of Rare Legendary gear
(Takes effect when at Max Progress)



+100

% additional Drop Quantity
Hypocrite
Gear

---





0.64

% chance for Rare monsters to drop 1 additional piece of Rare Legendary gear
(Takes effect when at Max Progress)



+100

% additional Drop Quantity
Extremely Jealous


---





+576

% additional Gear Drop Quantity
(Takes effect when at Max Progress)



+100

% additional Drop Quantity
Jealous


---





+518

% additional Gear Drop Quantity
(Takes effect when at Max Progress)



+100

% additional Drop Quantity