Profession /25
icon
name
God of Might
Main Stats: STR
Tags: >Attack, Fire>
Magnus, Unparalleled Power
Goddess of Hunting
Main Stats: DEX
Tags: >Speed, Lightning>
Hannah, Huntress of Stars
Goddess of Knowledge
Main Stats: INT
Tags: >Spell, Cold>
Israfel, Weaver of Life and Dreams
God of War
Main Attributes: Strength, Dexterity
Tags: >Probability, Physics>
Ralph, the undefeated champion of Eternal Battlefield
Goddess of Deception
Main Attributes: Dexterity, Wisdom
Tags: >Persistence, Corrosion>
Varière, a thaumaturgy who uses lies and illusions
God of Machines
Main Stats: STR, INT
Tags: >Summon, Sentry>
Uros, Maker of Immortality
The Brave
God of Might Legacy
Tags: >One-Handed Weapon, Armor>
Well Rounded Combat Expert
Onslaughter
Servant of God of Might, fused with Power of War
Tags: >Two-Handed Weapon, Life>
Valiant and bold, hack and slash
Warlord
Servant of God of Might, fused with Power of Machines
Tags: >Fire, Area>
Abide by the ways of knights and punish all evil
Marksman
Goddess of Hunting Legacy
Tags: >Projectile, Evade>
A sniper who masters the art of speed
Bladerunner
Servant of Goddess of Hunting, fused with Power of War
Tags: >Lightning, Attack Speed>
A cold blade that shines in shadows
Druid
Servant of Goddess of Hunting, fused with Power of Deception
Tags: >Cast Speed, Regain>
A hermit dedicated to guarding the balance of nature
Magister
Goddess of Knowledge Legacy
Tags: >Spell, Shield>
A Magister who seeks the origin of the world
Arcanist
Servant of Goddess of Knowledge, fused with Power of Deception
Tags: >Cold, Mana>
An occultist obsessed with arcane knowledge
Elementalist
Servant of Goddess of Knowledge, fused with Power of Machines
Tags: >Channeled, Elements>
Channel and manipulate the power of nature to brew the power of elements
Shadowdancer
God of War Legacy
Tags: >Physical, Triggered>
Comes from the shadows and vanishes into thin air
Ronin
Servant of God of War, fused with Power of Hunting
Tags: >Melee, Block>
Righteous and unpredictable
Ranger
Servant of God of War, fused with Power of Might
Tags: >Critical Strike, Distance>
An infiltrator who masters the art of both survival and powerful shots
Shadowmaster
Goddess of Deception Legacy
Tags: >Erosion, Seal>
An artist fascinated by the underground world
Psychic
Servant of Goddess of Deception, fused with Power of Hunting
Tags: >Duration, Debuff>
A Berserker who turns his back on common sense and seeks supernatural power in the forbidden knowledge
Warlock
Servant of Goddess of Deception, fused with Power of Knowledge
Tags: >Skill, Ailment>
An Archmage who believes in the power of darkness
Machinist
God of Machines Legacy
Tags: >Synthetic Troop, Sentry>
Technology is might
Steel Vanguard
Servant of God of Machines, fused with Power of Might
Tags: >Buff, Resistance>
Fears comes from a lack of firepower
Alchemist
Servant of Goddess of Machines, fused with Power of Knowledge
Tags: >Spirit Magus, Restoration>
With greater risks come greater hope
Icon_Talent_Book_Arcane_p
New God

Main Talent Node /153
icon
name
profession
Elimination
Eliminate enemies under

18

% Life on hit
God of Might
Burnout


+30

% additional Fire Damage


+25

% Fire Resistance for enemies suffering Severe Injury for

1

s
God of Might
Tenacity


+15

% chance to gain

1

stacks of Tenacity Blessing on Attack hit
Max Tenacity Blessing Stacks

+1

God of Might
Great Strength


-15

% Attack Speed


+30

% additional Attack Damage
God of Might
Fueling
Damage ignores enemy Fire Resistance
God of Might
Blazing Fire


+20

% additional Fire DoT Damage
Inflicts

10

Affliction when dealing Fire Damage. Cooldown:

0.1

s
God of Might
Judgment


+100

% chance to inflict Paralysis on hit


+50

% Critical Strike Damage against Paralyzed enemies
The Brave
Resolve
Own

2

additional stacks of Tenacity Blessing


+20

% Armor per stack of Tenacity Blessing owned
The Brave
Joined Force
Off-Hand Weapons do not participate in Attacks while Dual Wielding
Adds

50

% of the damage of the Off-Hand Weapon to the Main-Hand Weapon
The Brave
Well Matched


+120

% Multistrike Chance when an Elite is Nearby
The Brave
Ember Armor
Converts

50

% of Elemental Damage taken to Physical Damage


+1

% chance to gain Double Armor per

10

Strength
The Brave
Formless


+100

% additional Warcry effect


-30

% Warcry Duration
The Brave
Momentum


+40

% additional Attack Damage for the next Main Skill every

1

s. Refreshes the interval on defeat.
Onslaughter
Arcane
Converts

100

% of Mana Cost to Life Cost


+40

% Max Life
Onslaughter
Sacrifice
Changes the effect of each stack of Tenacity Blessing to: +6% additional Attack Speed, +8% Skill Area
Onslaughter
No Lose Ends


+300

Attack Critical Strike Rating at Full Life.


+35

% additional Attack Damage at Low Life
Onslaughter
Life Path
Double Life Regain
Life Regain is only effective when Life is lower than

50

%
Onslaughter
Survival Will


+100

% additional Life Regeneration Speed when at Low Life
Restores

1

% Life per second within

2

s after you take damage, stacking up to

15

times
Onslaughter
Wildfire


+100

% additional Fire Damage against Low Life enemies
Minions deal

+100

% additional Fire Damage against Low Life enemies
Warlord
Sweep


+15

% chance for Area Skills to deal Double Damage
Gains +10% Skill Radius per 1 enemy defeated recently, up to 100%
Warlord
Rock
Max Tenacity Blessing Stacks

+2




+15

% Fire Damage per stack of Tenacity Blessing owned
Warlord
True Flame
Enemies that die of Fire Damage will explode, dealing Fire DoT Damage per second equal to

85

% of the overflown damage for 2s to nearby enemies
Warlord
Focused Strike
Area skills deal up to

40

% additional damage to enemies at the center
Warlord
Starfire


+1

Max Ignite Effect


+20

% Ignite Duration
Warlord
Perception


+20

% Attack and Cast Speed


+1

% Attack and Cast Speed per

15

Dexterity
Goddess of Hunting
Paralyzed


-2

% target's Lightning Resistance for

2

s on Lightning Damage hit. Stacks up to

16

times
Goddess of Hunting
Flicker


+100

% additional Cooldown Recovery Speed for Mobility Skills


+20

% additional Attack and Cast Speed for Mobility Skills
Goddess of Hunting
Rushed


+20

% Movement Speed


+35

% additional damage if you have recently moved more than

5

m
Goddess of Hunting
Impermanence


-40

% additional min damage


+40

% additional max damage
Goddess of Hunting
Flash of Brilliance
Gains

1

stacks of Agility Blessing when using Non-Channeled Mobility Skills


25

% chance to get the max stacks of Agility Blessing when Agility Blessing is gained
Goddess of Hunting
Gale


100

% of the Projectile Speed bonus is also applied to Projectile Damage


+20

% Projectile Speed
Marksman
Mind Flow
+5% additional damage every

0.5

s, stacking up to 8 times and resetting after you take damage
Marksman
Euphoria
Max Agility Blessing Stacks

+1




+5

% additional Evasion per stack of Agility Blessing
Marksman
Three Birds with One Stone
Projectile Quantity

+2


Parabolic Projectile Splits

+1

Marksman
Master Escapist
You may evade Spells


-35

% additional Evasion on Spell Damage
Marksman
Close Range Fire
Projectiles deal up to

+35

% additional damage to enemies in proximity, and this damage reduces with the distance traveled by the Projectiles
Marksman
Conductive
Gains

5

% of Lightning Damage hit as Base Shock Damage
Bladerunner
Static
+8% Attack and Cast Speed every 0.5s while standing still, up to 40%


+5

% Life Regain and Energy Shield Regain while standing still
Bladerunner
Transition


+50

% chance for a Lightning Skill to deal

+75

% Critical Strike Damage when casting


+25

% chance for a Lightning Skill to deal

+150

% Critical Strike Damage when casting


+10

% chance for a Lightning Skill to deal

+250

% Critical Strike Damage when casting
Bladerunner
Queer Angle
Damage dealt by Minions and you against Shocked enemies triggers Lucky
Bladerunner
Quick Advancement
Multistrikes deal

55

% increasing damage
Bladerunner
Waiting Attack
Consumes all Agility Blessing when the Main Skill is used.

+10

% additional damage for this skill per stack of Agility Blessing consumed. The effect can not stack.
Bladerunner
Cultivation
+3% Health and Mana Regeneration Speed per skill used recently, up to 45%


+4

% Cast Speed for each skill recently used, stacking up to

15

times
Druid
Stability
Restores

3

% of Life when Regaining Life
Restores

3

% of Energy Shield while Regaining Energy Shield
Druid
Calm


-50

% additional damage taken at the Low Life and Low Energy Shield


+25

% additional damage taken at Full Life.
Druid
Acquaintance


+25

% to be triggered an additional time while using Main Spell Skills
Druid
Rebirth
Converts

50

% of Life Regain and Energy Shield Regain to Restoration Over Time


-25

% additional Regain Interval
Druid
Nowhere to Be Found
Max Agility Blessing Stacks

+2


Remove negative effects and DoT Damage on self upon gaining Agility Blessing
Druid
Beacon


+3

Max Spell Burst
Goddess of Knowledge
Chilly


+20

% additional Cold Damage taken by Nearby enemies
Prevents Nearby enemies from regenerating Life
Goddess of Knowledge
Winter
-5% enemy Cold Resistance every

0.2

s, stacking up to

8

times. The effect resets after the enemy moves

2

m
Goddess of Knowledge
Insight


+30

% additional Spell Damage


+25

% additional Skill Cost
Goddess of Knowledge
Burning Touch
Immune to Frostbite


+20

% additional Cold and Fire Damage
Goddess of Knowledge
Preparation
Gains

1

stacks of Focus Blessing for every

10

% Mana consumed


+25

% Mana Regeneration Speed per stack of Focus Blessing owned
Goddess of Knowledge
Bunch
Max Focus Blessing Stacks

+1




+3

% additional Spell Damage per stack of Focus Blessing owned
Magister
Inner Side
Doubled Energy Shield Regain
Magister
Shell


+30

% additional Max Energy Shield
Your Max Life is set to

2

Magister
Play Safe


100

% of the increase/decrease on Cast Speed also applies to Spell Burst Charge Speed


-50

% additional damage for skills that are not cast by Spell Burst
Magister
Barrier of Radiance
Energy Shield Charge started recently cannot be interrupted by damage


+50

% Energy Shield Charge Speed
Magister
Mind Blade
Adds the Main-Hand Weapon damage to Spells
Magister
Frostbitten


+1

% Cold Penetration per

5

Frostbites on enemy when dealing damage
Arcanist
Mana


20

% of damage is taken from Mana before life


+32

% Max Mana
Arcanist
Full Load
Skills cost

15

% of the current Mana


+35

% additional damage for the next skill when Mana reaches the max
Arcanist
Extreme Coldness


+30

% additional damage against enemies with max Frostbites
Inflicts Frostbites when dealing Cold Damage
Arcanist
Frozen Lotus
When defeating an enemy, deal Cold Spell Damage based on the Max Mana to its Nearby enemies. The damage increases with character level.
Arcanist
Mind Focus
Changes the base effect of Focus Blessing to: Adds Cold Damage equal to 2% of Max Mana to Attacks and Spells
Arcanist
Focus
Max Channeled Stacks

+2




+3

% additional damage for Channeled Skills per channeled stack
Elementalist
Adaptation
Converts

25

% of Physical Damage taken to random Elemental Damage


+4

% Max Elemental Resistance
Elementalist
Translucent


+20

% additional Lightning Damage if you have dealt Fire Damage recently


+20

% additional Cold Damage if you have dealt Lightning Damage recently


+20

% additional Fire Damage if you have dealt Cold Damage recently
Elementalist
Quick Ritual


+1

Channeled Stack


+15

% additional Cast Speed for Channeled Skills


+15

% additional Attack Speed for Channeled Skills
Elementalist
Peculiar Vibe


+30

% chance to inflict Elemental Ailment


+25

% additional damage against enemies with Elemental Ailment
Elementalist
Penetrating


+4

% Elemental Penetration per stack of Focus Blessing owned
Elementalist
Cohesion


+100

% additional Critical Strike Rating for the next Main Skill used every

2

s
God of War
Brutality


+35

% additional Physical Damage
Cannot deal Elemental Damage
God of War
Determined
Upon taking fatal damage, you keep at least 1 Life and become immune to DoT Damage for 1s. Cooldown:

8

s
God of War
Automatic Upgrade


+45

% Spell Block Chance if you have Blocked an Attack recently


+45

% Attack Block Chance if you have Blocked a Spell recently
God of War
Instant Smash
Critical Strike ignores Armor


+100

% Trauma Damage dealt by Critical Strikes
God of War
Endless Fervor
Have Fervor


+30

% Fervor effect
God of War
Blunt
Damage Ignores Armor
Damage dealt by Minions ignores Armor


+15

% chance for Physical Damage to inflict Paralysis on hit
Shadowdancer
Continuum


+250

Spell Critical Strike Rating for

4

s on attack Critical Strike
Shadowdancer
Ambition
Gains

10

points of Fervor Rating when hitting an Elite
Gains Fervor when there are enemies Nearby
Shadowdancer
Open Wounds


+40

% Trauma Duration when inflicting Trauma on Traumatized enemies


+125

% Critical Strike Damage against Traumatized enemies
Shadowdancer
Hair-trigger


+2

% additional damage of a skill for every

3

points of Fervor Rating when the skill is triggered


-20

% additional Cooldown Recovery Speed for Triggered Skills
Shadowdancer
Versatile


75

% of bonuses or reductions to Cast Speed also apply to Attack Speed
Shadowdancer
Sprinkle


20

% chance for Melee Skills to have

+80

% Skill Radius


+18

% additional Melee Damage
Ronin
Defensiveness
Block has a cooldown of

0.03

s


+25

% Block Ratio
Ronin
Centralize
Gains additional Fervor Rating equal to

25

% of the current Fervor Rating. Cooldown:

0.3

s
Consumes half of current Fervor Rating when hit.

-1

% additional damage per 1 point consumed
Ronin
Tradeoff


+25

% additional Attack Speed when Dexterity is no less than Strength


+25

% additional Attack Damage when Strength is no less than Dexterity
Ronin
Full Defense


+2

% Spell Block for every

3

% Attack Block
Ronin
Falling Leaves


-30

% additional damage for Weapons


+60

% additional Attack Damage
Ronin
Fluke
Critical Strikes have the Lucky effect while having at least

50

Fervor Rating
Ranger
Gravity


+20

% additional Melee Damage
Melee Skill has reversed knockback direction
Ranger
Shooting Arrows


+20

% additional Projectile Damage


+50

% Knockback distance
Ranger
Keep It Up
Fervor Rating gains an additional base effect: +2 Critical Strike Rating per Fervor Rating
Ranger
Impending


+6

% additional damage taken for enemies within

10

m every

0.25

s. Stacks up to

5

times
Ranger
Rapid Shots
Projectile Damage increases with the distance traveled, dealing up to

+35

% additional damage to Distant enemies
Ranger
Plague


40

% chance for DoT Damage to spread to targets Nearby


+25

% DoT Damage Duration
Goddess of Deception
Mixture
Convert

99

% of Elemental Damage to Erosion Damage


+99

% chance to Paralyze the target on hit
Goddess of Deception
Windwalk


+25

% additional DoT Damage taken by the target during the

2

s after you deal DoT Damage. This effect cannot stack.
Goddess of Deception
Subtle Impact
Blur gains an additional effect: +25% additional DoT Damage taken by Nearby enemies
Goddess of Deception
Forbidden Power


+35

% additional Erosion Damage
Cannot regenerate Life
Goddess of Deception
Poisoned Relief


+25

% injury buffer


-15

% additional damage taken at Low Life
Goddess of Deception
Dirt


+10

% additional Erosion Damage


+10

% additional damage to Life
Shadowmaster
Ward
Adds

15

% of Sealed Mana as Energy Shield
Shadowmaster
Stealth Stab


-20

% additional damage taken while Blur is active


+20

% additional damage for

3

s after Blur ends
Shadowmaster
Beyond Cure


-1

% Erosion Resistance for enemies per stack of Wilt you've inflicted
You can only inflict

50

stacks of Wilt
Shadowmaster
Twisted Belief


+3

Erosion Skill Level


-3

Elemental Skill Level
Shadowmaster
Life Conversion
Adds

20

% of Sealed Life as Mana


-15

% additional Sealed Mana
Shadowmaster
Affliction


+10

Affliction inflicted per second


+75

% Affliction effect
Psychic
Holiness
Immune to curse


-20

% additional damage taken from Cursed enemies
Psychic
Daze
Blur gains an additional effect: +100% control effects and +15% Ailment Damage
Psychic
More With Less


+40

% additional DoT Damage


-20

% additional DoT Damage Duration
Psychic
Verbal Abuse
You can cast

1

additional Curses


+15

% curse effect
Psychic
Reap Purification
Additionally settles

80

% of the remaining total damage when Reaping
Reaping removes all the DoT Damage from the target
Psychic
Prelude
Using a Non-Main Skill will make the next Main Skill deal

+30

% additional damage. The effect can not stack
Warlock
Vile
Duration of Ailments caused by Critical Strikes is doubled


+1

% additional Ailment Damage per

3

% of Critical Strike Damage
Warlock
Indifference


15

% of bonuses or reductions to Attack Speed also apply to Cooldown Recovery Speed


15

% of the effects on Cast Speed is applied to Cooldown Recovery Speed
Warlock
Off The Beaten Track


+3

Support Skill Level
Support Skill's Mana Multiplier is set to 105%
Warlock
Dirty Tricks
Guaranteed to inflict all types of Ailment on hit
Each Ailment on target grants

+6

% additional damage on hit
Warlock
Stab In The Back
While Blur is active, lose Blur after using a Main Skill, and the skill deals

+35

% additional damage
Warlock
Orders


+20

% additional Minion Damage


+100

% additional Summon Skill Cast Speed
God of Machines
Sentry
Max Sentry Quantity

+1




+100

% additional Cast Speed for Sentry Skills
God of Machines
Shrink Back


+35

% chance to gain a Barrier when taking damage
God of Machines
Mighty Guard


+2

Minion Skill Level
+

4

Command per second
God of Machines
Overly Modified


+30

% additional Sentry Damage,

-50

% non-Sentry Active Skill damage
God of Machines
Isomorphic Arms
Main-Hand Weapon is applied to Minions
God of Machines
Boss
Max Synthetic Troop Minion Quantity

+1




+50

% Synthetic Troop Minion Duration
Machinist
Heat Up


+30

% additional Sentry Damage if Sentry Skill was used recently


-30

% additional Sentry Start Time
Machinist
Broken Shell


99

% fixed Barrier damage absorption
Barrier can only take one hit


+150

% Barrier Absorption
Machinist
Burning Aggression
Gains

20

point(s) of Command every

2

s when there is a Boss within

10

m


50

% chance for Minion's attacks to ignore Armor
Machinist
Co-resonance
Attack Speed bonus and

100

% of additional bonus are also applied to Attack Sentries' Cast Frequency
Cast Speed bonus and

100

% of additional bonus are also applied to Spell Sentries' Cast Frequency


+25

% chance for the Sentry to deal Double Damage
Machinist
Kinetic Conversion


-20

% extra damage taken while moving


100

% chance to gain a Barrier for every

5

m you move
Machinist
Reflection


+20

% Aura Effect


+15

% damage for each type of Aura you are affected by
Steel Vanguard
Resistance


+3

% Max Elemental Resistance
Damage Penetrates

15

% Elemental Resistance
Steel Vanguard
Curtain


+35

% Barrier Absorption


40

% Missing Life and Energy Shield Restored when losing Barrier
Steel Vanguard
Knowledgeable


+55

% Empower Skill Effect


+38

% Defensive Skill Effect
Steel Vanguard
Poison Immunity


+5

% Max Erosion Resistance
Converts

25

% of Physical Damage and Elemental Damage taken to Erosion Damage
Steel Vanguard
Panacea
Restoration Skills:

+50

% restoration effect
Restoration effect from Restoration Skills cannot be removed
Steel Vanguard
Source


-100

% Sealed Mana for Spirit Magus Skills
Alchemist
Contingency


+1

% additional Life Regeneration Speed for every

2

% of Life lost


+1

% additional Mana Regeneration Speed for every

2

% of Mana lost
Alchemist
Empower
Adds

25

% of Max Life to Barrier Absorption
Adds

25

% of Max Energy Shield to Barrier Absorption
Alchemist
Battle Trumpet


+100

% Spirit Magus Skill Cooldown Recovery Speed


+25

% additional Minion Attack and Cast Speed
Alchemist
Active Superflux
Overflown Mana regeneration applied to Life
Regenerates

3

% Mana per second
Alchemist
Talons of Abyss


+50

% chance for Minions to inflict Ailment
Minions are immune to DoT Damage
Adds

50

Base Ailment Damage to Minions
Alchemist
Icon_Talent_68a
Peaceful Realm
Gains

1

point(s) of Order every

3

s


+25

% Order effect
New God
Icon_Talent_68a
Chaotic Realm
Loses

1

point(s) of Order on defeat
Loses half of the current Order upon encountering the first Boss


+25

% Chaos effect
New God
Icon_Talent_68a
Silent Realm
Has

50

point(s) of fixed Order


+25

% Order effect


+25

% Chaos effect
New God
Icon_Talent_68a
Dying Dragon


+100

% Skill Area and

+60

% additional damage for the next several Main Attack Skills after the Tenacity Blessing is devoured. Grants the buff to +1 Main Attack Skill for every stack of Tenacity Blessing devoured.
The new god is devouring Six Gods' blessings
New God
Icon_Talent_68a
Falling Stars


+120

% Attack and Cast Speed for the next several Main Attack Skills after the Agility Blessing is devoured. Grants the buff to +1 Main Attack Skill for every stack of Agility Blessing devoured.
The new god is devouring Six Gods' blessings
New God
Icon_Talent_68a
Broken Dream


+100

% chance to deal double damage for the next several Main Attack Skills after the Focus Blessing is devoured. Grants the buff to +1 Main Attack Skill for every stack of Focus Blessing devoured.
The new god is devouring Six Gods' blessings
New God
Icon_Talent_68a
End of War


+4

% Critical Strike Damage for every point of Fervor Rating devoured after Fervor is devoured. The increased damage will diminish to 0 during the next

4

s
The new god is devouring Six Gods' blessings
New God
Icon_Talent_68a
Revealed Truth


+1

% crowd control effect for every point of Blur Rating devoured after Blur is devoured. The increased effect will diminish to 0 duirng the next

4

s.
The new god is devouring Six Gods' blessings
New God
Icon_Talent_68a
Ruined City
Restores

1.5

Life and Energy Shield for every point of Barrier Rating devoured during the

4

s after Barrier is devoured
The new god is devouring Six Gods' blessings
New God
Talent /1077
icon
name
profession
Elimination
Eliminate enemies under

18

% Life on hit
God of Might
Burnout


+30

% additional Fire Damage


+25

% Fire Resistance for enemies suffering Severe Injury for

1

s
God of Might
Tenacity


+15

% chance to gain

1

stacks of Tenacity Blessing on Attack hit
Max Tenacity Blessing Stacks

+1

God of Might
Great Strength


-15

% Attack Speed


+30

% additional Attack Damage
God of Might
Fueling
Damage ignores enemy Fire Resistance
God of Might
Blazing Fire


+20

% additional Fire DoT Damage
Inflicts

10

Affliction when dealing Fire Damage. Cooldown:

0.1

s
God of Might
Minor Talent


+12

% damage
God of Might
Minor Talent


+4

% Attack Speed
God of Might
Medium Talent


+24

% damage
God of Might
Minor Talent


+4

% Cast Speed
God of Might
Minor Talent


+15

% Attack Critical Strike Rating


+5

% Critical Strike Damage
God of Might
Medium Talent


+8

% Attack Speed


-10

Attack Skill Cost
God of Might
Minor Talent


+10

% Armor


+4

% Max Life
God of Might
Medium Talent


+6

% Cast Speed


+20

% Fire Skill Radius
God of Might
Minor Talent


+10

% Ignite damage


+4

% chance to Ignite targets
God of Might
Medium Talent


+8

% Projectile Speed


+40

% Ranged Attack Critical Strike Rating
God of Might
Medium Talent


+20

% Skill Radius


+15

% Critical Strike Damage to Melee attacks
God of Might
Medium Talent


+18

% Armor


+8

% Max Life
God of Might
Medium Talent


+20

% Ignite damage


+8

% chance to Ignite targets
God of Might
Minor Talent


+12

% Attack Damage
God of Might
Minor Talent


+10

% Tenacity Blessing Duration


+4

% Elemental Resistance while Tenacity Blessing is active
God of Might
Minor Talent


+12

% Fire Damage
God of Might
Minor Talent


+15

Strength
God of Might
Medium Talent


+4

% additional damage for Weapons
God of Might
Minor Talent


+4

% Max Life


0.8

% Life Regain
God of Might
Medium Talent


1.5

% Life Regeneration Speed per stack of Tenacity Blessing owned


+4

% Armor per stack of Tenacity Blessing owned
God of Might
Medium Talent


+10

% Fire Resistance
Converts

25

% Physical Damage to Fire Damage
God of Might
Medium Talent


+3

% Strength


+1

% chance to deal Double Damage Fire Damage per

100

Strength
God of Might
Medium Talent
Adds

3

-

6

Physical Damage per

10

level
God of Might
Medium Talent


+12

% Max Life


2.4

% Life Regain
God of Might
Medium Talent


+20

% additional Fire Damage dealt by the next Main Skill every

2

s
God of Might
Judgment


+100

% chance to inflict Paralysis on hit


+50

% Critical Strike Damage against Paralyzed enemies
The Brave
Resolve
Own

2

additional stacks of Tenacity Blessing


+20

% Armor per stack of Tenacity Blessing owned
The Brave
Joined Force
Off-Hand Weapons do not participate in Attacks while Dual Wielding
Adds

50

% of the damage of the Off-Hand Weapon to the Main-Hand Weapon
The Brave
Well Matched


+120

% Multistrike Chance when an Elite is Nearby
The Brave
Ember Armor
Converts

50

% of Elemental Damage taken to Physical Damage


+1

% chance to gain Double Armor per

10

Strength
The Brave
Formless


+100

% additional Warcry effect


-30

% Warcry Duration
The Brave
Minor Talent


+12

% Attack Damage
The Brave
Minor Talent


+5

% Max Life
The Brave
Minor Talent


+12

% Armor
The Brave
Medium Talent


+24

% Attack Damage
The Brave
Minor Talent


+4

% Attack Speed
The Brave
Medium Talent


+8

% Max Life
Regenerates

0.8

% Life per second
The Brave
Minor Talent


+635

Armor
The Brave
Medium Talent


+18

% Armor


-5

% additional Physical Damage taken
The Brave
Minor Talent


+20

% Attack Critical Strike Rating
The Brave
Medium Talent


+6

% Attack Speed


5

Mana restored on hit
The Brave
Minor Talent


+4

% Attack Block Chance
The Brave
Medium Talent


+1270

Armor
The Brave
Minor Talent


+4

% Max Life


+10

% Fire Resistance
The Brave
Medium Talent


+30

% Attack Critical Strike Rating


+15

% Critical Strike Damage
The Brave
Minor Talent


+1

% Life Regain
The Brave
Medium Talent


+6

% Attack Block Chance


+30

% additional Defense gained from Energy Shield
The Brave
Minor Talent


+10

% Tenacity Blessing Duration


+4

% Elemental Resistance while Tenacity Blessing is active
The Brave
Medium Talent


+8

% Max Life


+8

% Elemental Resistance
The Brave
Minor Talent
Adds

8

-

12

Physical Damage to Attacks
The Brave
Medium Talent


+2

% Life Regain
The Brave
Minor Talent


+12

% Skill Radius


+4

% Projectile Speed
The Brave
Medium Talent


+15

% chance to gain

1

stacks of Tenacity Blessing when taking Damage
The Brave
Medium Talent
Adds

16

-

24

Physical Damage to Attacks
The Brave
Minor Talent


+6

% Warcry Effect
The Brave
Medium Talent


+20

% Skill Radius


+8

% Projectile Speed


+1

Horizontal Projectile Penetrations
The Brave
Medium Talent


+1

% additional Armor per stack of Tenacity Blessing owned
The Brave
Minor Talent
-

50

Physical Damage taken
The Brave
Minor Talent


+12

% Attack Damage
The Brave
Medium Talent


+10

% Warcry Cooldown Recovery Speed
The Brave
Minor Talent


+12

% Armor
The Brave
Medium Talent


-10

% additional Physical Damage taken
The Brave
Medium Talent


+8

% chance to Multistrike when Dual Wielding


+4

% Attack Block Chance while Dual Wielding
The Brave
Medium Talent


+8

% Attack Speed while holding a Shield
The Brave
Minor Talent


+15

Strength
The Brave
Medium Talent


+15

% chance to gain double Armor
The Brave
Minor Talent


+12

% Armor
The Brave
Medium Talent
Multistrikes deal

16

% increasing damage while Dual Wielding
The Brave
Medium Talent


+8

% additional Main-Hand Weapon Damage while holding a Shield
The Brave
Medium Talent


+9

% Strength
The Brave
Medium Talent


+20

% additional Defense gained from Chest Armor
The Brave
Medium Talent


0.5

% Elemental Resistance per

5000

Armor. Stacks up to

12

% .


0.5

% Erosion Resistance per

5000

Armor. Stacks up to

18

% .
The Brave
Momentum


+40

% additional Attack Damage for the next Main Skill every

1

s. Refreshes the interval on defeat.
Onslaughter
Arcane
Converts

100

% of Mana Cost to Life Cost


+40

% Max Life
Onslaughter
Sacrifice
Changes the effect of each stack of Tenacity Blessing to: +6% additional Attack Speed, +8% Skill Area
Onslaughter
No Lose Ends


+300

Attack Critical Strike Rating at Full Life.


+35

% additional Attack Damage at Low Life
Onslaughter
Life Path
Double Life Regain
Life Regain is only effective when Life is lower than

50

%
Onslaughter
Survival Will


+100

% additional Life Regeneration Speed when at Low Life
Restores

1

% Life per second within

2

s after you take damage, stacking up to

15

times
Onslaughter
Minor Talent


+12

% Attack Damage
Onslaughter
Minor Talent


+6

% Defense
Onslaughter
Minor Talent


+5

% Max Life
Onslaughter
Medium Talent


+24

% Attack Damage
Onslaughter
Minor Talent


+4

% Attack Speed
Onslaughter
Medium Talent


+12

% Defense
Onslaughter
Minor Talent
Regenerates

0.5

% Life per second
Onslaughter
Medium Talent


+10

% Max Life
Onslaughter
Minor Talent


+20

% Attack Critical Strike Rating
Onslaughter
Medium Talent


+6

% Attack Speed


5

Mana restored on hit
Onslaughter
Minor Talent


+12

% Skill Radius
Onslaughter
Medium Talent
Regenerates

1

% Life per second
Onslaughter
Minor Talent


+12

% Armor
Onslaughter
Medium Talent


+30

% Attack Critical Strike Rating


+15

% Critical Strike Damage
Onslaughter
Minor Talent


+12

% Attack Damage
Onslaughter
Medium Talent


+24

% Skill Radius
Onslaughter
Minor Talent


+1

% Life Regain
Onslaughter
Medium Talent


+18

% Armor
Restores

35

% of Missing Life when suffer a Severe Injury
Onslaughter
Minor Talent


+2

% additional damage for Weapons
Onslaughter
Medium Talent


+36

% Attack Damage


-4

% Attack Speed
Onslaughter
Minor Talent


+4

% Attack Block Chance
Onslaughter
Medium Talent


+2

% Life Regain
Onslaughter
Minor Talent


+5

% Max Life
Onslaughter
Medium Talent


+4

% additional Base Melee Damage of Two-Handed weapons
Onslaughter
Medium Talent


+4

% additional Ranged Two-Handed Weapon Base Attack Speed
Onslaughter
Medium Talent


+6

% Attack Block Chance


1.5

% Block Ratio when holding a Two-Handeded weapon
Onslaughter
Medium Talent


+10

% Skill Cost


+8

% Life Regeneration Speed
Onslaughter
Medium Talent


+8

% Max Life


-10

% Skill Cost
Onslaughter
Minor Talent


+4

% Attack Speed
Onslaughter
Minor Talent


+3

% Movement Speed


+4

% Mobility Skill Attack and Cast Speed
Onslaughter
Minor Talent


+5

% Max Life
Onslaughter
Minor Talent


+15

Strength
Onslaughter
Minor Talent


+12

% Attack Damage
Onslaughter
Medium Talent


+4

% additional damage to Life
Onslaughter
Medium Talent


+20

% Movement Speed for

2

s on defeat
Onslaughter
Medium Talent


-5

% additional Life Regain Interval
Consumes

2

% of current Life when you use Attack Skills
Onslaughter
Medium Talent


+50

Max Life
Onslaughter
Medium Talent


+25

% additional Attack Damage against Full Life enemies.
Onslaughter
Medium Talent


0.5

% Attack Speed for every 1% of Life lost
Onslaughter
Medium Talent


+25

% Mobility Skill Attack and Cast Speed for

2

s after defeating enemies
Onslaughter
Medium Talent


+1

Max Life per

8

Strength
Onslaughter
Wildfire


+100

% additional Fire Damage against Low Life enemies
Minions deal

+100

% additional Fire Damage against Low Life enemies
Warlord
Sweep


+15

% chance for Area Skills to deal Double Damage
Gains +10% Skill Radius per 1 enemy defeated recently, up to 100%
Warlord
Rock
Max Tenacity Blessing Stacks

+2




+15

% Fire Damage per stack of Tenacity Blessing owned
Warlord
True Flame
Enemies that die of Fire Damage will explode, dealing Fire DoT Damage per second equal to

85

% of the overflown damage for 2s to nearby enemies
Warlord
Focused Strike
Area skills deal up to

40

% additional damage to enemies at the center
Warlord
Starfire


+1

Max Ignite Effect


+20

% Ignite Duration
Warlord
Minor Talent


+12

% Fire Damage


+15

% Minion Fire Damage
Warlord
Minor Talent


+5

% Max Life


+5

% Max Energy Shield
Warlord
Minor Talent


+12

% Area Damage
Warlord
Medium Talent


+24

% Fire Damage


+30

% Minion Fire Damage
Warlord
Minor Talent


+4

% Attack and Cast Speed
Warlord
Medium Talent


+10

% Max Life


+10

% Max Energy Shield
Warlord
Minor Talent


+12

% Skill Radius
Warlord
Medium Talent


+24

% Area Damage
Warlord
Minor Talent


+4

% chance to Ignite targets


+10

% Ignite damage


+4

% Ignite chance for Minions
Warlord
Medium Talent


+8

% Attack and Cast Speed
Warlord
Minor Talent


+8

% Max Mana
Warlord
Medium Talent


+24

% Skill Radius
Warlord
Minor Talent


+12

% Armor
Warlord
Medium Talent


+20

% Ignite damage


+2

% Fire Penetration for IgniteDamage


+8

% Ignite chance for Minions
Warlord
Minor Talent


+12

% Fire Damage


+15

% Minion Fire Damage
Warlord
Medium Talent


+8

% Max Mana


-3

% Sealed Mana
Warlord
Minor Talent


+5

% Max Life
Warlord
Medium Talent


+18

% Armor


+4

% Elemental Resistance
Warlord
Minor Talent


+20

% Critical Strike Rating
Warlord
Medium Talent


+4

% Fire Penetration


+4

% Minion Fire Penetration
Warlord
Minor Talent


+1

% Life Regain


1.5

% Energy Shield Regain
Warlord
Medium Talent


+8

% Max Life
Regenerates

0.8

% Life per second
Warlord
Minor Talent


+3

% Aura Effect
Warlord
Medium Talent


+30

% Critical Strike Rating


+15

% Critical Strike Damage
Warlord
Minor Talent


+12

% Fire Damage


+15

% Minion Fire Damage
Warlord
Medium Talent


+2

% Life Regain


+3

% Energy Shield Regain
Warlord
Minor Talent


+10

% Tenacity Blessing Duration


+4

% Elemental Resistance while Tenacity Blessing is active
Warlord
Medium Talent


+6

% Aura Effect


+6

% Aura Radius
Warlord
Minor Talent


+12

% Fire Damage


+15

% Minion Fire Damage
Warlord
Medium Talent
Converts

50

% Physical Damage to Fire Damage
Converts

50

% of Minion's Physical Damage to Fire Damage
Warlord
Minor Talent


+15

Strength
Warlord
Medium Talent
Own

1

additional stacks of Tenacity Blessing


+5

% Skill Radius per stack of Tenacity Blessing
Warlord
Minor Talent


+12

% Area Damage
Warlord
Medium Talent


+45

% Fire Damage against Low Life enemies


+55

% Minion Fire Damage against enemies at Low Life
Warlord
Minor Talent


+12

% Fire DoT Damage
Warlord
Medium Talent


+1

% Fire Damage per

50

Strength
Warlord
Minor Talent


+12

% Skill Radius
Warlord
Medium Talent


+4

% chance to deal Double Damage
Warlord
Medium Talent


+1

Fire Skill Level
Warlord
Medium Talent


+20

% Affliction effect


+10

Affliction inflicted per second
Warlord
Medium Talent


+100

% Skill Radius if Main Skill is not used in the last

2

s
Warlord
Medium Talent
Weakens enemies when Area Skills deal damage
Warlord
Perception


+20

% Attack and Cast Speed


+1

% Attack and Cast Speed per

15

Dexterity
Goddess of Hunting
Paralyzed


-2

% target's Lightning Resistance for

2

s on Lightning Damage hit. Stacks up to

16

times
Goddess of Hunting
Flicker


+100

% additional Cooldown Recovery Speed for Mobility Skills


+20

% additional Attack and Cast Speed for Mobility Skills
Goddess of Hunting
Rushed


+20

% Movement Speed


+35

% additional damage if you have recently moved more than

5

m
Goddess of Hunting
Impermanence


-40

% additional min damage


+40

% additional max damage
Goddess of Hunting
Flash of Brilliance
Gains

1

stacks of Agility Blessing when using Non-Channeled Mobility Skills


25

% chance to get the max stacks of Agility Blessing when Agility Blessing is gained
Goddess of Hunting
Minor Talent


+12

% damage
Goddess of Hunting
Minor Talent


+4

% Attack and Cast Speed
Goddess of Hunting
Medium Talent


+24

% damage
Goddess of Hunting
Minor Talent


+5

% Max Life


+5

% Max Energy Shield
Goddess of Hunting
Minor Talent


+3

% Movement Speed
Goddess of Hunting
Medium Talent


+8

% Attack and Cast Speed
Goddess of Hunting
Minor Talent


+8

% Max Mana
Goddess of Hunting
Medium Talent


+10

% Max Life


+10

% Max Energy Shield
Goddess of Hunting
Minor Talent


+12

% Evasion
Goddess of Hunting
Medium Talent


+6

% Movement Speed


+15

% Cooldown Recovery Speed for Mobility Skills
Goddess of Hunting
Minor Talent


+10

Dexterity


+8

% damage
Goddess of Hunting
Medium Talent


+12

% Max Mana


5

Mana restored on hit
Goddess of Hunting
Minor Talent


+10

% Lightning Damage


+4

% Shock chance
Goddess of Hunting
Medium Talent


+18

% Evasion


+20

% chance to gain

1

stacks of Agility Blessing on Evasion
Goddess of Hunting
Minor Talent


+4

% Attack Speed
Goddess of Hunting
Medium Talent


+5

% Dexterity


+16

% damage
Goddess of Hunting
Medium Talent


+8

% Shock chance
Converts

25

% of Physical Damage to Lightning Damage
Goddess of Hunting
Medium Talent


+40

% Attack Critical Strike Rating
Goddess of Hunting
Minor Talent


+4

% Cast Speed
Goddess of Hunting
Minor Talent


+1

% Life Regain


1.5

% Energy Shield Regain
Goddess of Hunting
Medium Talent
Lightning Skill settles Shock Damage

1

additional times on hit
Goddess of Hunting
Minor Talent


+12

% Lightning Damage
Goddess of Hunting
Medium Talent


+8

% additional Attack Speed if you have dealt a Critical Strike recently
Goddess of Hunting
Medium Talent
For each Spell Skill used recently,

+2

% Critical Strike Damage
Goddess of Hunting
Medium Talent


+3

% Life Regain


4.5

% Energy Shield Regain
Goddess of Hunting
Medium Talent


+9

% additional max damage
Goddess of Hunting
Gale


100

% of the Projectile Speed bonus is also applied to Projectile Damage


+20

% Projectile Speed
Marksman
Mind Flow
+5% additional damage every

0.5

s, stacking up to 8 times and resetting after you take damage
Marksman
Euphoria
Max Agility Blessing Stacks

+1




+5

% additional Evasion per stack of Agility Blessing
Marksman
Three Birds with One Stone
Projectile Quantity

+2


Parabolic Projectile Splits

+1

Marksman
Master Escapist
You may evade Spells


-35

% additional Evasion on Spell Damage
Marksman
Close Range Fire
Projectiles deal up to

+35

% additional damage to enemies in proximity, and this damage reduces with the distance traveled by the Projectiles
Marksman
Minor Talent


+12

% Projectile Damage
Marksman
Minor Talent


+5

% Max Life
Marksman
Minor Talent


+12

% Evasion
Marksman
Medium Talent


+24

% Projectile Damage
Marksman
Minor Talent


+4

% Attack and Cast Speed
Marksman
Medium Talent


+10

% Max Life
Marksman
Minor Talent


+8

% Max Mana
Marksman
Medium Talent


+24

% Evasion
Marksman
Minor Talent


+4

% Projectile Speed
Marksman
Medium Talent


+8

% Attack and Cast Speed
Marksman
Minor Talent


+5

% Max Energy Shield
Marksman
Medium Talent


+12

% Max Mana


5

Mana restored on hit
Marksman
Minor Talent


+15

Dexterity
Marksman
Medium Talent


+8

% Projectile Speed
Marksman
Minor Talent


+20

% Critical Strike Rating
Marksman
Medium Talent


+10

% Max Energy Shield
Marksman
Minor Talent


+12

% Evasion
Marksman
Medium Talent


+1

% Evasion per

20

Dexterity
Marksman
Minor Talent


+12

% Ailment Damage
Marksman
Medium Talent


+40

% Critical Strike Rating


+12

% chance to cause Knockbacks on Critical Strike
Marksman
Minor Talent


+1

% Life Regain


1.5

% Energy Shield Regain
Marksman
Medium Talent


+18

% Evasion


+18

% Lightning Resistance
Marksman
Minor Talent


+3

% Movement Speed


+10

% Evasion
Marksman
Medium Talent


+4

% additional Ailment Damage dealt by Projectiles
Marksman
Minor Talent


+4

% Ranged Attack Speed
Marksman
Medium Talent


+2

% Life Regain


+3

% Energy Shield Regain
Marksman
Minor Talent


+2

% chance to avoid damage
Marksman
Medium Talent


+6

% Movement Speed


+50

% Evasion while moving
Marksman
Minor Talent


+12

% Projectile Damage
Marksman
Medium Talent


+16

% chance for Ranged Attacks to Multistrike
Marksman
Medium Talent


+10

% chance to avoid Projectile Damage


+8

% additional Melee Damage taken
Marksman
Medium Talent


+10

% chance to avoid Melee Damage


+8

% additional Projectile Damage taken
Marksman
Medium Talent
Parabolic Projectile Splits

+1

Marksman
Minor Talent


+4

% Projectile Speed
Marksman
Minor Talent


+5

% Max Life


+5

% Max Energy Shield
Marksman
Minor Talent


+635

Evasion
Marksman
Minor Talent


+10

% Agility Blessing Duration


+2

% Movement Speed when Agility Blessing is active
Marksman
Medium Talent


+1

Jumps
Marksman
Medium Talent


+2

Horizontal Projectile Penetrations
Marksman
Medium Talent


+8

% Max Life


+8

% Max Energy Shield
Restores

12

% Missing Life on Evasion
Restores

12

% of Missing Energy Shield on Evasion
Marksman
Medium Talent


+30

% additional Evasion gained from Chest Armor
Marksman
Medium Talent


+10

% chance to gain

1

stacks of Agility Blessing when hitting an Elite
Marksman
Conductive
Gains

5

% of Lightning Damage hit as Base Shock Damage
Bladerunner
Static
+8% Attack and Cast Speed every 0.5s while standing still, up to 40%


+5

% Life Regain and Energy Shield Regain while standing still
Bladerunner
Transition


+50

% chance for a Lightning Skill to deal

+75

% Critical Strike Damage when casting


+25

% chance for a Lightning Skill to deal

+150

% Critical Strike Damage when casting


+10

% chance for a Lightning Skill to deal

+250

% Critical Strike Damage when casting
Bladerunner
Queer Angle
Damage dealt by Minions and you against Shocked enemies triggers Lucky
Bladerunner
Quick Advancement
Multistrikes deal

55

% increasing damage
Bladerunner
Waiting Attack
Consumes all Agility Blessing when the Main Skill is used.

+10

% additional damage for this skill per stack of Agility Blessing consumed. The effect can not stack.
Bladerunner
Minor Talent


+12

% Lightning Damage


+15

% Minion Lightning Damage
Bladerunner
Minor Talent


+5

% Max Life
Bladerunner
Minor Talent


+4

% Attack Speed
Bladerunner
Medium Talent


+24

% Lightning Damage


+30

% Minion Lightning Damage
Bladerunner
Minor Talent


+20

% Critical Strike Rating
Bladerunner
Medium Talent


+10

% Max Life
Bladerunner
Minor Talent


+12

% Evasion
Bladerunner
Medium Talent


+8

% Attack Speed
Bladerunner
Minor Talent


+5

% Max Life
Bladerunner
Medium Talent


+30

% Critical Strike Rating


+15

% Critical Strike Damage
Bladerunner
Minor Talent


+5

% Max Energy Shield
Bladerunner
Medium Talent


+24

% Evasion
Bladerunner
Minor Talent


+12

% damage
Bladerunner
Medium Talent


+8

% Max Life


+18

% Lightning Resistance
Bladerunner
Minor Talent


+5

% Shock chance
Bladerunner
Medium Talent


+10

% Max Energy Shield
Bladerunner
Minor Talent


+12

% Skill Radius


+4

% Projectile Speed
Bladerunner
Medium Talent


+18

% damage


5

Mana restored on hit
Bladerunner
Minor Talent


+12

% Lightning Damage


+15

% Minion Lightning Damage
Bladerunner
Medium Talent


+8

% Shock chance


+8

% chance to Shock on Critical Strike
Bladerunner
Minor Talent


+3

% Movement Speed
Bladerunner
Medium Talent


+24

% Skill Radius


+8

% Projectile Speed
Bladerunner
Minor Talent


+1

% Life Regain


1.5

% Energy Shield Regain
Bladerunner
Medium Talent
Converts

50

% of Physical Damage to Lightning Damage
Converts

50

% of Minion Physical Damage to Lightning Damage
Bladerunner
Minor Talent


+10

% Agility Blessing Duration


+2

% Movement Speed when Agility Blessing is active
Bladerunner
Medium Talent
Reset Mobility Skill CDs when defeating a Rare monster
Bladerunner
Medium Talent


-20

% additional Energy Shield Regain Interval
Bladerunner
Medium Talent


-25

% additional Life Regain Interval
Bladerunner
Medium Talent
Max Agility Blessing Stacks

+1

Bladerunner
Minor Talent


+15

Dexterity
Bladerunner
Minor Talent


+8

% chance to Multistrike
Bladerunner
Minor Talent


+5

% Shock chance
Adds Base

5

Shock Damage
Bladerunner
Minor Talent
Adds

1

-

20

Lightning Damage to Attacks and Spells
Adds

1

-

25

Lightning Damage to Minions
Bladerunner
Medium Talent


+1

% Lightning Damage per

50

Dexterity
Bladerunner
Medium Talent


+4

% additional Attack Speed when performing Multistrikes
Bladerunner
Minor Talent


+4

% Attack Speed
Bladerunner
Medium Talent
Settles Shock Damage

1

additional times on Critical Strike
Bladerunner
Medium Talent


12.5

% Lightning Penetration for Critical Strikes


+6

% Lightning Penetration for Minions
Bladerunner
Medium Talent
Multistrikes deal

16

% increasing damage
Bladerunner
Medium Talent
Gains

1

stacks of Agility Blessing per

8

attacks
Bladerunner
Cultivation
+3% Health and Mana Regeneration Speed per skill used recently, up to 45%


+4

% Cast Speed for each skill recently used, stacking up to

15

times
Druid
Stability
Restores

3

% of Life when Regaining Life
Restores

3

% of Energy Shield while Regaining Energy Shield
Druid
Calm


-50

% additional damage taken at the Low Life and Low Energy Shield


+25

% additional damage taken at Full Life.
Druid
Acquaintance


+25

% to be triggered an additional time while using Main Spell Skills
Druid
Rebirth
Converts

50

% of Life Regain and Energy Shield Regain to Restoration Over Time


-25

% additional Regain Interval
Druid
Nowhere to Be Found
Max Agility Blessing Stacks

+2


Remove negative effects and DoT Damage on self upon gaining Agility Blessing
Druid
Minor Talent


+4

% Cast Speed
Druid
Minor Talent


+5

% Max Life
Druid
Minor Talent


+12

% damage
Druid
Medium Talent


+8

% Cast Speed
Druid
Minor Talent


+12

% Spell Damage
Druid
Medium Talent


+10

% Max Life
Druid
Minor Talent


+1

% Life Regain
Druid
Medium Talent


+24

% damage
Druid
Minor Talent


+20

% Critical Strike Rating
Druid
Medium Talent


+18

% Spell Damage


+3

% chance for Spells to deal Double Damage
Druid
Minor Talent


+5

% Max Energy Shield
Druid
Medium Talent


+2

% Life Regain
Druid
Minor Talent


+8

% Max Mana
Druid
Medium Talent


+30

% Critical Strike Rating


+15

% Critical Strike Damage
Druid
Minor Talent


+12

% Evasion
Druid
Medium Talent


+10

% Max Energy Shield
Druid
Minor Talent


+10

% Agility Blessing Duration
Druid
Medium Talent


+12

% Max Mana
Regenerates

0.8

% Mana per second
Druid
Minor Talent


+4

% Cast Speed
Druid
Medium Talent


+24

% Evasion
Druid
Minor Talent


+12

% Skill Radius


+4

% Projectile Speed
Druid
Medium Talent
Restores

2

% of Life when receiving Agility Blessing. Cooldown: 0.1s
Restores

2

% of Mana when receiving Agility Blessing. Cooldown: 0.1s
Druid
Minor Talent


1.5

% Energy Shield Regain
Druid
Medium Talent


+20

% Cast Speed


-20

% Spell Damage
Druid
Minor Talent


+3

% Cooldown Recovery Speed
Druid
Medium Talent


+24

% Skill Radius


+8

% Projectile Speed
Druid
Minor Talent


-5

% Skill Cost


-2

% Sealed Mana
Druid
Medium Talent


+3

% Energy Shield Regain
Druid
Minor Talent


+10

% Agility Blessing Duration


+2

% Movement Speed when Agility Blessing is active
Druid
Medium Talent


+6

% Cooldown Recovery Speed
Druid
Minor Talent


+10

Dexterity


+10

Intelligence
Druid
Medium Talent


-10

% Skill Cost


-4

% Sealed Mana
Druid
Minor Talent


+4

% Attack and Cast Speed
Druid
Medium Talent


+4

% Cast Speed per stack of Agility Blessing owned
Druid
Minor Talent


+12

% Spell Damage
Druid
Medium Talent


+1

% Cast Speed per

60

Dexterity


+1

% Cast Speed per

60

Intelligence
Druid
Minor Talent


+5

% Max Life


+5

% Max Energy Shield
Druid
Medium Talent
Restores

30

% of Missing Life when suffer a Severe Injury
Restores

30

% Missing Energy Shield when suffer Severe Injury
Druid
Medium Talent


+10

% chance to gain

1

stacks of Agility Blessing when casting
Druid
Medium Talent


+6

% to be triggered an additional time while using Main Spell Skills
Druid
Medium Talent
Regains additional Life based on Missing Energy Shield
Regains additional Energy Shield regain based on Missing Life
Druid
Medium Talent


-10

% additional Regain Interval
Druid
Beacon


+3

Max Spell Burst
Goddess of Knowledge
Chilly


+20

% additional Cold Damage taken by Nearby enemies
Prevents Nearby enemies from regenerating Life
Goddess of Knowledge
Winter
-5% enemy Cold Resistance every

0.2

s, stacking up to

8

times. The effect resets after the enemy moves

2

m
Goddess of Knowledge
Insight


+30

% additional Spell Damage


+25

% additional Skill Cost
Goddess of Knowledge
Burning Touch
Immune to Frostbite


+20

% additional Cold and Fire Damage
Goddess of Knowledge
Preparation
Gains

1

stacks of Focus Blessing for every

10

% Mana consumed


+25

% Mana Regeneration Speed per stack of Focus Blessing owned
Goddess of Knowledge
Minor Talent


+12

% damage
Goddess of Knowledge
Minor Talent


+4

% Attack and Cast Speed
Goddess of Knowledge
Medium Talent


+24

% damage
Goddess of Knowledge
Minor Talent


+8

% Max Mana
Goddess of Knowledge
Minor Talent


+20

% Critical Strike Rating
Goddess of Knowledge
Medium Talent


+8

% Attack and Cast Speed
Goddess of Knowledge
Minor Talent


+12

% Skill Radius
Goddess of Knowledge
Medium Talent


+12

% Max Mana


8

Mana restored on hit
Goddess of Knowledge
Minor Talent


+5

% Max Life


+5

% Max Energy Shield
Goddess of Knowledge
Medium Talent


+30

% Critical Strike Rating


+15

% Critical Strike Damage
Goddess of Knowledge
Minor Talent


+15

Intelligence
Goddess of Knowledge
Medium Talent


+24

% Skill Radius
Goddess of Knowledge
Minor Talent


-2

% Sealed Mana
Goddess of Knowledge
Medium Talent


+10

% Max Life


+10

% Max Energy Shield
Goddess of Knowledge
Medium Talent


+6

% Intelligence
Goddess of Knowledge
Minor Talent


+5

% Max Energy Shield
Goddess of Knowledge
Medium Talent


-4

% Sealed Mana
Goddess of Knowledge
Minor Talent


+10

% Cold Damage


+5

% chance to inflict Frostbite
Goddess of Knowledge
Minor Talent


+5

% Max Spell Burst Charge Speed
Goddess of Knowledge
Minor Talent


+12

% Spell Damage
Goddess of Knowledge
Medium Talent


+8

% Max Energy Shield


+6

% Energy Shield Charge Speed
Goddess of Knowledge
Minor Talent


+10

% Focus Blessing Duration
Regenerates

0.4

% Mana per second when Focus Blessing is active
Goddess of Knowledge
Medium Talent


+20

% Cold Damage
Converts

50

% of Physical Damage to Cold Damage
Goddess of Knowledge
Medium Talent


+15

% Max Spell Burst Charge Speed
Goddess of Knowledge
Medium Talent


+1

Spell Skill Level
Goddess of Knowledge
Medium Talent
Max Focus Blessing Stacks

+1

Goddess of Knowledge
Medium Talent


+100

% chance to gain

1

stacks of Focus Blessing upon inflicting Freeze


+6

% additional damage against Frostbitten enemies
Goddess of Knowledge
Bunch
Max Focus Blessing Stacks

+1




+3

% additional Spell Damage per stack of Focus Blessing owned
Magister
Inner Side
Doubled Energy Shield Regain
Magister
Shell


+30

% additional Max Energy Shield
Your Max Life is set to

2

Magister
Play Safe


100

% of the increase/decrease on Cast Speed also applies to Spell Burst Charge Speed


-50

% additional damage for skills that are not cast by Spell Burst
Magister
Barrier of Radiance
Energy Shield Charge started recently cannot be interrupted by damage


+50

% Energy Shield Charge Speed
Magister
Mind Blade
Adds the Main-Hand Weapon damage to Spells
Magister
Minor Talent


+12

% Spell Damage
Magister
Minor Talent


+8

% Max Mana
Magister
Minor Talent


+5

% Max Energy Shield
Magister
Medium Talent


+24

% Spell Damage
Magister
Minor Talent


+4

% Cast Speed
Magister
Medium Talent


+12

% Max Mana


+24

% Mana Regeneration Speed
Magister
Minor Talent


1.5

% Energy Shield Regain
Magister
Medium Talent


+10

% Max Energy Shield
Magister
Minor Talent


+5

% chance to cause Ailments
Magister
Medium Talent


+8

% Cast Speed
Magister
Minor Talent


+12

% Skill Radius
Magister
Medium Talent


-20

% additional Energy Shield Regain Interval
Magister
Minor Talent


+4

% Spell Block Chance
Magister
Medium Talent


+8

% chance to cause Ailments


+20

% Ailment Damage
Magister
Minor Talent


+20

% Critical Strike Rating
Magister
Medium Talent


+24

% Skill Radius
Magister
Minor Talent


+6

% Defense
Magister
Medium Talent


+6

% Spell Block Chance


+20

% Energy Shield gained from Shield
Magister
Minor Talent


+8

% Max Mana
Magister
Medium Talent


+30

% Critical Strike Rating


+15

% Critical Strike Damage
Magister
Minor Talent


+5

% skill Duration
Magister
Medium Talent


+10

% Defense


+4

% Elemental Resistance
Magister
Minor Talent


+3

% Aura Effect
Magister
Medium Talent


+8

% Max Mana


-3

% Sealed Mana
Magister
Minor Talent


+4

% Cast Speed
Magister
Medium Talent


+10

% skill Duration
Magister
Minor Talent


+4

% Energy Shield Charge Speed
Magister
Medium Talent


+6

% Aura Effect


+6

% Aura Radius
Magister
Minor Talent


+5

% Max Spell Burst Charge Speed
Magister
Medium Talent


+8

% Cast Speed


+20

% Skill Cost
Magister
Medium Talent


-10

% Skill Cost
Magister
Medium Talent


-20

% additional Energy Shield Charge Interval
Magister
Minor Talent


+20

Max Energy Shield
Magister
Medium Talent


+10

% Max Spell Burst Charge Speed
Magister
Minor Talent


+10

% Focus Blessing Duration
Regenerates

0.4

% Mana per second when Focus Blessing is active
Magister
Minor Talent


+15

Intelligence
Magister
Medium Talent


+8

% additional Energy Shield Charge Speed
Magister
Medium Talent


+1

Max Energy Shield per

5

Intelligence
Magister
Medium Talent


+1

Max Spell Burst
Magister
Medium Talent


+5

% Spell Critical Strike Damage per stack of Focus Blessing owned
Magister
Medium Talent


+2

Intelligence per

3

-level
Magister
Medium Talent


+20

% additional Defense gained from Chest Armor
Magister
Frostbitten


+1

% Cold Penetration per

5

Frostbites on enemy when dealing damage
Arcanist
Mana


20

% of damage is taken from Mana before life


+32

% Max Mana
Arcanist
Full Load
Skills cost

15

% of the current Mana


+35

% additional damage for the next skill when Mana reaches the max
Arcanist
Extreme Coldness


+30

% additional damage against enemies with max Frostbites
Inflicts Frostbites when dealing Cold Damage
Arcanist
Frozen Lotus
When defeating an enemy, deal Cold Spell Damage based on the Max Mana to its Nearby enemies. The damage increases with character level.
Arcanist
Mind Focus
Changes the base effect of Focus Blessing to: Adds Cold Damage equal to 2% of Max Mana to Attacks and Spells
Arcanist
Minor Talent


+12

% Cold Damage


+15

% Minion Cold Damage
Arcanist
Minor Talent


+5

% Max Energy Shield
Arcanist
Minor Talent


+8

% Max Mana
Arcanist
Medium Talent


+24

% Cold Damage


+30

% Minion Cold Damage
Arcanist
Minor Talent


+4

% Attack and Cast Speed
Arcanist
Medium Talent


+10

% Max Energy Shield
Arcanist
Minor Talent


+30

Max Mana
Arcanist
Medium Talent


+16

% Max Mana
Arcanist
Minor Talent


+20

% Critical Strike Rating
Arcanist
Medium Talent


+8

% Attack and Cast Speed
Arcanist
Minor Talent


+5

% Max Life
Arcanist
Medium Talent


+45

Max Mana


5

Mana restored on hit
Arcanist
Minor Talent


+4

% Cast Speed
Arcanist
Medium Talent


+30

% Critical Strike Rating


+15

% Critical Strike Damage
Arcanist
Minor Talent


+12

% Cold Damage


+18

% Minion Cold Damage
Arcanist
Medium Talent


+8

% Max Life


+18

% Cold Resistance
Arcanist
Minor Talent


+12

% Skill Radius
Arcanist
Medium Talent


+6

% Cast Speed
Restores

1

% Mana when using skills
Arcanist
Minor Talent


+5

% chance to inflict Frostbite
Arcanist
Medium Talent
Converts

50

% of Physical Damage to Cold Damage
Converts

50

% of Minion Physical Damage to Cold Damage
Arcanist
Minor Talent


+3

% Energy Shield Charge Speed


+1

% Energy Shield Regain
Arcanist
Medium Talent


+24

% Skill Radius
Arcanist
Minor Talent


+8

% Max Mana
Arcanist
Medium Talent


+10

% chance to inflict Frostbite
Arcanist
Minor Talent


+10

% Focus Blessing Duration
Regenerates

0.4

% Mana per second when Focus Blessing is active
Arcanist
Medium Talent


+6

% Energy Shield Charge Speed


+2

% Energy Shield Regain
Arcanist
Minor Talent


+5

% Max Energy Shield
Arcanist
Medium Talent


+12

% Max Mana
Regenerates

0.8

% Mana per second
Arcanist
Medium Talent
Own

1

additional stacks of Focus Blessing


+10

% chance to gain 1 stack of Focus Blessing when Frostbite a target
Arcanist
Minor Talent


+15

Intelligence
Arcanist
Medium Talent
Adds

1

% of Max Mana as Energy Shield
Arcanist
Minor Talent


+15

% Mana Regeneration Speed
Arcanist
Minor Talent


+3

% Frostbite Duration
Arcanist
Minor Talent


+12

% Cold Damage


+15

% Minion Cold Damage
Arcanist
Medium Talent


+1

Mana per

5

Intelligence
Arcanist
Minor Talent


-2

% Sealed Mana
Arcanist
Medium Talent
Restores

2

% of Missing Mana when using skills
Arcanist
Medium Talent


+8

% Frostbite Duration
Inflicts

4

Frostbites when dealing Cold Damage
Arcanist
Medium Talent


+24

% Cold Damage


+30

% Minion Cold Damage


-5

% target's Cold Resistance for

2

s on Cold Damage hit
Arcanist
Medium Talent


-1

Skill Cost for every

100

Mana consumed
Arcanist
Medium Talent
For each skill used recently,

+3

% Skill Cost


+60

% Mana Regeneration Speed
Arcanist
Focus
Max Channeled Stacks

+2




+3

% additional damage for Channeled Skills per channeled stack
Elementalist
Adaptation
Converts

25

% of Physical Damage taken to random Elemental Damage


+4

% Max Elemental Resistance
Elementalist
Translucent


+20

% additional Lightning Damage if you have dealt Fire Damage recently


+20

% additional Cold Damage if you have dealt Lightning Damage recently


+20

% additional Fire Damage if you have dealt Cold Damage recently
Elementalist
Quick Ritual


+1

Channeled Stack


+15

% additional Cast Speed for Channeled Skills


+15

% additional Attack Speed for Channeled Skills
Elementalist
Peculiar Vibe


+30

% chance to inflict Elemental Ailment


+25

% additional damage against enemies with Elemental Ailment
Elementalist
Penetrating


+4

% Elemental Penetration per stack of Focus Blessing owned
Elementalist
Minor Talent


+12

% damage for Channeled Skills
Elementalist
Minor Talent


+5

% Max Energy Shield
Elementalist
Minor Talent


+12

% Elemental Damage
Elementalist
Medium Talent


+24

% damage for Channeled Skills
Elementalist
Minor Talent


+4

% Attack and Cast Speed
Elementalist
Medium Talent


+10

% Max Energy Shield
Elementalist
Minor Talent


+20

% Critical Strike Rating
Elementalist
Medium Talent


+24

% Elemental Damage
Elementalist
Minor Talent


+8

% Max Mana
Elementalist
Medium Talent


+8

% Attack and Cast Speed
Elementalist
Minor Talent


+5

% Max Life
Elementalist
Medium Talent


+30

% Critical Strike Rating


+15

% Critical Strike Damage
Elementalist
Minor Talent
Damage Penetrates

2

% Elemental Resistance
Elementalist
Medium Talent


+16

% Max Mana


-10

Mana Cost for Channeled Skills
Elementalist
Minor Talent


+12

% Skill Radius
Elementalist
Medium Talent


+8

% Max Life


+8

% Elemental Resistance
Elementalist
Minor Talent


+5

% chance to inflict Elemental Ailment
Elementalist
Medium Talent
Penetrates

2

% of Elemental Resistance for each Elemental Ailment on enemy when dealing damage
Elementalist
Minor Talent


+12

% damage
Elementalist
Medium Talent


+24

% Skill Radius
Elementalist
Minor Talent


+1

% Life Regain


1.5

% Energy Shield Regain
Elementalist
Medium Talent


+8

% chance to inflict Elemental Ailment


+20

% Elemental Ailment Damage
Elementalist
Minor Talent


+5

% Elemental Resistance
Elementalist
Medium Talent


+20

% Movement Speed for

4

s after channeling


+30

% damage while standing still
Elementalist
Minor Talent


+15

Intelligence
Elementalist
Medium Talent


+2

% Life Regain


+3

% Energy Shield Regain
Elementalist
Minor Talent


+10

% Focus Blessing Duration
Regenerates

0.4

% Mana per second when Focus Blessing is active
Elementalist
Medium Talent


-2.5

% additional Elemental Damage taken for every type of Elemental Damage recently received
Elementalist
Minor Talent


+4

% Attack and Cast Speed for Channeled Skills
Elementalist
Medium Talent


+6

% Intelligence
Elementalist
Minor Talent


+5

% Max Energy Shield
Elementalist
Medium Talent


+20

% chance to gain Tenacity Blessing and Agility Blessing when receiving Focus Blessing
Elementalist
Minor Talent


+12

% Elemental Damage
Elementalist
Medium Talent


+24

% damage for Channeled Skills at Max Channeled Stacks
Elementalist
Minor Talent


+15

% Attack and Cast Speed when channeled stacks have not reached cap
Elementalist
Medium Talent


+10

% Max Energy Shield


+50

% chance to avoid Elemental Ailments while having an Energy Shield
Elementalist
Minor Talent
Adds

4

-

6

Fire Damage to Attacks and Spells
Adds

1

-

9

Lightning Damage to Attacks and Spells
Adds

4

-

6

Cold Damage to Attacks and Spells
Elementalist
Medium Talent
Adds

4

% Physical Damage as random Elemental Damage
Elementalist
Medium Talent
Max Channeled Stacks

+1

Elementalist
Medium Talent


+25

% additional Beam Length
Elementalist
Medium Talent


+1

Fire Skill Level
Elementalist
Medium Talent


+1

Lightning Skill Level
Elementalist
Medium Talent


+1

Cold Skill Level
Elementalist
Cohesion


+100

% additional Critical Strike Rating for the next Main Skill used every

2

s
God of War
Brutality


+35

% additional Physical Damage
Cannot deal Elemental Damage
God of War
Determined
Upon taking fatal damage, you keep at least 1 Life and become immune to DoT Damage for 1s. Cooldown:

8

s
God of War
Automatic Upgrade


+45

% Spell Block Chance if you have Blocked an Attack recently


+45

% Attack Block Chance if you have Blocked a Spell recently
God of War
Instant Smash
Critical Strike ignores Armor


+100

% Trauma Damage dealt by Critical Strikes
God of War
Endless Fervor
Have Fervor


+30

% Fervor effect
God of War
Minor Talent


+12

% damage
God of War
Minor Talent


+20

% Critical Strike Rating
God of War
Medium Talent


+24

% damage
God of War
Minor Talent


+4

% chance to inflict Trauma


+10

% Physical Damage
God of War
Minor Talent


+6

% Defense


+2

% chance to avoid damage
God of War
Medium Talent


+35

% Critical Strike Rating
Restores

8

of Mana on a Critical Strike
God of War
Minor Talent


+2

% Attack Block Chance


+2

% Spell Block Chance
God of War
Medium Talent


+8

% chance to inflict Trauma


+20

% Physical Damage
God of War
Minor Talent


+4

% Max Life


+8

% Armor
God of War
Medium Talent


+12

% Defense


+4

% chance to avoid damage
God of War
Minor Talent


+12

% Ailment Damage
God of War
Medium Talent


1.5

% Block Ratio
God of War
Minor Talent


+12

% Physical Damage
God of War
Medium Talent


+8

% Max Life


+16

% Armor
God of War
Minor Talent


+4

% Attack and Cast Speed
God of War
Medium Talent


+20

% Ailment Damage


+8

% chance to cause Ailments
God of War
Medium Talent


20

% chance to restore

20

% of Life, Energy Shield, and Mana when Blocking
God of War
Medium Talent
Attack and Spell:

10

% chance to ignore Armor
God of War
Medium Talent


+6

% Attack Speed


+10

% Critical Strike Damage
God of War
Medium Talent


+6

% Cast Speed


+10

% Critical Strike Damage
God of War
Minor Talent


+4

% Max Life


0.8

% Life Regain
God of War
Medium Talent


+10

% chance for Physical Damage to inflict Paralysis on hit
God of War
Minor Talent


+10

% Trauma Damage


+2

% Trauma Duration
God of War
Medium Talent


+32

% chance to Multistrike
God of War
Medium Talent


20

% chance to

+4

Projectiles for Spell Skills


20

% chance for Spell Skills to have

+100

% Skill Radius
God of War
Medium Talent


+8

% Max Life
Restores

30

% of Missing Life when suffer a Severe Injury
God of War
Medium Talent


+10

% Trauma Damage dealt by Critical Strikes
God of War
Blunt
Damage Ignores Armor
Damage dealt by Minions ignores Armor


+15

% chance for Physical Damage to inflict Paralysis on hit
Shadowdancer
Continuum


+250

Spell Critical Strike Rating for

4

s on attack Critical Strike
Shadowdancer
Ambition
Gains

10

points of Fervor Rating when hitting an Elite
Gains Fervor when there are enemies Nearby
Shadowdancer
Open Wounds


+40

% Trauma Duration when inflicting Trauma on Traumatized enemies


+125

% Critical Strike Damage against Traumatized enemies
Shadowdancer
Hair-trigger


+2

% additional damage of a skill for every

3

points of Fervor Rating when the skill is triggered


-20

% additional Cooldown Recovery Speed for Triggered Skills
Shadowdancer
Versatile


75

% of bonuses or reductions to Cast Speed also apply to Attack Speed
Shadowdancer
Minor Talent


+12

% Physical Damage


+15

% Physical Damage for Minions
Shadowdancer
Minor Talent


+5

% Max Life
Shadowdancer
Minor Talent


+4

% Attack and Cast Speed
Shadowdancer
Medium Talent


+24

% Physical Damage


+30

% Physical Damage for Minions
Shadowdancer
Minor Talent


+5

% chance to inflict Trauma


+5

% chance for Minions to inflict Trauma
Shadowdancer
Medium Talent


+8

% Max Life
Regenerates

0.8

% Life per second
Shadowdancer
Minor Talent


+12

% damage for Triggered Skills
Shadowdancer
Medium Talent


+8

% Attack and Cast Speed


-10

Skill Cost
Shadowdancer
Minor Talent


+10

% Critical Strike Damage
Shadowdancer
Medium Talent


+8

% chance to inflict Trauma


+20

% Trauma Damage


+8

% chance for Minions to inflict Trauma
Shadowdancer
Minor Talent


+5

% Max Energy Shield
Shadowdancer
Medium Talent


+24

% damage for Triggered Skills
Shadowdancer
Minor Talent


+20

% Critical Strike Rating
Shadowdancer
Medium Talent


+20

% Critical Strike Damage
Shadowdancer
Minor Talent


+10

% Armor


+10

% Evasion
Shadowdancer
Medium Talent


+8

% Max Energy Shield


+3

% Energy Shield Regain
Shadowdancer
Minor Talent


+4

% Attack Block Chance
Shadowdancer
Medium Talent


+40

% Critical Strike Rating
Shadowdancer
Medium Talent


+15

% Armor


+15

% Evasion


-5

% additional Physical Damage taken
Shadowdancer
Minor Talent


+4

% Max Life


0.8

% Life Regain
Shadowdancer
Medium Talent


+6

% Attack Block Chance


-5

% additional Physical Damage taken
Shadowdancer
Minor Talent


+12

% damage for Triggered Skills
Shadowdancer
Minor Talent


+12

% Physical Damage


+15

% Physical Damage for Minions
Shadowdancer
Minor Talent


+4

% Attack and Cast Speed
Shadowdancer
Medium Talent


+8

% Max Life


1.6

% Life Regain
Shadowdancer
Medium Talent


-4

% additional damage for Triggered Skills


+12

% Cooldown Recovery Speed for Triggered Skills
Shadowdancer
Medium Talent


+48

% damage for Triggered Skills


-5

% Cooldown Recovery Speed for Triggered Skills
Shadowdancer
Medium Talent


+40

% Physical Damage


-20

% Elemental Damage


+30

% Physical Damage for Minions
Shadowdancer
Medium Talent
Attack and Spell:

25

% chance to ignore Armor
Shadowdancer
Minor Talent


+12

% Fervor effect
Shadowdancer
Minor Talent


+12

% Skill Radius


+4

% Projectile Speed
Shadowdancer
Minor Talent
Adds

8

-

12

Physical Damage to Attacks and Spells
Shadowdancer
Minor Talent


+12

% Trauma Damage
Adds

10

Base Trauma Damage
Shadowdancer
Medium Talent


+1

% Movement Speed per

15

Fervor Rating
Shadowdancer
Minor Talent


-2

% Sealed Mana
Shadowdancer
Medium Talent


+20

% Area Damage


+20

% Projectile Damage
Shadowdancer
Medium Talent


+6

% additional damage for Weapons


+1

Physical Skill Level
Shadowdancer
Medium Talent


+30

% Trauma Damage
Reaps

0.1

s of DoT Damage

0.3

s after dealing Trauma Damage. The effect has a

2

s cooldown against the same target.
Shadowdancer
Medium Talent


-40

% Sealed Mana for Triggered Skills
Shadowdancer
Medium Talent


+30

% Skill Radius for Triggered Skills


35

% chance to

+2

Projectiles when the skill is triggered
Shadowdancer
Sprinkle


20

% chance for Melee Skills to have

+80

% Skill Radius


+18

% additional Melee Damage
Ronin
Defensiveness
Block has a cooldown of

0.03

s


+25

% Block Ratio
Ronin
Centralize
Gains additional Fervor Rating equal to

25

% of the current Fervor Rating. Cooldown:

0.3

s
Consumes half of current Fervor Rating when hit.

-1

% additional damage per 1 point consumed
Ronin
Tradeoff


+25

% additional Attack Speed when Dexterity is no less than Strength


+25

% additional Attack Damage when Strength is no less than Dexterity
Ronin
Full Defense


+2

% Spell Block for every

3

% Attack Block
Ronin
Falling Leaves


-30

% additional damage for Weapons


+60

% additional Attack Damage
Ronin
Minor Talent


+12

% Melee Damage
Ronin
Minor Talent


+5

% Max Life
Ronin
Minor Talent


+4

% Attack Block Chance


+8

% damage
Ronin
Medium Talent


+24

% Melee Damage
Ronin
Minor Talent


+4

% Attack Speed
Ronin
Medium Talent


+10

% Max Life
Ronin
Minor Talent


+4

% Spell Block Chance


+4

% Max Energy Shield
Ronin
Medium Talent


+8

% Attack Block Chance


+16

% damage
Ronin
Minor Talent


+20

% Critical Strike Rating
Ronin
Medium Talent


+8

% Attack Speed
Ronin
Minor Talent


+5

% Max Energy Shield
Ronin
Medium Talent


+8

% Spell Block Chance


+8

% Max Energy Shield
Ronin
Minor Talent


+16

% damage dealt when holding a shield
Ronin
Medium Talent


+30

% Critical Strike Rating


+15

% Critical Strike Damage
Ronin
Minor Talent


-5

% Skill Cost
Ronin
Medium Talent


+10

% Max Energy Shield
Ronin
Minor Talent


+12

% Armor
Ronin
Medium Talent


+24

% damage dealt when holding a shield


+6

% Attack and Cast Speed while holding a Shield
Ronin
Minor Talent


+12

% Fervor effect
Ronin
Medium Talent


-10

Skill Cost
Ronin
Minor Talent


+12

% Melee Skill Radius
Ronin
Medium Talent


+18

% Armor
Additionally Block damage equal to

0.5

% of Armor, up to

500

Ronin
Minor Talent


+4

% Attack Block Chance
Ronin
Medium Talent
Gains

1

Fervor Rating on a Critical Strike
Ronin
Medium Talent


+24

% Melee Skill Radius
Ronin
Minor Talent


+1

% Life Regain
Ronin
Medium Talent


+6

% Attack Block Chance


+50

% Defense from Shield
Ronin
Minor Talent


+4

% Attack Speed
Ronin
Minor Talent


+12

% Melee Damage
Ronin
Minor Talent


+10

Strength


+10

Dexterity
Ronin
Medium Talent


1.5

% Life Regain


1

% Missing Life restored on Block
Ronin
Minor Talent


+12

% Fervor effect
Ronin
Medium Talent


+5

% weapon Attack Speed
Ronin
Medium Talent


+4

% additional damage for Weapons
Ronin
Medium Talent


+4

% Strength


+4

% Dexterity
Ronin
Minor Talent


+5

% Max Life
Ronin
Medium Talent
Gains Fervor when Blocking
Ronin
Medium Talent


+35

% chance to obtain Steep Strike attempts
Ronin
Medium Talent


+25

% Demolisher Charge Restoration Speed
Ronin
Medium Talent


40

% chance to gain

+1

Shadows when using the Shadow Strike skill
Ronin
Medium Talent


+1

% Block Ratio for every

12

% of Life lost
Ronin
Medium Talent
Gains

5

Fervor Rating when Blocking
Ronin
Fluke
Critical Strikes have the Lucky effect while having at least

50

Fervor Rating
Ranger
Gravity


+20

% additional Melee Damage
Melee Skill has reversed knockback direction
Ranger
Shooting Arrows


+20

% additional Projectile Damage


+50

% Knockback distance
Ranger
Keep It Up
Fervor Rating gains an additional base effect: +2 Critical Strike Rating per Fervor Rating
Ranger
Impending


+6

% additional damage taken for enemies within

10

m every

0.25

s. Stacks up to

5

times
Ranger
Rapid Shots
Projectile Damage increases with the distance traveled, dealing up to

+35

% additional damage to Distant enemies
Ranger
Minor Talent


+20

% Critical Strike Rating
Ranger
Minor Talent


+5

% Max Life


+5

% Max Energy Shield
Ranger
Minor Talent


+12

% damage
Ranger
Medium Talent


+40

% Critical Strike Rating
Ranger
Minor Talent


+10

% Critical Strike Damage
Ranger
Medium Talent


+10

% Max Life


+10

% Max Energy Shield
Ranger
Medium Talent


+30

% damage dealt to Nearby enemies
Ranger
Medium Talent


+30

% damage to Distant enemies
Ranger
Minor Talent


+12

% Ailment Damage
Ranger
Medium Talent


+20

% Critical Strike Damage
Ranger
Minor Talent


+4

% Attack and Cast Speed
Ranger
Minor Talent


+12

% Skill Radius
Ranger
Minor Talent


+12

% Projectile Damage
Ranger
Medium Talent


+20

% Ailment Damage


+15

% chance for Critical Strikes to cause Ailment
Ranger
Minor Talent


+8

% Max Mana
Ranger
Medium Talent


+8

% Attack and Cast Speed


+10

% Movement Speed
Ranger
Medium Talent


+24

% Skill Radius


+24

% Area Damage
Ranger
Medium Talent


+24

% Projectile Damage


+8

% Projectile Speed
Ranger
Minor Talent


+12

% Attack Damage
Ranger
Medium Talent


+12

% Max Mana
Restores

5

of Mana on a Critical Strike
Ranger
Minor Talent


+5

% Max Life
Ranger
Minor Talent


+12

% Armor


+5

% Elemental Resistance
Ranger
Minor Talent


+12

% Evasion
Ranger
Medium Talent


+15

% weapon Critical Strike Rating
Ranger
Medium Talent


+6

% Max Life


1.2

% Life Regain


-10

% additional Life Regain Interval if you have dealt a Critical Strike recently
Ranger
Medium Talent


+18

% Armor


+8

% Elemental Resistance


-10

% additional damage taken when there are enemies in Proximity
Ranger
Medium Talent


+18

% Evasion


+8

% chance to avoid Projectile Damage
Ranger
Minor Talent


+12

% Fervor effect
Ranger
Minor Talent


+20

% Critical Strike Rating
Ranger
Minor Talent


+5

% Max Energy Shield
Ranger
Minor Talent


+12

% Melee Damage
Ranger
Minor Talent


+15

% chance to cause Knockbacks
Ranger
Medium Talent


0.2

% Critical Strike Damage per Fervor Rating
Ranger
Medium Talent


+20

% Critical Strike Damage
Ranger
Medium Talent


+6

% Max Energy Shield


1.5

% Energy Shield Regain


-15

% additional Energy Shield Regain Interval when there are no enemies Nearby
Ranger
Medium Talent


+10

% Critical Strike Rating per Nearby enemy
Ranger
Medium Talent


+20

% Knockback distance
Ranger
Medium Talent
Critical Strikes can eliminate enemies under

8

% Life
Ranger
Medium Talent


100

% of Effects on Knockback distance is also applied to Attack Damage and Spell Damage
Ranger
Plague


40

% chance for DoT Damage to spread to targets Nearby


+25

% DoT Damage Duration
Goddess of Deception
Mixture
Convert

99

% of Elemental Damage to Erosion Damage


+99

% chance to Paralyze the target on hit
Goddess of Deception
Windwalk


+25

% additional DoT Damage taken by the target during the

2

s after you deal DoT Damage. This effect cannot stack.
Goddess of Deception
Subtle Impact
Blur gains an additional effect: +25% additional DoT Damage taken by Nearby enemies
Goddess of Deception
Forbidden Power


+35

% additional Erosion Damage
Cannot regenerate Life
Goddess of Deception
Poisoned Relief


+25

% injury buffer


-15

% additional damage taken at Low Life
Goddess of Deception
Minor Talent


+12

% damage
Goddess of Deception
Minor Talent


+5

% skill Duration
Goddess of Deception
Medium Talent


+24

% damage
Goddess of Deception
Minor Talent


+4

% Attack and Cast Speed
Goddess of Deception
Minor Talent


+4

% Max Energy Shield


+4

% Energy Shield Charge Speed
Goddess of Deception
Medium Talent


+10

% skill Duration
Goddess of Deception
Minor Talent


+5

% Max Life
Goddess of Deception
Medium Talent


+8

% Attack and Cast Speed
Goddess of Deception
Minor Talent


+20

% Critical Strike Rating
Goddess of Deception
Medium Talent


+8

% Max Energy Shield
Gains Blur when Energy Shield starts to Charge
Goddess of Deception
Minor Talent


+12

% Skill Radius
Goddess of Deception
Medium Talent


+8

% Max Life


+6

% Life Regeneration Speed
Goddess of Deception
Minor Talent


+5

% Wilt chance
Goddess of Deception
Medium Talent


+30

% Critical Strike Rating


+15

% Critical Strike Damage
Goddess of Deception
Minor Talent


+12

% DoT Damage
Goddess of Deception
Medium Talent


+24

% Skill Radius
Goddess of Deception
Minor Talent


+5

% Max Energy Shield
Goddess of Deception
Medium Talent


+8

% Wilt chance


+20

% Wilt Damage
Goddess of Deception
Medium Talent


+5

% injury buffer
Goddess of Deception
Minor Talent


+10

Dexterity


+10

Intelligence
Goddess of Deception
Medium Talent


+8

% Max Energy Shield


-10

% additional Energy Shield Charge Interval
Goddess of Deception
Minor Talent


+3

% Wilt Duration
Adds

10

Base Wilt Damage
Goddess of Deception
Minor Talent


+12

% Erosion Damage
Goddess of Deception
Medium Talent


+1

Persistent Skill Level
Goddess of Deception
Medium Talent


+6

% Dexterity


+6

% Intelligence
Goddess of Deception
Medium Talent


5

% chance to inflict

1

additional stacks of Wilt
Gains Blur per

5

stacks of Wilt inflicted
Goddess of Deception
Medium Talent


6

% additional damage applied to Life
Goddess of Deception
Dirt


+10

% additional Erosion Damage


+10

% additional damage to Life
Shadowmaster
Ward
Adds

15

% of Sealed Mana as Energy Shield
Shadowmaster
Stealth Stab


-20

% additional damage taken while Blur is active


+20

% additional damage for

3

s after Blur ends
Shadowmaster
Beyond Cure


-1

% Erosion Resistance for enemies per stack of Wilt you've inflicted
You can only inflict

50

stacks of Wilt
Shadowmaster
Twisted Belief


+3

Erosion Skill Level


-3

Elemental Skill Level
Shadowmaster
Life Conversion
Adds

20

% of Sealed Life as Mana


-15

% additional Sealed Mana
Shadowmaster
Minor Talent


+12

% Erosion Damage
Shadowmaster
Minor Talent


+5

% Max Energy Shield
Shadowmaster
Minor Talent


+8

% Max Mana
Shadowmaster
Medium Talent


+24

% Erosion Damage
Shadowmaster
Minor Talent


+4

% Attack and Cast Speed
Shadowmaster
Medium Talent


+10

% Max Energy Shield
Shadowmaster
Minor Talent


+12

% damage
Shadowmaster
Medium Talent


+16

% Max Mana
Shadowmaster
Minor Talent


+20

% Critical Strike Rating
Shadowmaster
Medium Talent


+8

% Attack and Cast Speed
Shadowmaster
Minor Talent


+12

% Skill Radius


+4

% Projectile Speed
Shadowmaster
Medium Talent


+24

% damage
Shadowmaster
Minor Talent


-2

% Sealed Mana
Shadowmaster
Medium Talent


+30

% Critical Strike Rating


+15

% Critical Strike Damage
Shadowmaster
Minor Talent


+5

% Wilt chance
Shadowmaster
Medium Talent


+24

% Skill Radius


+8

% Projectile Speed
Shadowmaster
Minor Talent


+5

% Max Life
Shadowmaster
Medium Talent


-4

% Sealed Mana
Shadowmaster
Medium Talent


+8

% Wilt chance


+5

% Wilt Duration
Shadowmaster
Minor Talent


+4

% Energy Shield Charge Speed
Shadowmaster
Medium Talent


+8

% Max Life
Regenerates

0.8

% Life per second
Shadowmaster
Minor Talent


+8

% Max Mana
Shadowmaster
Minor Talent


+15

% Mana Regeneration Speed
Shadowmaster
Minor Talent


+12

% Erosion Damage
Shadowmaster
Medium Talent


+6

% Energy Shield Charge Speed


-10

% additional Energy Shield Charge Interval
Shadowmaster
Medium Talent


+20

% Cast Speed at Full Mana
Shadowmaster
Medium Talent


+40

% Spell Damage at Low Mana
Shadowmaster
Medium Talent


+24

% Mana Regeneration Speed
Gains Blur for every

200

Mana consumed
Shadowmaster
Medium Talent


+18

% Erosion Damage


2

% additional damage applied to Life
Shadowmaster
Minor Talent


+5

% Max Energy Shield
Shadowmaster
Minor Talent


-2

% Sealed Mana
Shadowmaster
Minor Talent


+12

% Wilt Damage
Shadowmaster
Minor Talent


+12

% Erosion Damage
Shadowmaster
Medium Talent


+8

% Max Energy Shield


+12

% Erosion Resistance
Shadowmaster
Minor Talent


+4

% Blur Effect
Shadowmaster
Medium Talent


+6

% Aura Effect
Shadowmaster
Medium Talent


+1

% Erosion Damage per stack of Wilt inflicted, stacking up to

80

times
Shadowmaster
Medium Talent


+50

% Erosion Damage at Low Life
Converts

50

% of Physical Damage to Erosion Damage
Shadowmaster
Medium Talent


+12

% Movement Speed while Blur is active
Movement Speed cannot be reduced to below the base value when Blur is active
Shadowmaster
Medium Talent


+2

Passive Skill Level
Shadowmaster
Affliction


+10

Affliction inflicted per second


+75

% Affliction effect
Psychic
Holiness
Immune to curse


-20

% additional damage taken from Cursed enemies
Psychic
Daze
Blur gains an additional effect: +100% control effects and +15% Ailment Damage
Psychic
More With Less


+40

% additional DoT Damage


-20

% additional DoT Damage Duration
Psychic
Verbal Abuse
You can cast

1

additional Curses


+15

% curse effect
Psychic
Reap Purification
Additionally settles

80

% of the remaining total damage when Reaping
Reaping removes all the DoT Damage from the target
Psychic
Minor Talent


+12

% DoT Damage
Psychic
Minor Talent


+5

% Max Energy Shield
Psychic
Minor Talent


+4

% Attack and Cast Speed
Psychic
Medium Talent


+24

% DoT Damage
Psychic
Minor Talent


+5

% skill Duration
Psychic
Medium Talent


+10

% Max Energy Shield
Psychic
Minor Talent


+12

% damage
Psychic
Medium Talent


+8

% Attack and Cast Speed
Psychic
Minor Talent


+12

% Skill Radius
Psychic
Medium Talent


+10

% skill Duration
Psychic
Minor Talent


+5

% Max Life
Psychic
Medium Talent


+30

% damage to enemies under crowd control effects
Psychic
Minor Talent


+12

% Evasion
Psychic
Medium Talent


+24

% Skill Radius
Psychic
Minor Talent


+12

% DoT Damage
Psychic
Medium Talent


+10

% Max Life
Psychic
Minor Talent


+5

% Max Energy Shield
Psychic
Medium Talent


+18

% Evasion


+35

% chance to avoid Ailment
Psychic
Minor Talent


+3

% Cooldown Recovery Speed
Psychic
Medium Talent


+45

% DoT Damage


-5

% DoT Damage Duration
Psychic
Minor Talent


+4

% Max Mana


-1.5

% Sealed Mana
Psychic
Medium Talent


+8

% Max Energy Shield


+6

% Energy Shield Charge Speed
Psychic
Minor Talent


+10

% damage against Cursed enemies


+10

% curse Skill Radius
Psychic
Medium Talent


+6

% Cooldown Recovery Speed
Psychic
Medium Talent


+10

% Terra Charge Recovery Speed
Psychic
Medium Talent


+8

% Max Mana


-3

% Sealed Mana
Psychic
Minor Talent


+8

% chance to cause Blinding on hit
Psychic
Medium Talent
Upon dealing damage to a Cursed target, there is a

+10

% chance to Paralyze it


+20

% curse Skill Radius
Psychic
Minor Talent


+5

% Reaping Cooldown Recovery Speed
Psychic
Minor Talent


+4

% Blur Effect
Psychic
Medium Talent
Blinded enemies are unable to use Critical Strike
Psychic
Minor Talent


+6

% curse effect
Psychic
Medium Talent


+10

% Reaping Duration
Psychic
Minor Talent


+3

Affliction inflicted per second


+8

% Affliction effect
Psychic
Medium Talent


0.5

% Blur effect for every 1% of Life lost
Psychic
Minor Talent


+3

% Ailment Duration
Psychic
Medium Talent


+12

% curse effect
Psychic
Medium Talent
Reaps

0.5

s of DoT Damage from enemies Nearby

1

s after using the Main Skill. Cooldown:

6

s
Psychic
Medium Talent


+6

Affliction inflicted per second


-4

% All Resistance when the enemy has max Affliction
Psychic
Medium Talent


+9

% Ailment Duration
Psychic
Medium Talent


+8

% additional damage against Cursed enemies
Psychic
Prelude
Using a Non-Main Skill will make the next Main Skill deal

+30

% additional damage. The effect can not stack
Warlock
Vile
Duration of Ailments caused by Critical Strikes is doubled


+1

% additional Ailment Damage per

3

% of Critical Strike Damage
Warlock
Indifference


15

% of bonuses or reductions to Attack Speed also apply to Cooldown Recovery Speed


15

% of the effects on Cast Speed is applied to Cooldown Recovery Speed
Warlock
Off The Beaten Track


+3

Support Skill Level
Support Skill's Mana Multiplier is set to 105%
Warlock
Dirty Tricks
Guaranteed to inflict all types of Ailment on hit
Each Ailment on target grants

+6

% additional damage on hit
Warlock
Stab In The Back
While Blur is active, lose Blur after using a Main Skill, and the skill deals

+35

% additional damage
Warlock
Minor Talent


+12

% damage
Warlock
Minor Talent


+5

% Max Energy Shield
Warlock
Minor Talent


+12

% Ailment Damage
Warlock
Medium Talent


+24

% damage
Warlock
Minor Talent


+5

% skill Duration
Warlock
Medium Talent


+10

% Max Energy Shield
Warlock
Minor Talent


+4

% Attack and Cast Speed
Warlock
Medium Talent


+24

% Ailment Damage
Warlock
Minor Talent


+4

% Max Mana


-1.5

% Sealed Mana
Warlock
Medium Talent


+10

% skill Duration
Warlock
Minor Talent


+5

% Max Life
Warlock
Medium Talent


+8

% Attack and Cast Speed


6

Mana restored on hit
Warlock
Minor Talent


+20

% Critical Strike Rating
Warlock
Medium Talent


+8

% Max Mana


-3

% Sealed Mana
Warlock
Minor Talent


4.5

% Empower Skill Effect
Warlock
Medium Talent


+8

% Max Life


1.5

% Life Regain
Warlock
Minor Talent


+3

% Ailment Duration
Warlock
Medium Talent


+30

% Critical Strike Rating


+18

% Critical Strike Damage against enemies affected by Ailment
Warlock
Minor Talent


+3

% Defensive Skill Effect
Warlock
Medium Talent


+9

% Empower Skill Effect
Warlock
Minor Talent


+3

% Energy Shield Charge Speed


+1

% Energy Shield Regain
Warlock
Medium Talent


+8

% chance to cause Ailments


+5

% Ailment Duration
Warlock
Minor Talent


+12

% damage
Warlock
Medium Talent


+2

Defensive Skill Level
Warlock
Minor Talent


+3

% Cooldown Recovery Speed
Warlock
Medium Talent


-15

% additional Energy Shield Charge Interval


-15

% additional Energy Shield Regain Interval
Warlock
Minor Talent


+5

% Max Energy Shield
Warlock
Medium Talent


+2

% chance to deal Double Damage


+10

% additional Ailment Damage when a hit inflicts Double Damage
Warlock
Minor Talent


+12

% damage
Warlock
Medium Talent


+6

% Cooldown Recovery Speed


+1

Max Energy Charges
Warlock
Minor Talent


+8

% Max Mana
Warlock
Medium Talent


+8

% Max Energy Shield


-15

% additional Ailment Damage taken while having Energy Shield
Warlock
Medium Talent


+8

% Attack and Cast Speed
Warlock
Minor Talent


+3

% Movement Speed while Blur is active
Warlock
Medium Talent


+12

% Max Mana


-10

% Skill Cost
Warlock
Minor Talent


+12

% damage
Warlock
Minor Talent


+5

% Elemental Resistance
Warlock
Medium Talent


+1

all skills' level
Warlock
Medium Talent


+100

% chance to gain Blur on defeat
Warlock
Medium Talent


+12

% damage on hit per type of Ailment owned
Warlock
Medium Talent
Ailment Damage ignores Resistance
Warlock
Orders


+20

% additional Minion Damage


+100

% additional Summon Skill Cast Speed
God of Machines
Sentry
Max Sentry Quantity

+1




+100

% additional Cast Speed for Sentry Skills
God of Machines
Shrink Back


+35

% chance to gain a Barrier when taking damage
God of Machines
Mighty Guard


+2

Minion Skill Level
+

4

Command per second
God of Machines
Overly Modified


+30

% additional Sentry Damage,

-50

% non-Sentry Active Skill damage
God of Machines
Isomorphic Arms
Main-Hand Weapon is applied to Minions
God of Machines
Minor Talent


+12

% damage


+12

% Minion Damage
God of Machines
Minor Talent


+4

% Minion Attack and Cast Speed
God of Machines
Medium Talent


+24

% damage


+24

% Minion Damage
God of Machines
Minor Talent


+12

% Sentry Skill Radius


+10

% Sentry Duration


+10

% Sentry Projectile Speed
God of Machines
Minor Talent


+40

% Minion Critical Strike Rating
God of Machines
Medium Talent


+8

% Minion Attack and Cast Speed
God of Machines
Minor Talent


+5

% Max Life


+5

% Max Energy Shield
God of Machines
Medium Talent


+24

% Sentry Skill Radius


+20

% Sentry Duration


+20

% Sentry Projectile Speed
God of Machines
Minor Talent


+40

% Sentry Skill Critical Strike Rating
God of Machines
Medium Talent


+20

% Minion Critical Strike Damage
God of Machines
Minor Talent


+7

% Barrier Absorption
God of Machines
Medium Talent


+10

% Max Life


+10

% Max Energy Shield
God of Machines
Minor Talent


+10

Strength


+10

Intelligence
God of Machines
Medium Talent


+60

% Sentry Skill Critical Strike Rating


+15

% Sentry Skill Critical Strike Damage
God of Machines
Medium Talent


+14

% Barrier Absorption
God of Machines
Medium Talent


+1

% Minion Damage per

50

Strength


+1

% Minion Critical Strike Rating for every

12

Intelligence
God of Machines
Medium Talent


+1

% Sentry Damage per

50

Strength


+1

% Sentry cast frequency per

100

Intelligence
God of Machines
Minor Talent


+15

% Sentry Damage
God of Machines
Minor Talent


+15

% Minion Damage
God of Machines
Minor Talent


+10

% Minion Max Life
+

1

Command per second
God of Machines
Minor Talent
Regenerates

0.5

% Life per second


+3

% Energy Shield Charge Speed
God of Machines
Minor Talent


+4

% Sentry Skill cast frequency
God of Machines
Medium Talent


+30

% Sentry Damage
God of Machines
Medium Talent


+1

Minion Skill Level
God of Machines
Medium Talent


+30

% Minion Max Life
+

3

Command per second
God of Machines
Medium Talent


+12

% Life Regeneration Speed


-20

% additional Energy Shield Charge Interval
God of Machines
Medium Talent


+16

% Sentry Skill cast frequency
God of Machines
Medium Talent


+10

% additional Sentry Damage if Sentry Skill is not used in the last

1

s
God of Machines
Boss
Max Synthetic Troop Minion Quantity

+1




+50

% Synthetic Troop Minion Duration
Machinist
Heat Up


+30

% additional Sentry Damage if Sentry Skill was used recently


-30

% additional Sentry Start Time
Machinist
Broken Shell


99

% fixed Barrier damage absorption
Barrier can only take one hit


+150

% Barrier Absorption
Machinist
Burning Aggression
Gains

20

point(s) of Command every

2

s when there is a Boss within

10

m


50

% chance for Minion's attacks to ignore Armor
Machinist
Co-resonance
Attack Speed bonus and

100

% of additional bonus are also applied to Attack Sentries' Cast Frequency
Cast Speed bonus and

100

% of additional bonus are also applied to Spell Sentries' Cast Frequency


+25

% chance for the Sentry to deal Double Damage
Machinist
Kinetic Conversion


-20

% extra damage taken while moving


100

% chance to gain a Barrier for every

5

m you move
Machinist
Minor Talent


+15

% Minion Damage
Machinist
Minor Talent


+5

% Max Life


+15

% Minion Max Life
Machinist
Minor Talent


+15

% Sentry Damage
Machinist
Medium Talent


+30

% Minion Damage
Machinist
Minor Talent


+4

% Minion Attack and Cast Speed
Machinist
Medium Talent


+10

% Max Life


+30

% Minion Max Life
Machinist
Minor Talent


+4

% Sentry Skill cast frequency
Machinist
Medium Talent


+30

% Sentry Damage
Machinist
Minor Talent


+40

% Minion Critical Strike Rating
Machinist
Medium Talent


+8

% Minion Attack and Cast Speed
Machinist
Minor Talent


+5

% Max Energy Shield
Machinist
Medium Talent


+8

% Sentry Skill cast frequency
Machinist
Minor Talent


+40

% Sentry Skill Critical Strike Rating
Machinist
Medium Talent


+60

% Minion Critical Strike Rating


+15

% Minion Critical Strike Damage
Machinist
Minor Talent


+10

% Minion Damage
+

1

Command per second
Machinist
Medium Talent


+8

% Max Energy Shield


+6

% Energy Shield Charge Speed
Machinist
Minor Talent


+15

% Sentry Damage
Machinist
Medium Talent


+60

% Sentry Skill Critical Strike Rating


+15

% Sentry Skill Critical Strike Damage
Machinist
Medium Talent


+35

% Minion Projectile Speed


+12

% Minion Skill Radius
+

2

Command per second
Machinist
Minor Talent


+12

% Armor
Machinist
Medium Talent


+30

% Sentry Damage


+24

% Sentry Skill Radius


+20

% Sentry Projectile Speed
Machinist
Minor Talent


+4

% Minion Elemental Resistance


+6

% Minion Erosion Resistance
Machinist
Medium Talent


+18

% Armor


+8

% Elemental Resistance
Machinist
Minor Talent


+7

% Barrier Absorption
Machinist
Minor Talent


+3

% Movement Speed
Machinist
Medium Talent


+8

% Minion Elemental Resistance


+12

% Minion Erosion Resistance
Machinist
Minor Talent
Adds

11

-

13

Physical Damage to Minions' attacks
Machinist
Minor Talent


+4

% Max Life
Regenerates

0.4

% Life per second
Machinist
Medium Talent


+12

% Barrier Absorption
Gains a Barrier when using Sentry Skills
Machinist
Medium Talent


+6

% Movement Speed


+30

% Sentry Damage when moving
Machinist
Minor Talent


+2

% chance for Synthetic Troop Minions to deal Double Damage
Machinist
Medium Talent


10

% chance for Minion's attacks to ignore Armor
Machinist
Medium Talent


+15

% Max Life
Regenerates

0.8

% Life per second
Machinist
Minor Talent


+4

% Sentry Skill cast frequency
Machinist
Minor Talent


+15

% Sentry Damage
Machinist
Medium Talent


+1

Synthetic Troop Skill Level
Machinist
Medium Talent


+15

% Minion Aura effect
Machinist
Medium Talent


+25

% Sentry Skill cast frequency


-4

% additional Sentry Damage
Machinist
Medium Talent


+1

Sentries that can be deployed at a time
Machinist
Reflection


+20

% Aura Effect


+15

% damage for each type of Aura you are affected by
Steel Vanguard
Resistance


+3

% Max Elemental Resistance
Damage Penetrates

15

% Elemental Resistance
Steel Vanguard
Curtain


+35

% Barrier Absorption


40

% Missing Life and Energy Shield Restored when losing Barrier
Steel Vanguard
Knowledgeable


+55

% Empower Skill Effect


+38

% Defensive Skill Effect
Steel Vanguard
Poison Immunity


+5

% Max Erosion Resistance
Converts

25

% of Physical Damage and Elemental Damage taken to Erosion Damage
Steel Vanguard
Panacea
Restoration Skills:

+50

% restoration effect
Restoration effect from Restoration Skills cannot be removed
Steel Vanguard
Minor Talent


+12

% damage
Steel Vanguard
Minor Talent


+5

% Max Life
Steel Vanguard
Minor Talent


+5

% Elemental Resistance
Steel Vanguard
Medium Talent


+24

% damage
Steel Vanguard
Minor Talent


+4

% Attack and Cast Speed
Steel Vanguard
Medium Talent


+10

% Max Life
Steel Vanguard
Minor Talent


+12

% damage
Steel Vanguard
Medium Talent


+10

% Elemental Resistance
Steel Vanguard
Minor Talent


+4

% Max Mana


-2

% Sealed Mana for Aura Skills
Steel Vanguard
Medium Talent


+8

% Attack and Cast Speed
Steel Vanguard
Minor Talent


+5

% Max Energy Shield
Steel Vanguard
Medium Talent


+24

% damage
Steel Vanguard
Minor Talent


+8

% Erosion Resistance
Steel Vanguard
Medium Talent


+8

% Max Mana


-4

% Sealed Mana for Aura Skills
Steel Vanguard
Minor Talent


+10

% damage


+4

% Empower Skill Effect
Steel Vanguard
Medium Talent


+8

% Max Energy Shield


+6

% Energy Shield Charge Speed
Steel Vanguard
Medium Talent


+16

% Erosion Resistance
Steel Vanguard
Minor Talent


+320

Armor


2.5

% Defensive Skill Effect
Steel Vanguard
Medium Talent


+1

Empower Skill Level
Steel Vanguard
Minor Talent


+12

% Skill Radius
Steel Vanguard
Minor Talent


+7

% Barrier Absorption
Steel Vanguard
Minor Talent


+5

% Elemental Resistance
Steel Vanguard
Medium Talent


+640

Armor


+5

% Defensive Skill Effect
Steel Vanguard
Minor Talent


-3

% Sealed Mana for Imbue Skills
Steel Vanguard
Medium Talent


+24

% Skill Radius
Steel Vanguard
Medium Talent


+14

% Barrier Absorption
Steel Vanguard
Medium Talent


-10

% additional Elemental Damage taken
Steel Vanguard
Minor Talent


+12

% damage
Steel Vanguard
Medium Talent


+2

Imbue Skill Level
Steel Vanguard
Minor Talent


+4

% Max Life
Regenerates

0.5

% Life per second
Steel Vanguard
Minor Talent


+12

% Erosion Damage
Steel Vanguard
Medium Talent
Converts

15

% of Physical Damage taken to random Elemental Damage
Steel Vanguard
Medium Talent


+20

% chance to gain 1 stack of Tenacity Blessing, Agility Blessing, and Focus Blessing on defeat
Steel Vanguard
Minor Talent


-3

% Sealed Mana for Aura Skills
Steel Vanguard
Medium Talent


+1

% Restoration Skill Effect for every 1% of Life lost
Steel Vanguard
Medium Talent


+1

% Max Erosion Resistance
Steel Vanguard
Minor Talent
Damage Penetrates

2

% Elemental Resistance
Steel Vanguard
Medium Talent
Max Tenacity Blessing Stacks

+1


Max Agility Blessing Stacks

+1


Max Focus Blessing Stacks

+1

Steel Vanguard
Medium Talent


+12

% Aura Effect


+2

% additional Sealed Mana
Steel Vanguard
Medium Talent


+8

% additional damage to Life
Steel Vanguard
Medium Talent
Damage Penetrates

6

% Elemental Resistance
Steel Vanguard
Source


-100

% Sealed Mana for Spirit Magus Skills
Alchemist
Contingency


+1

% additional Life Regeneration Speed for every

2

% of Life lost


+1

% additional Mana Regeneration Speed for every

2

% of Mana lost
Alchemist
Empower
Adds

25

% of Max Life to Barrier Absorption
Adds

25

% of Max Energy Shield to Barrier Absorption
Alchemist
Battle Trumpet


+100

% Spirit Magus Skill Cooldown Recovery Speed


+25

% additional Minion Attack and Cast Speed
Alchemist
Active Superflux
Overflown Mana regeneration applied to Life
Regenerates

3

% Mana per second
Alchemist
Talons of Abyss


+50

% chance for Minions to inflict Ailment
Minions are immune to DoT Damage
Adds

50

Base Ailment Damage to Minions
Alchemist
Minor Talent


+15

% Minion Damage


+10

% damage
Alchemist
Minor Talent


+5

% Max Life


+15

% Minion Max Life
Alchemist
Minor Talent


+8

% Max Mana
Alchemist
Medium Talent


+30

% Minion Damage


+20

% damage
Alchemist
Minor Talent


+4

% Minion Attack and Cast Speed


+4

% Attack and Cast Speed
Alchemist
Medium Talent


+10

% Max Life


+30

% Minion Max Life
Alchemist
Minor Talent
Regenerates

0.5

% Life per second
Alchemist
Medium Talent


+16

% Max Mana
Alchemist
Minor Talent


+4

% Minion Movement Speed
Alchemist
Medium Talent


+8

% Minion Attack and Cast Speed


+8

% Attack and Cast Speed
Alchemist
Minor Talent


+5

% Max Energy Shield
Alchemist
Medium Talent
Regenerates

1

% Life per second
Alchemist
Minor Talent
Regenerates

0.5

% Mana per second
Alchemist
Medium Talent


+8

% Minion Movement Speed
Alchemist
Minor Talent


+40

% Minion Critical Strike Rating
Alchemist
Medium Talent


+10

% Max Energy Shield
Alchemist
Minor Talent


+4

% Life Regeneration Speed
Alchemist
Medium Talent
Regenerates

1

% Mana per second
Alchemist
Minor Talent


+5

% Minion Elemental Resistance
Alchemist
Medium Talent


+60

% Minion Critical Strike Rating


+15

% Minion Critical Strike Damage
Alchemist
Minor Talent


+3

% Movement Speed
Alchemist
Medium Talent


+8

% Life Regeneration Speed
Alchemist
Minor Talent


+15

% Mana Regeneration Speed
Alchemist
Medium Talent


+24

% Minion Skill Radius
Alchemist
Medium Talent


+35

% Minion Projectile Speed
Alchemist
Medium Talent


+2

% Movement Speed per Minion Nearby
Alchemist
Minor Talent


+12

% Armor
Alchemist
Medium Talent


+30

% Mana Regeneration Speed
Alchemist
Minor Talent


+7

% Spirit Magus effect
Alchemist
Minor Talent


+7

% Barrier Absorption
Alchemist
Medium Talent


+18

% Armor
Adds

0.4

% of Armor to Barrier Absorption
Alchemist
Minor Talent


+5

% Max Life
Alchemist
Minor Talent


+12

% damage


+15

% Minion Damage
Alchemist
Medium Talent
When a Spirit Magus Minion loses Reconjuring, it restores

15

% additional Life per second
Alchemist
Medium Talent
Gains a Barrier when about to suffer Severe Injury
Alchemist
Minor Talent
Restoration Skills:

+5

% restoration effect
Alchemist
Medium Talent


+10

% Max Energy Shield
Alchemist
Medium Talent


8

% of damage taken is transferred to a random Minion
Alchemist
Medium Talent


+15

% additional damage taken by Nearby enemies for

4

s after Spirit Magus Minions are revived
Alchemist
Medium Talent
Remove all DoT Damage when using Restoration Skills
Alchemist
Medium Talent
Lose

5

% Life per second


-35

% additional Energy Shield Charge Interval
Alchemist
Icon_Talent_68a
Peaceful Realm
Gains

1

point(s) of Order every

3

s


+25

% Order effect
New God
Icon_Talent_68a
Chaotic Realm
Loses

1

point(s) of Order on defeat
Loses half of the current Order upon encountering the first Boss


+25

% Chaos effect
New God
Icon_Talent_68a
Silent Realm
Has

50

point(s) of fixed Order


+25

% Order effect


+25

% Chaos effect
New God
Icon_Talent_68a
Dying Dragon


+100

% Skill Area and

+60

% additional damage for the next several Main Attack Skills after the Tenacity Blessing is devoured. Grants the buff to +1 Main Attack Skill for every stack of Tenacity Blessing devoured.
The new god is devouring Six Gods' blessings
New God
Icon_Talent_68a
Falling Stars


+120

% Attack and Cast Speed for the next several Main Attack Skills after the Agility Blessing is devoured. Grants the buff to +1 Main Attack Skill for every stack of Agility Blessing devoured.
The new god is devouring Six Gods' blessings
New God
Icon_Talent_68a
Broken Dream


+100

% chance to deal double damage for the next several Main Attack Skills after the Focus Blessing is devoured. Grants the buff to +1 Main Attack Skill for every stack of Focus Blessing devoured.
The new god is devouring Six Gods' blessings
New God
Icon_Talent_68a
End of War


+4

% Critical Strike Damage for every point of Fervor Rating devoured after Fervor is devoured. The increased damage will diminish to 0 during the next

4

s
The new god is devouring Six Gods' blessings
New God
Icon_Talent_68a
Revealed Truth


+1

% crowd control effect for every point of Blur Rating devoured after Blur is devoured. The increased effect will diminish to 0 duirng the next

4

s.
The new god is devouring Six Gods' blessings
New God
Icon_Talent_68a
Ruined City
Restores

1.5

Life and Energy Shield for every point of Barrier Rating devoured during the

4

s after Barrier is devoured
The new god is devouring Six Gods' blessings
New God
Icon_Talent_68a
Medium Talent
The new god is balancing order and chaos


0.12

% additional Attack Damage for every point of Order
New God
Icon_Talent_68a
Medium Talent
The new god is balancing order and chaos


0.09

% chance for Attacks to deal double damage for every point of Chaos
New God
Icon_Talent_68a
Medium Talent
The new god is balancing order and chaos


0.12

% additional Fire Damage for every point of Order
New God
Icon_Talent_68a
Medium Talent
The new god is balancing order and chaos


0.14

% additional damage against enemies at the center of the area for every point of Chaos
New God
Icon_Talent_68a
Medium Talent
The new god is balancing order and chaos


0.12

% additional Attack and Cast Speed for every point of Order
New God
Icon_Talent_68a
Medium Talent
The new god is balancing order and chaos


0.09

% chance for a skill to have

+100

% additional Attack and Cast Speed for every point of Chaos you have when the skill is cast
New God
Icon_Talent_68a
Medium Talent
The new god is balancing order and chaos


0.12

% additional Lightning Damage for every point of Order
New God
Icon_Talent_68a
Medium Talent
The new god is balancing order and chaos


0.15

% additional max damage for every point of Chaos
New God
Icon_Talent_68a
Medium Talent
The new god is balancing order and chaos


0.12

% additional Spell Damage for every point of Order
New God
Icon_Talent_68a
Medium Talent
The new god is balancing order and chaos


0.12

% additional damage for skills cast by Spell Burst for every point of Chaos you have
New God
Icon_Talent_68a
Medium Talent
The new god is balancing order and chaos


0.12

% additional Cold Damage for every point of Order
New God
Icon_Talent_68a
Medium Talent
The new god is balancing order and chaos


0.25

% Frostbite chance for every point of Chaos
New God
Icon_Talent_68a
Medium Talent
The new god is balancing order and chaos


+2

Critical Strike Rating for every point of Order
New God
Icon_Talent_68a
Medium Talent
The new god is balancing order and chaos


0.5

% Critical Strike Damage for every point of Chaos
New God
Icon_Talent_68a
Medium Talent
The new god is balancing order and chaos


0.12

% additional Physical Damage for every point of Order
New God
Icon_Talent_68a
Medium Talent
The new god is balancing order and chaos


0.08

% chance to ignore Armor for every point of Chaos
New God
Icon_Talent_68a
Medium Talent
The new god is balancing order and chaos


0.12

% additional DoT Damage for every point of Order
New God
Icon_Talent_68a
Medium Talent
The new god is balancing order and chaos


0.1

% Reaping Duration for every point of Chaos


0.2

% Affliction effect for every point of Chaos
New God
Icon_Talent_68a
Medium Talent
The new god is balancing order and chaos


0.12

% additional Erosion Damage for every point of Order
New God
Icon_Talent_68a
Medium Talent
The new god is balancing order and chaos


0.09

% chance to cause 1 additional stack of Decay for every point of Chaos
New God
Icon_Talent_68a
Medium Talent
The new god is balancing order and chaos


0.12

% additional Minion Damage for every point of Order
New God
Icon_Talent_68a
Medium Talent
The new god is balancing order and chaos
Gains

1

Command every second for every

20

Chaos you have
New God
Icon_Talent_68a
Medium Talent
The new god is balancing order and chaos


0.12

% additional Sentry Damage for every point of Order
New God
Icon_Talent_68a
Medium Talent
The new god is balancing order and chaos


0.09

% additional Sentry Skill cast frequency for every point of Order
New God
Icon_Talent_68a
Medium Talent


-18

% additional Order decrease speed
New God
Icon_Talent_68a
Medium Talent


+18

% additional Order decrease speed
New God
Talents - Help
Basic Rules:
1. You can select from a total of three Talent Panels.
2. The first Talent Panel needs to be selected from a set of six Basic Talent Panels.
3. The second Talent Panel can be selected from two Advanced Talent Panels corresponding to the Basic Talent Panels.
4. You can select the third Talent Panel without any restrictions.

About Talent Node:
1. Each Talent Panel contains a number of Talent Nodes, and activating Talent Nodes will increase basic stats (Strength, Dexterity, and Intelligence). They bring distinct increases in basic stats depending on the Talent Panels.
2. Activating Talent Nodes costs corresponding Talent Points.
3. You gain 1 Talent Node for every level and additional Talent Nodes by completing a set of key quests.
4. Talent Nodes are divided into Minor, Medium and Major ones.
5. Activate a Minor Node before unlocking a Medium Node.
6. After a certain amount of Medium Nodes have been unlocked, a Major Node can be unlocked.

About Forgetting:
1. Activated Talent Nodes can be reset. Resetting costs Oblivion Points. Use Elixir of Oblivion to get Forgetting Points.
2. Resetting Talent Nodes does not cost Forgetting Points until you reach Lv.80.
Main Talent Node - Help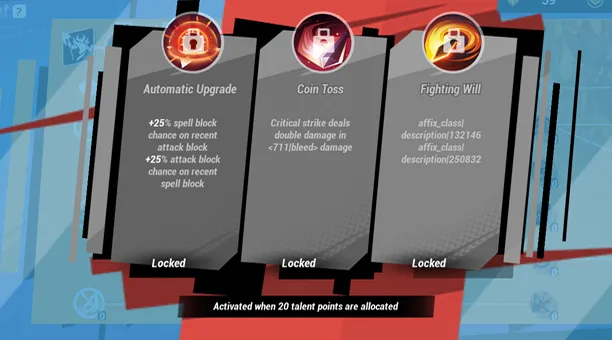 >Core Talent Nodes> are the core component of a Talent Panel. A Core Talent Node can only be activated when you have invested enough Talent Points in the corresponding Talent Panel.
>You may change your Core Talent Node at any time.>
Talent - Help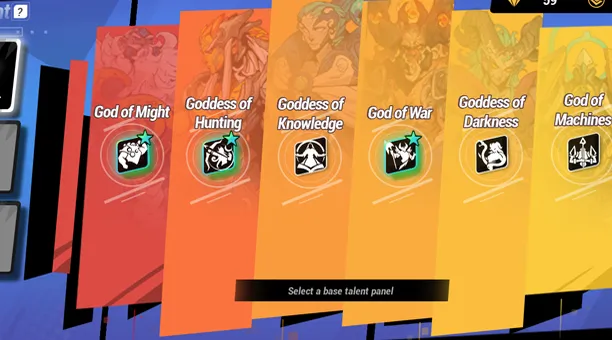 Talent Points are obtained by leveling up and completing Hunter's Forge. Investing Talent Points in the Talent system provides various powerful buffs.
The Talent Panels of different gods provide different bonuses, which can be mixed and matched freely according to the tags of each Talent Panel.
Talent Nodes are divided into:
Micro Talent Nodes
Medium Talent Nodes
Lv.1 Core Talent Nodes
Lv.2 Core Talent Nodes
The Revert button allows you to revert Talent Nodes and> reclaim> the Talent Points you've spent.
Reverting Talent Nodes is >free> before Lv.80.