T1 Affix
Tier
Modifier
Lv
Weight
Type
1

(8–10)

Mana restored on hit
50
0
Claw
1

+(10–12)

% Life Regain
35
0
Claw
1

+(185–240)

Max Mana
82
303
Claw
1

+(50–64)

% Max Mana
82
303
Claw
1

+(185–240)

Max Mana
82
204
Wand
1

+(93–120)

% Mana Regeneration Speed
82
204
Wand
1

+(50–64)

% Max Mana
82
204
Wand
1

+(47–60)

% Minion Max Life
82
204
Wand
1

+(185–240)

Max Mana
82
278
Cane
1

+(93–120)

% Mana Regeneration Speed
82
278
Cane
1

+(50–64)

% Max Mana
82
278
Cane
1

+(185–240)

Max Mana
82
256
Sacrificial Blade
1

+(93–120)

% Mana Regeneration Speed
82
256
Sacrificial Blade
1

+(50–64)

% Max Mana
82
256
Sacrificial Blade
1
Restores

3

% of Life on defeat
35
0
One-Handed Axe
1

+(10–12)

% Life Regain
35
0
One-Handed Axe
1
Consumes

3

% of Max Life when you use Attack Skills
80
312
One-Handed Axe
1

(8–10)

Mana restored on hit
50
0
Dagger
1

+(10–12)

% Life Regain
35
0
Dagger
1

+(185–240)

Max Mana
82
312
Dagger
1

+(50–64)

% Max Mana
82
312
Dagger
1

+(91–120)

% Minion Max Life
82
263
Two-Handed Hammer
1

+(55–65)

% Life Regeneration Speed
82
263
Two-Handed Hammer
1

(16–20)

% Minion Life Regeneration per second
82
263
Two-Handed Hammer
1

+(371–480)

Max Mana
82
238
Tin Staff
1

+(181–240)

% Mana Regeneration Speed
82
238
Tin Staff
1

+(101–130)

% Max Mana
82
238
Tin Staff
1

+(91–120)

% Minion Max Life
82
238
Tin Staff
1
Restores

(5–6)

% of Life on defeat
35
0
Two-Handed Axe
1

+(14–17)

% Life Regain
35
0
Two-Handed Axe
1
Consumes

6

% of Max Life when you use Attack Skills
80
333
Two-Handed Axe
1

+(371–480)

Max Mana
82
303
Cudgel
1

+(181–240)

% Mana Regeneration Speed
82
303
Cudgel
1

+(101–130)

% Max Mana
82
303
Cudgel
1

+(170–220)

Max Life
82
179
Necklace
1
Regenerates

(109–120)

Life per second
82
179
Necklace
1

+(93–120)

Max Mana
82
179
Necklace
1

+(47–60)

% Mana Regeneration Speed
82
179
Necklace
1
Regenerates

(47–60)

Mana per second
82
179
Necklace
1

+(170–220)

Max Life
82
204
Ring
1
Regenerates

(109–120)

Life per second
82
204
Ring
1

+(13–16)

% Life Regeneration Speed
82
204
Ring
1

+(93–120)

Max Mana
82
204
Ring
1

+(47–60)

% Mana Regeneration Speed
82
204
Ring
1

+(170–220)

Max Life
82
244
Belt
1
Regenerates

(109–120)

Life per second
82
244
Belt
1

+(13–16)

% Life Regeneration Speed
82
244
Belt
1

+(93–120)

Max Mana
82
244
Belt
1

+(47–60)

% Mana Regeneration Speed
82
244
Belt
1
Restores

(5–6)

% of Life on defeat
35
0
Crossbow
1

+(14–17)

% Life Regain
35
0
Crossbow
1
Consumes

6

% of Max Life when you use Attack Skills
80
303
Crossbow
1

+(170–220)

Max Life
82
270
STR Gloves
1
Regenerates

(109–120)

Life per second
82
270
STR Gloves
1

+(7–8)

% Life Regain
35
0
STR Gloves
1

+(170–220)

Max Life
82
263
DEX Gloves
1
Regenerates

(109–120)

Life per second
82
263
DEX Gloves
1

+(7–8)

% Life Regain
35
0
DEX Gloves
1

+(170–220)

Max Life
82
250
INT Gloves
1
Regenerates

(109–120)

Life per second
82
250
INT Gloves
1

+(7–8)

% Life Regain
35
0
INT Gloves
1

+(93–120)

Max Mana
82
250
INT Gloves
1

+(47–60)

% Mana Regeneration Speed
82
250
INT Gloves
1

+(170–220)

Max Life
82
312
STR Boots
1
Regenerates

(109–120)

Life per second
82
312
STR Boots
1
Regenerates

(2–3)

% of Life per second while moving
80
312
STR Boots
1

+(170–220)

Max Life
82
303
DEX Boots
1
Regenerates

(109–120)

Life per second
82
303
DEX Boots
1
Regenerates

(2–3)

% of Life per second while moving
80
303
DEX Boots
1

+(170–220)

Max Life
82
294
INT Boots
1
Regenerates

(109–120)

Life per second
82
294
INT Boots
1
Regenerates

(2–3)

% of Life per second while moving
80
0
INT Boots
1

+(93–120)

Max Mana
82
294
INT Boots
1

+(47–60)

% Mana Regeneration Speed
82
294
INT Boots
1
Regenerates

2.5

% Mana per second while moving
80
294
INT Boots
1

+(255–330)

Max Life
82
250
STR Chest Armor
1
Regenerates

(163–180)

Life per second
82
250
STR Chest Armor
1
Regenerates

(2–3)

% Life per second
80
250
STR Chest Armor
1

+(47–60)

% Minion Max Life
82
250
STR Chest Armor
1
Consumes

1.5

% of Max Life when you use Attack Skills
80
250
STR Chest Armor
1

+(255–330)

Max Life
82
256
DEX Chest Armor
1
Regenerates

(163–180)

Life per second
82
256
DEX Chest Armor
1

+(47–60)

% Minion Max Life
82
256
DEX Chest Armor
1
Restores

(8–10)

% Missing Life on Evasion
82
256
DEX Chest Armor
1

+(255–330)

Max Life
82
250
INT Chest Armor
1
Regenerates

(163–180)

Life per second
82
250
INT Chest Armor
1

+(47–60)

% Minion Max Life
82
250
INT Chest Armor
1

+(139–180)

Max Mana
82
250
INT Chest Armor
1

+(70–90)

% Mana Regeneration Speed
82
250
INT Chest Armor
1

+(37–48)

% Max Mana
82
250
INT Chest Armor
1

+(170–220)

Max Life
82
238
STR Helmet
1
Regenerates

(109–120)

Life per second
82
238
STR Helmet
1
Regenerates

2

% Life per second
80
238
STR Helmet
1

+(47–60)

% Minion Max Life
82
238
STR Helmet
1

+(170–220)

Max Life
82
233
DEX Helmet
1
Regenerates

(109–120)

Life per second
82
233
DEX Helmet
1
Regenerates

2

% Life per second
80
233
DEX Helmet
1

+(47–60)

% Minion Max Life
82
233
DEX Helmet
1

+(170–220)

Max Life
82
222
INT Helmet
1
Regenerates

(109–120)

Life per second
82
222
INT Helmet
1
Regenerates

2

% Life per second
80
0
INT Helmet
1

+(47–60)

% Minion Max Life
82
222
INT Helmet
1

+(93–120)

Max Mana
82
222
INT Helmet
1

+(47–60)

% Mana Regeneration Speed
82
222
INT Helmet
1

+(25–32)

% Max Mana
82
222
INT Helmet
1

+(255–330)

Max Life
82
263
STR Shield
1
Regenerates

(109–120)

Life per second
82
263
STR Shield
1
Regenerates

2

% Life per second
80
263
STR Shield
1

+(255–330)

Max Life
82
250
DEX Shield
1
Regenerates

(109–120)

Life per second
82
250
DEX Shield
1
Regenerates

2

% Life per second
80
250
DEX Shield
1

+(19–24)

% Max Life
82
250
DEX Shield
1

+(255–330)

Max Life
82
263
INT Shield
1
Regenerates

(109–120)

Life per second
82
263
INT Shield
1
Regenerates

2

% Life per second
80
263
INT Shield
1

+(19–24)

% Max Life
82
263
INT Shield
1

+(185–240)

Max Mana
82
263
INT Shield
1

+(93–120)

% Mana Regeneration Speed
82
263
INT Shield
1

+(1847–2400)

Armor
82
303
One-Handed Hammer
1

+(29–36)

% Armor
82
303
One-Handed Hammer
1

+(16–20)

% chance to avoid Elemental Ailment
80
0
One-Handed Hammer
1

+(20–25)

% Attack and Spell Block Chance
80
0
One-Handed Sword
1

+(16–20)

% Block Ratio
82
0
One-Handed Sword
1
Blocks an additional

(26–33)

damage
82
0
One-Handed Sword
1

+(30–38)

% Attack and Spell Block Chance
80
0
Two-Handed Sword
1

+(24–30)

% Block Ratio
82
0
Two-Handed Sword
1
Blocks an additional

(39–50)

damage
82
0
Two-Handed Sword
1

+(30–38)

% Attack and Spell Block Chance
80
0
Tin Staff
1

+(24–30)

% Block Ratio
82
0
Tin Staff
1
Blocks an additional

(39–50)

damage
82
0
Tin Staff
1

+(22–24)

% Energy Shield Charge Speed
82
0
Tin Staff
1

+(30–38)

% Attack and Spell Block Chance
80
0
Cudgel
1

+(24–30)

% Block Ratio
82
0
Cudgel
1
Blocks an additional

(39–50)

damage
82
0
Cudgel
1

+(1847–2400)

Armor
82
179
Necklace
1

+(1847–2400)

Evasion
82
179
Necklace
1

+(309–400)

Max Energy Shield
82
179
Necklace
1

+(7–8)

% Energy Shield Regain
35
0
Necklace
1

+(1847–2400)

Armor
82
204
Ring
1

+(1847–2400)

Evasion
82
204
Ring
1

+(309–400)

Max Energy Shield
82
204
Ring
1

+(1847–2400)

Armor
82
244
Belt
1

+(1847–2400)

Evasion
82
244
Belt
1

+(309–400)

Max Energy Shield
82
244
Belt
1

+(43–54)

% Evasion
82
270
Pistol
1

+(7–8)

% chance to avoid damage
82
270
Pistol
1

+(10–12)

% Life Regain
35
0
Pistol
1

+(10–12)

% Energy Shield Regain
35
0
Pistol
1

+(5539–7200)

Armor
82
303
Fire Cannon
1

+(84–108)

% Armor
82
303
Fire Cannon
1

+(14–17)

% Life Regain
35
0
Fire Cannon
1

+(14–17)

% Energy Shield Regain
35
0
Fire Cannon
1

+(2216–2880)

gear Armor
82
270
STR Gloves
1

+(77–100)

% gear Armor
82
0
STR Gloves
1

+(20–25)

% Attack Block Chance
82
270
STR Gloves
1

+(20–25)

% Spell Block Chance
82
270
STR Gloves
1

+(2216–2880)

gear Evasion
82
263
DEX Gloves
1

+(77–100)

% gear Evasion
82
0
DEX Gloves
1

+(20–25)

% Attack Block Chance
82
263
DEX Gloves
1

+(20–25)

% Spell Block Chance
82
263
DEX Gloves
1

+(278–360)

gear Energy Shield
82
250
INT Gloves
1

+(52–66)

% gear Energy Shield
82
250
INT Gloves
1

+(7–8)

% Energy Shield Regain
35
0
INT Gloves
1

+(20–25)

% Attack Block Chance
82
250
INT Gloves
1

+(20–25)

% Spell Block Chance
82
250
INT Gloves
1

+(2216–2880)

gear Armor
82
312
STR Boots
1

+(77–100)

% gear Armor
82
0
STR Boots
1

+(6–10)

% chance to avoid Melee Damage
82
312
STR Boots
1

+(2216–2880)

gear Evasion
82
303
DEX Boots
1

+(77–100)

% gear Evasion
82
0
DEX Boots
1

+(6–10)

% chance to avoid Projectile Damage
82
303
DEX Boots
1

+(278–360)

gear Energy Shield
82
294
INT Boots
1

+(52–66)

% gear Energy Shield
82
250
INT Boots
1

+(6–10)

% chance to avoid Spell Damage
82
294
INT Boots
1

+(2586–3360)

gear Armor
82
250
STR Chest Armor
1

+(77–100)

% gear Armor
82
0
STR Chest Armor
1

+(23–30)

% Critical Strike Damage Mitigation
80
250
STR Chest Armor
1

+(2586–3360)

gear Evasion
82
256
DEX Chest Armor
1

+(77–100)

% gear Evasion
82
0
DEX Chest Armor
1

+4

% chance to avoid damage
82
256
DEX Chest Armor
1

+(324–420)

gear Energy Shield
82
250
INT Chest Armor
1

+(52–66)

% gear Energy Shield
82
250
INT Chest Armor
1

+(22–24)

% Energy Shield Charge Speed
82
0
INT Chest Armor
1

+(23–30)

% Critical Strike Damage Mitigation
80
250
INT Chest Armor
1

+(2216–2880)

gear Armor
82
238
STR Helmet
1

+(77–100)

% gear Armor
82
0
STR Helmet
1

+(9–10)

% Block Ratio
82
0
STR Helmet
1

+(2216–2880)

gear Evasion
82
233
DEX Helmet
1

+(77–100)

% gear Evasion
82
0
DEX Helmet
1

+(9–10)

% Block Ratio
82
0
DEX Helmet
1

+(278–360)

gear Energy Shield
82
222
INT Helmet
1

+(52–66)

% gear Energy Shield
82
250
INT Helmet
1

+(15–16)

% Energy Shield Charge Speed
82
0
INT Helmet
1

+(9–10)

% Block Ratio
82
0
INT Helmet
1

+(2216–2880)

gear Armor
82
263
STR Shield
1

+(77–100)

% gear Armor
82
0
STR Shield
1

+(39–50)

% Attack Block Chance
82
263
STR Shield
1

+(39–50)

% Spell Block Chance
82
263
STR Shield
1

+(16–20)

% Block Ratio
82
263
STR Shield
1

+(2216–2880)

gear Evasion
82
250
DEX Shield
1

+(77–100)

% gear Evasion
82
0
DEX Shield
1

+(39–50)

% Attack Block Chance
82
250
DEX Shield
1

+(39–50)

% Spell Block Chance
82
250
DEX Shield
1

+(16–20)

% Block Ratio
82
250
DEX Shield
1

+(324–420)

gear Energy Shield
82
263
INT Shield
1

+(52–66)

% gear Energy Shield
82
250
INT Shield
1

+(39–50)

% Attack Block Chance
82
263
INT Shield
1

+(39–50)

% Spell Block Chance
82
263
INT Shield
1

+(16–20)

% Block Ratio
82
263
INT Shield
1
Adds

(25–29)

-

(30–35)

Physical Damage to the gear
82
152
Claw
1
Adds

(47–54)

-

(65–74)

Fire Damage to the gear
82
303
Claw
1
Adds

(48–55)

-

(64–73)

Cold Damage to the gear
82
303
Claw
1
Adds

(6–7)

-

(106–121)

Lightning Damage to the gear
82
303
Claw
1
Adds

(51–59)

-

(60–69)

Erosion Damage to the gear
82
303
Claw
1
Adds

(27–34)

Base Wilt Damage
80
0
Claw
1
Adds Base

(77–100)

Shock Damage
80
0
Claw
1
Adds

(59–68)

-

(80–92)

Fire Damage to Spells
82
204
Wand
1
Adds

(60–69)

-

(80–91)

Cold Damage to Spells
82
204
Wand
1
Adds

(7–8)

-

(133–152)

Lightning Damage to Spells
82
204
Wand
1
Adds

(65–74)

-

(75–86)

Erosion Damage to Spells
82
204
Wand
1
Adds Base

(77–100)

Shock Damage
80
0
Wand
1
Adds

(27–34)

Base Wilt Damage
80
0
Wand
1
Adds

(25–29)

-

(30–35)

Physical Damage to the gear
82
139
Cane
1
Adds

(47–54)

-

(65–74)

Fire Damage to the gear
82
278
Cane
1
Adds

(48–55)

-

(64–73)

Cold Damage to the gear
82
278
Cane
1
Adds

(6–7)

-

(106–121)

Lightning Damage to the gear
82
278
Cane
1
Adds

(51–59)

-

(60–69)

Erosion Damage to the gear
82
278
Cane
1
Adds Base

(77–100)

Shock Damage
80
0
Cane
1
Adds

(25–29)

-

(30–35)

Physical Damage to the gear
82
152
One-Handed Hammer
1
Adds

(47–54)

-

(65–74)

Fire Damage to the gear
82
303
One-Handed Hammer
1
Adds

(48–55)

-

(64–73)

Cold Damage to the gear
82
303
One-Handed Hammer
1
Adds

(6–7)

-

(106–121)

Lightning Damage to the gear
82
303
One-Handed Hammer
1
Adds

(54–69)

Base Ignite Damage
80
0
One-Handed Hammer
1
Adds Base

(77–100)

Shock Damage
80
0
One-Handed Hammer
1
Adds

(59–68)

-

(80–92)

Fire Damage to Spells
82
256
Sacrificial Blade
1
Adds

(60–69)

-

(80–91)

Cold Damage to Spells
82
256
Sacrificial Blade
1
Adds

(7–8)

-

(133–152)

Lightning Damage to Spells
82
256
Sacrificial Blade
1
Adds

(65–74)

-

(75–86)

Erosion Damage to Spells
82
256
Sacrificial Blade
1
Adds

(54–69)

Base Ignite Damage
80
0
Sacrificial Blade
1
Adds

(27–34)

Base Wilt Damage
80
0
Sacrificial Blade
1
Adds

(25–29)

-

(30–35)

Physical Damage to the gear
82
161
One-Handed Sword
1
Adds

(47–54)

-

(65–74)

Fire Damage to the gear
82
323
One-Handed Sword
1
Adds

(48–55)

-

(64–73)

Cold Damage to the gear
82
323
One-Handed Sword
1
Adds

(6–7)

-

(106–121)

Lightning Damage to the gear
82
323
One-Handed Sword
1
Adds

(51–59)

-

(60–69)

Erosion Damage to the gear
82
323
One-Handed Sword
1
Adds Base

(77–100)

Shock Damage
80
0
One-Handed Sword
1
Adds

(27–34)

Base Wilt Damage
80
0
One-Handed Sword
1
Adds

(25–29)

-

(30–35)

Physical Damage to the gear
82
156
One-Handed Axe
1
Adds

(47–54)

-

(65–74)

Fire Damage to the gear
82
312
One-Handed Axe
1
Adds

(48–55)

-

(64–73)

Cold Damage to the gear
82
312
One-Handed Axe
1
Adds

(6–7)

-

(106–121)

Lightning Damage to the gear
82
312
One-Handed Axe
1
Adds

(89–115)

Base Trauma Damage
80
0
One-Handed Axe
1
Adds

(25–29)

-

(30–35)

Physical Damage to the gear
82
156
Dagger
1
Adds

(47–54)

-

(65–74)

Fire Damage to the gear
82
312
Dagger
1
Adds

(48–55)

-

(64–73)

Cold Damage to the gear
82
312
Dagger
1
Adds

(6–7)

-

(106–121)

Lightning Damage to the gear
82
312
Dagger
1
Adds

(51–59)

-

(60–69)

Erosion Damage to the gear
82
312
Dagger
1
Adds

(27–34)

Base Wilt Damage
80
0
Dagger
1
Adds

(50–55)

-

(60–70)

Physical Damage to the gear
82
161
Bow
1
Adds

(141–160)

-

(181–220)

Fire Damage to the gear
82
323
Bow
1
Adds

(141–160)

-

(191–210)

Cold Damage to the gear
82
323
Bow
1
Adds

(8–10)

-

(321–400)

Lightning Damage to the gear
82
323
Bow
1
Adds

(151–170)

-

(181–200)

Erosion Damage to the gear
82
323
Bow
1
Adds

(80–103)

Base Ignite Damage
80
0
Bow
1
Adds

(133–172)

Base Trauma Damage
80
0
Bow
1
Adds

(50–55)

-

(60–70)

Physical Damage to the gear
82
143
Two-Handed Sword
1
Adds

(141–160)

-

(181–220)

Fire Damage to the gear
82
286
Two-Handed Sword
1
Adds

(141–160)

-

(191–210)

Cold Damage to the gear
82
286
Two-Handed Sword
1
Adds

(8–10)

-

(321–400)

Lightning Damage to the gear
82
286
Two-Handed Sword
1
Adds

(151–170)

-

(181–200)

Erosion Damage to the gear
82
286
Two-Handed Sword
1
Adds Base

(116–150)

Shock Damage
80
0
Two-Handed Sword
1
Adds

(40–51)

Base Wilt Damage
80
0
Two-Handed Sword
1
Adds

(50–55)

-

(60–70)

Physical Damage to the gear
82
132
Two-Handed Hammer
1
Adds

(141–160)

-

(181–220)

Fire Damage to the gear
82
263
Two-Handed Hammer
1
Adds

(141–160)

-

(191–210)

Cold Damage to the gear
82
263
Two-Handed Hammer
1
Adds

(8–10)

-

(321–400)

Lightning Damage to the gear
82
263
Two-Handed Hammer
1
Adds

(80–103)

Base Ignite Damage
80
0
Two-Handed Hammer
1
Adds Base

(116–150)

Shock Damage
80
0
Two-Handed Hammer
1
Adds

(141–160)

-

(181–220)

Fire Damage to Spells
82
238
Tin Staff
1
Adds

(151–170)

-

(181–200)

Cold Damage to Spells
82
238
Tin Staff
1
Adds

(8–10)

-

(321–400)

Lightning Damage to Spells
82
238
Tin Staff
1
Adds

(97–111)

-

(113–129)

Erosion Damage to Spells
82
238
Tin Staff
1
Adds

(50–55)

-

(60–70)

Physical Damage to the gear
82
167
Two-Handed Axe
1
Adds

(141–160)

-

(181–220)

Fire Damage to the gear
82
333
Two-Handed Axe
1
Adds

(141–160)

-

(191–210)

Cold Damage to the gear
82
333
Two-Handed Axe
1
Adds

(8–10)

-

(321–400)

Lightning Damage to the gear
82
333
Two-Handed Axe
1
Adds

(133–172)

Base Trauma Damage
80
0
Two-Handed Axe
1
Adds

(50–55)

-

(60–70)

Physical Damage to the gear
82
152
Cudgel
1
Adds

(141–160)

-

(181–220)

Fire Damage to the gear
82
303
Cudgel
1
Adds

(141–160)

-

(191–210)

Cold Damage to the gear
82
303
Cudgel
1
Adds

(8–10)

-

(321–400)

Lightning Damage to the gear
82
303
Cudgel
1
Adds

(151–170)

-

(181–200)

Erosion Damage to the gear
82
303
Cudgel
1
Adds

(80–103)

Base Ignite Damage
80
0
Cudgel
1
Adds

(45–57)

Base Trauma Damage
82
179
Necklace
1
Adds

(27–34)

Base Ignite Damage
82
179
Necklace
1
Adds Base

(39–50)

Shock Damage
82
179
Necklace
1
Adds

(14–17)

Base Wilt Damage
82
179
Necklace
1
Adds

(31–36)

-

(38–44)

Physical Damage to Attacks
80
0
Ring
1
Adds

(29–34)

-

(40–46)

Fire Damage to Attacks
80
0
Ring
1
Adds

(3–4)

-

(66–76)

Lightning Damage to Attacks
80
0
Ring
1
Adds

(29–34)

-

(39–45)

Cold Damage to Attacks
80
0
Ring
1
Adds

(31–36)

-

(38–44)

Physical Damage to Attacks and Spells
82
204
Ring
1
Adds

(29–34)

-

(40–46)

Fire Damage to Attacks and Spells
82
204
Ring
1
Adds

(29–34)

-

(39–45)

Cold Damage to Attacks and Spells
82
204
Ring
1
Adds

(3–4)

-

(66–76)

Lightning Damage to Attacks and Spells
82
204
Ring
1
Adds

(25–29)

-

(30–35)

Physical Damage to the gear
82
135
Pistol
1
Adds

(47–54)

-

(65–74)

Fire Damage to the gear
82
270
Pistol
1
Adds

(48–55)

-

(64–73)

Cold Damage to the gear
82
270
Pistol
1
Adds

(6–7)

-

(106–121)

Lightning Damage to the gear
82
270
Pistol
1
Adds

(51–59)

-

(60–69)

Erosion Damage to the gear
82
270
Pistol
1
Adds Base

(77–100)

Shock Damage
80
0
Pistol
1
Adds

(27–34)

Base Wilt Damage
80
0
Pistol
1
Adds

(50–55)

-

(60–70)

Physical Damage to the gear
82
152
Musket
1
Adds

(141–160)

-

(181–220)

Fire Damage to the gear
82
303
Musket
1
Adds

(141–160)

-

(191–210)

Cold Damage to the gear
82
303
Musket
1
Adds

(8–10)

-

(321–400)

Lightning Damage to the gear
82
303
Musket
1
Adds

(151–170)

-

(181–200)

Erosion Damage to the gear
80
0
Musket
1
Adds Base

(116–150)

Shock Damage
80
0
Musket
1
Adds

(80–103)

Base Ignite Damage
80
0
Musket
1
Adds

(50–55)

-

(60–70)

Physical Damage to the gear
82
152
Fire Cannon
1
Adds

(141–160)

-

(181–220)

Fire Damage to the gear
82
303
Fire Cannon
1
Adds

(141–160)

-

(191–210)

Cold Damage to the gear
82
303
Fire Cannon
1
Adds

(8–10)

-

(321–400)

Lightning Damage to the gear
82
303
Fire Cannon
1
Adds

(151–170)

-

(181–200)

Erosion Damage to the gear
82
303
Fire Cannon
1
Adds

(80–103)

Base Ignite Damage
80
0
Fire Cannon
1
Adds

(50–55)

-

(60–70)

Physical Damage to the gear
82
152
Crossbow
1
Adds

(141–160)

-

(181–220)

Fire Damage to the gear
82
303
Crossbow
1
Adds

(141–160)

-

(191–210)

Cold Damage to the gear
82
303
Crossbow
1
Adds

(8–10)

-

(321–400)

Lightning Damage to the gear
82
303
Crossbow
1
Adds

(151–170)

-

(181–200)

Erosion Damage to the gear
80
0
Crossbow
1
Adds

(133–172)

Base Trauma Damage
80
0
Crossbow
1
Adds

(31–36)

-

(38–44)

Physical Damage to Attacks
82
270
STR Gloves
1
Adds

(29–34)

-

(40–46)

Fire Damage to Attacks
82
270
STR Gloves
1
Adds

(29–34)

-

(39–45)

Cold Damage to Attacks
82
270
STR Gloves
1
Adds

(3–4)

-

(66–76)

Lightning Damage to Attacks
82
270
STR Gloves
1
Adds

(31–36)

-

(38–44)

Physical Damage to Attacks
82
263
DEX Gloves
1
Adds

(29–34)

-

(40–46)

Fire Damage to Attacks
82
263
DEX Gloves
1
Adds

(29–34)

-

(39–45)

Cold Damage to Attacks
82
263
DEX Gloves
1
Adds

(3–4)

-

(66–76)

Lightning Damage to Attacks
82
263
DEX Gloves
1
Adds

(31–36)

-

(38–44)

Physical Damage to Attacks
82
250
INT Gloves
1
Adds

(29–34)

-

(40–46)

Fire Damage to Attacks
82
250
INT Gloves
1
Adds

(29–34)

-

(39–45)

Cold Damage to Attacks
82
250
INT Gloves
1
Adds

(3–4)

-

(66–76)

Lightning Damage to Attacks
82
250
INT Gloves
1

+(77–100)

% gear Physical Damage
82
152
Claw
1

+(74–96)

% Elemental Damage
82
303
Claw
1

+(74–96)

% Erosion Damage
82
303
Claw
1

+(74–96)

% DoT Damage
82
303
Claw
1

+(74–96)

% Spell Damage
82
204
Wand
1

+(93–120)

% Minion Damage
82
204
Wand
1

+(74–96)

% Elemental Damage
82
204
Wand
1

+(74–96)

% Fire Damage
80
0
Wand
1

+(74–96)

% Cold Damage
80
0
Wand
1

+(74–96)

% Lightning Damage
80
0
Wand
1

+(74–96)

% DoT Damage
82
204
Wand
1

+(77–100)

% gear Physical Damage
82
139
Cane
1

+(74–96)

% Lightning Damage
82
278
Cane
1

+(74–96)

% Projectile Damage
82
278
Cane
1

+(77–100)

% gear Physical Damage
82
152
One-Handed Hammer
1

+(74–96)

% Elemental Damage
82
303
One-Handed Hammer
1

+(74–96)

% Area Damage
82
303
One-Handed Hammer
1

+(74–96)

% Spell Damage
82
256
Sacrificial Blade
1

+(74–96)

% Elemental Damage
82
256
Sacrificial Blade
1

+(74–96)

% Erosion Damage
82
256
Sacrificial Blade
1

+(74–96)

% DoT Damage
82
256
Sacrificial Blade
1

+(77–100)

% gear Physical Damage
82
161
One-Handed Sword
1

+(74–96)

% Elemental Damage
82
323
One-Handed Sword
1

+(74–96)

% Erosion Damage
82
323
One-Handed Sword
1

+(77–100)

% gear Physical Damage
82
156
One-Handed Axe
1

+(74–96)

% Physical Damage
82
312
One-Handed Axe
1

+(74–96)

% Elemental Damage
82
0
One-Handed Axe
1

+(74–96)

% Area Damage
82
312
One-Handed Axe
1

+(77–100)

% gear Physical Damage
82
156
Dagger
1

+(74–96)

% Elemental Damage
82
312
Dagger
1

+(74–96)

% Erosion Damage
82
312
Dagger
1

+(77–100)

% gear Physical Damage
82
161
Bow
1

+(148–192)

% Physical Damage
82
323
Bow
1

+(148–192)

% Elemental Damage
82
323
Bow
1

+(148–192)

% Erosion Damage
82
323
Bow
1

+(148–192)

% Projectile Damage
82
323
Bow
1

+(77–100)

% gear Physical Damage
82
143
Two-Handed Sword
1

+(148–192)

% Physical Damage
82
286
Two-Handed Sword
1

+(148–192)

% Elemental Damage
82
286
Two-Handed Sword
1

+(148–192)

% Erosion Damage
82
286
Two-Handed Sword
1

+(148–192)

% Area Damage
82
286
Two-Handed Sword
1

+(77–100)

% gear Physical Damage
82
132
Two-Handed Hammer
1

+(148–192)

% Elemental Damage
82
263
Two-Handed Hammer
1

+(148–192)

% Area Damage
82
263
Two-Handed Hammer
1

+(185–240)

% Minion Damage
82
263
Two-Handed Hammer
1

+(148–192)

% Spell Damage
82
238
Tin Staff
1

+(185–240)

% Minion Damage
82
238
Tin Staff
1

+(148–192)

% Area Damage
82
238
Tin Staff
1

+(148–192)

% Fire Damage
80
0
Tin Staff
1

+(148–192)

% Cold Damage
80
0
Tin Staff
1

+(148–192)

% Lightning Damage
80
0
Tin Staff
1

+(77–100)

% gear Physical Damage
82
167
Two-Handed Axe
1

+(148–192)

% Physical Damage
82
333
Two-Handed Axe
1

+(148–192)

% Elemental Damage
82
0
Two-Handed Axe
1

+(148–192)

% Area Damage
82
333
Two-Handed Axe
1

+(77–100)

% gear Physical Damage
82
152
Cudgel
1

+(148–192)

% Elemental Damage
82
303
Cudgel
1

+(148–192)

% Erosion Damage
82
303
Cudgel
1

+(37–48)

% Melee Damage
82
179
Necklace
1

+(37–48)

% Spell Damage
82
179
Necklace
1

+(37–48)

% Projectile Damage
82
179
Necklace
1

+(37–48)

% Melee Damage
82
204
Ring
1

+(37–48)

% Ailment Damage
82
204
Ring
1

+(37–48)

% Projectile Damage
82
204
Ring
1

+(37–48)

% Spell Damage
82
204
Ring
1

+(47–60)

% Minion Damage
82
204
Ring
1

+(37–48)

% Elemental Damage
82
244
Belt
1

+(37–48)

% Physical Damage
82
244
Belt
1

+(37–48)

% Erosion Damage
82
244
Belt
1

+(47–60)

% Minion Damage
82
244
Belt
1

+(77–100)

% gear Physical Damage
82
135
Pistol
1

+(74–96)

% Fire Damage
82
0
Pistol
1

+(74–96)

% Lightning Damage
82
0
Pistol
1

+(74–96)

% Projectile Damage
82
270
Pistol
1

+(77–100)

% gear Physical Damage
82
152
Musket
1

+(148–192)

% Elemental Damage
82
303
Musket
1

+(148–192)

% Projectile Damage
82
303
Musket
1

+(77–100)

% gear Physical Damage
82
152
Fire Cannon
1

+(148–192)

% Fire Damage
82
303
Fire Cannon
1

+(148–192)

% Projectile Damage
82
303
Fire Cannon
1

+(148–192)

% Area Damage
82
303
Fire Cannon
1

+(77–100)

% gear Physical Damage
82
152
Crossbow
1

+(148–192)

% Projectile Damage
82
303
Crossbow
1

+(12–15)

% Knockback distance
80
0
Crossbow
1

+(23–30)

% chance to cause Knockbacks
80
0
Crossbow
1

+(148–192)

% Physical Damage
82
303
Crossbow
1

+(37–48)

% Elemental Damage
82
312
STR Boots
1

+(37–48)

% Physical Damage
82
312
STR Boots
1

+(37–48)

% Erosion Damage
82
312
STR Boots
1

+(37–48)

% Elemental Damage
82
303
DEX Boots
1

+(37–48)

% Physical Damage
82
303
DEX Boots
1

+(37–48)

% Erosion Damage
82
303
DEX Boots
1

+(37–48)

% Elemental Damage
82
294
INT Boots
1

+(37–48)

% Physical Damage
82
294
INT Boots
1

+(37–48)

% Erosion Damage
82
294
INT Boots
1

+(37–48)

% Elemental Damage
82
250
STR Chest Armor
1

+(37–48)

% Physical Damage
82
250
STR Chest Armor
1

+(47–60)

% Minion Damage
82
250
STR Chest Armor
1

+(37–48)

% Elemental Damage
82
256
DEX Chest Armor
1

+(37–48)

% Physical Damage
82
256
DEX Chest Armor
1

+(47–60)

% Minion Damage
82
256
DEX Chest Armor
1

+(37–48)

% Elemental Damage
82
250
INT Chest Armor
1

+(37–48)

% Physical Damage
82
250
INT Chest Armor
1

+(47–60)

% Minion Damage
82
250
INT Chest Armor
1

+(37–48)

% Elemental Damage
82
238
STR Helmet
1

+(37–48)

% Physical Damage
82
238
STR Helmet
1

+(37–48)

% Area Damage
82
238
STR Helmet
1

+(37–48)

% Elemental Damage
82
233
DEX Helmet
1

+(37–48)

% Physical Damage
82
233
DEX Helmet
1

+(37–48)

% Area Damage
82
233
DEX Helmet
1

+(37–48)

% Elemental Damage
82
222
INT Helmet
1

+(37–48)

% Physical Damage
82
222
INT Helmet
1

+(37–48)

% Area Damage
82
222
INT Helmet
1

+(74–96)

% Elemental Damage
82
263
STR Shield
1

+(74–96)

% Physical Damage
82
263
STR Shield
1

+(74–96)

% Erosion Damage
82
263
STR Shield
1

+(74–96)

% Elemental Damage
82
250
DEX Shield
1

+(74–96)

% Physical Damage
82
250
DEX Shield
1

+(74–96)

% Erosion Damage
82
250
DEX Shield
1

+(74–96)

% Elemental Damage
82
263
INT Shield
1

+(74–96)

% Physical Damage
82
263
INT Shield
1

+(74–96)

% Erosion Damage
82
263
INT Shield
1
Adds

(34–36)

-

(41–44)

Physical Damage to the gear


+(3–5)

% chance to cause Blinding on hit
82
303
Claw
1
Adds

1

-

5

Lightning Damage to Attacks per

12

Dexterity
82
303
Claw
1
Adds

2

-

4

Erosion Damage to Attacks per

12

Intelligence
82
303
Claw
1
Adds

(54–69)

% of Main-Hand Weapon Damage to Base Wilt Damage
82
303
Claw
1
Adds

(3–5)

% of Physical Damage of the Main-Hand Weapon to Base Shock Damage
80
0
Claw
1

+(9–10)

% Armor DMG Mitigation Penetration
80
303
Claw
1

+(39–50)

% Attack Block Chance
80
303
Claw
1
Adds

(133–172)

% of Physical Damage of the Main-Hand Weapon to Base Trauma Damage
82
312
Claw
1

+1

% Skill Cost per

100

Mana currently owned
80
204
Wand
1

+1

% Spell Damage for every

45

Mana Sealed
80
204
Wand
1

+2

Physical Skill Level
70
204
Wand
1

+2

Lightning Skill Level
70
204
Wand
1

+2

Cold Skill Level
70
204
Wand
1

+2

Fire Skill Level
70
204
Wand
1

+2

Erosion Skill Level
70
204
Wand
1

+(1–2)

Minion Skill Level
70
204
Wand
1
Adds

2

-

4

Spell Cold Damage per

12

Intelligence
82
204
Wand
1
Adds

2

-

4

Erosion Damage to Spells per

12

Intelligence
82
0
Wand
1
Adds

(67–86)

% of the skill's damage to Base Wilt Damage
82
0
Wand
1
Adds

(29–36)

% of the skill's Lightning Damage to Base Shock Damage
84
0
Wand
1

+(9–10)

% Armor DMG Mitigation Penetration
80
204
Wand
1

+(39–50)

% Attack Block Chance
80
204
Wand
1
Adds

(34–36)

-

(41–44)

Physical Damage to the gear


+(3–5)

% Attack Speed
82
278
Cane
1

+2

Lightning Skill Level
70
278
Cane
1

+2

Physical Skill Level
70
278
Cane
1
Bonus and additional bonus to Spell Damage and also apply to Attack Damage
70
278
Cane
1
Physical Damage always Shock targets
Adds Base

(77–100)

Shock Damage
80
0
Cane
1
Adds

(3–5)

% of Main-Hand Weapon Damage to Base Shock Damage
78
0
Cane
1

+(9–10)

% Armor DMG Mitigation Penetration
80
278
Cane
1

+(39–50)

% Attack Block Chance
80
278
Cane
1
Adds

(34–36)

-

(41–44)

Physical Damage to the gear


+(3–5)

% chance to cause Knockbacks
82
303
One-Handed Hammer
1
Adds

2

-

4

Fire Damage to Attacks per

12

Strength
82
303
One-Handed Hammer
1

+2

Fire Skill Level
70
303
One-Handed Hammer
1

+2

Lightning Skill Level
70
303
One-Handed Hammer
1
Adds

(3–5)

% of Main-Hand Weapon Damage to Base Shock Damage
82
303
One-Handed Hammer
1

+(9–10)

% Armor DMG Mitigation Penetration
80
303
One-Handed Hammer
1

+(39–50)

% Attack Block Chance
80
303
One-Handed Hammer
1
Adds

(80–103)

% of the skill's Fire Damage to Base Ignite Damage
82
256
Sacrificial Blade
1
Adds

(67–86)

% of the skill's damage to Base Wilt Damage
82
256
Sacrificial Blade
1

+(19–24)

% additional Ailment Damage dealt by Critical Strikes
82
0
Sacrificial Blade
1

-15

% additional Spell Damage


+(17–24)

% additional Ailment Damage
82
256
Sacrificial Blade
1

(-16–-12)

% Elemental Resistance and Erosion Resistance for Nearby enemies
80
0
Sacrificial Blade
1

+(9–10)

% Armor DMG Mitigation Penetration
80
256
Sacrificial Blade
1

+(39–50)

% Attack Block Chance
80
256
Sacrificial Blade
1
Adds

(34–36)

-

(41–44)

Physical Damage to the gear
Adds

(2–4)

% of Physical Damage as Erosion Damage
82
323
One-Handed Sword
1
Adds

1

-

5

Lightning Damage to Attacks per

12

Dexterity
82
323
One-Handed Sword
1
Adds

2

-

4

Cold Damage to Attacks per

12

Intelligence
82
323
One-Handed Sword
1
Adds

(3–5)

% of Main-Hand Weapon Damage to Base Shock Damage
82
0
One-Handed Sword
1
Adds

(54–69)

% of Main-Hand Weapon Damage to Base Wilt Damage
82
323
One-Handed Sword
1
Adds

2

-

4

Fire Damage to Attacks per

12

Strength
82
323
One-Handed Sword
1

+(9–10)

% Armor DMG Mitigation Penetration
80
323
One-Handed Sword
1

+(39–50)

% Attack Block Chance
80
323
One-Handed Sword
1
Adds

(15–18)

-

(19–22)

Physical Damage to Attacks per

800

Life recently consumed
82
312
One-Handed Axe
1
Adds

(133–172)

% of Physical Damage of the Main-Hand Weapon to Base Trauma Damage
82
312
One-Handed Axe
1
Adds

(34–36)

-

(41–44)

Physical Damage to the gear


+(3–5)

% chance to inflict Paralysis on hit
82
312
One-Handed Axe
1
Adds

2

-

4

Physical Damage to Attacks per

12

Strength
82
312
One-Handed Axe
1

+(9–10)

% Armor DMG Mitigation Penetration
80
312
One-Handed Axe
1

+(39–50)

% Attack Block Chance
80
312
One-Handed Axe
1
Adds

(34–36)

-

(41–44)

Physical Damage to the gear


+(3–5)

% chance to Mark the target on hit
82
312
Dagger
1
Adds

4

% of Missing Life as Erosion Damage to Attacks
80
0
Dagger
1
Adds

(54–69)

% of Main-Hand Weapon Damage to Base Wilt Damage
82
312
Dagger
1
Adds

2

-

4

Lightning Damage to Attacks per

12

Dexterity
82
312
Dagger
1
Adds

2

-

4

Cold Damage to Attacks per

12

Intelligence
82
312
Dagger
1

+(9–10)

% Armor DMG Mitigation Penetration
80
312
Dagger
1

+(39–50)

% Attack Block Chance
80
312
Dagger
1
Adds

(133–172)

% of Physical Damage of the Main-Hand Weapon to Base Trauma Damage
82
312
Dagger
1
Adds

(68–72)

-

(84–89)

Physical Damage to the gear


+10

% Critical Strike Rating
82
323
Bow
1
Converts

(40–60)

% of Physical Damage to Lightning Damage
80
0
Bow
1
Converts

(40–60)

% of Physical Damage to Cold Damage
80
0
Bow
1
Adds

1

-

5

Lightning Damage to Attacks per

6

Dexterity
82
323
Bow
1
Adds

2

-

4

Cold Damage to Attacks per

6

Intelligence
82
323
Bow
1

+(4–5)

Support Skill Level
70
323
Bow
1

+(16–20)

% Armor DMG Mitigation Penetration
80
323
Bow
1

+(59–75)

% Attack Block Chance
80
0
Bow
1
Adds

(68–72)

-

(84–89)

Physical Damage to the gear
Adds

(2–4)

% of Physical Damage as Erosion Damage
82
286
Two-Handed Sword
1
Adds

1

-

5

Lightning Damage to Attacks per

6

Dexterity
82
286
Two-Handed Sword
1
Adds

2

-

4

Cold Damage to Attacks per

6

Intelligence
82
286
Two-Handed Sword
1
Converts

(40–60)

% of Physical Damage to Cold Damage
84
0
Two-Handed Sword
1
Converts

(40–60)

% of Physical Damage to Lightning Damage
84
0
Two-Handed Sword
1
Adds

(6–7)

% of Main-Hand Weapon Damage to Base Shock Damage
82
0
Two-Handed Sword
1
Adds

(80–103)

% of Main-Hand Weapon Damage to Base Wilt Damage
82
286
Two-Handed Sword
1
Adds

2

-

4

Fire Damage to Attacks per

6

Strength
82
286
Two-Handed Sword
1

+(16–20)

% Armor DMG Mitigation Penetration
80
286
Two-Handed Sword
1
Adds

(68–72)

-

(84–89)

Physical Damage to the gear


+(3–5)

% chance to cause Knockbacks
82
263
Two-Handed Hammer
1
Adds

(6–7)

% of Main-Hand Weapon Damage to Base Shock Damage
84
0
Two-Handed Hammer
1
Adds

2

-

4

Fire Damage to Attacks per

6

Strength
82
263
Two-Handed Hammer
1

+(3–4)

Minion Skill Level
70
263
Two-Handed Hammer
1
Adds

(251–324)

% of Main-Hand Weapon Damage to Base Ignite Damage
82
263
Two-Handed Hammer
1

+(16–20)

% Armor DMG Mitigation Penetration
80
263
Two-Handed Hammer
1
Adds

(13–18)

% of Max Mana as Energy Shield
82
238
Tin Staff
1

+1

% Spell Damage per

22

Mana currently owned
82
238
Tin Staff
1

-1

% Energy Shield Charge Interval for every

1.5

% of Spell Block
80
0
Tin Staff
1
Blocks additional damage equal to

3

% of Max Mana
78
0
Tin Staff
1

-15

% additional Cast Speed


+(47–69)

% additional Spell Damage
82
238
Tin Staff
1

+15

% Skill Radius per

(6–8)

% Mana currently owned
80
0
Tin Staff
1
Adds

(159–205)

% of the skill's Fire Damage to Base Ignite Damage
82
238
Tin Staff
1

+(16–20)

% Armor DMG Mitigation Penetration
80
238
Tin Staff
1

+3

Beams
80
238
Tin Staff
1
Adds

(40–43)

-

(44–47)

Physical Damage to Attacks per

800

Life recently consumed
82
333
Two-Handed Axe
1
Adds

(265–344)

% of Physical Damage of the Main-Hand Weapon to Base Trauma Damage
82
333
Two-Handed Axe
1
Adds

(68–72)

-

(84–89)

Physical Damage to the gear


+(3–5)

% chance to inflict Paralysis on hit
82
333
Two-Handed Axe
1
Adds

2

-

4

Physical Damage to Attacks per

6

Strength
82
333
Two-Handed Axe
1

+(16–20)

% Armor DMG Mitigation Penetration
80
333
Two-Handed Axe
1
Adds

(68–72)

-

(84–89)

Physical Damage to the gear


+20

% chance to inflict Frostbite
82
303
Cudgel
1
Adds

(7–8)

% of Missing Mana as Cold Damage to Attacks
82
303
Cudgel
1
Adds

(251–324)

% of Main-Hand Weapon Damage to Base Ignite Damage
82
303
Cudgel
1
Adds

(6–7)

% of Main-Hand Weapon Damage to Base Shock Damage
82
0
Cudgel
1
Adds

2

-

4

Fire and Cold Damage to Attacks per

6

Strength/Dexterity/Intelligence (take the one with the lowest stat)
82
303
Cudgel
1

+(16–20)

% Armor DMG Mitigation Penetration
80
303
Cudgel
1
Regenerates

2

% Mana per second
82
179
Necklace
1

+1

Physical Skill Level
70
179
Necklace
1

+1

Fire Skill Level
70
179
Necklace
1

+1

Cold Skill Level
70
179
Necklace
1

+1

Lightning Skill Level
70
179
Necklace
1

+1

Erosion Skill Level
70
179
Necklace
1

+1

Minion Skill Level
70
179
Necklace
1

+(8–10)

% injury buffer
80
179
Necklace
1
Max Synthetic Troop Minion Quantity

+1

80
179
Necklace
1

100

% chance to gain

1

charge stacks when using a Terra Skill
80
179
Necklace
1
Adds

(9–10)

% of Max Life to Barrier Shield
80
179
Necklace
1
Adds

(9–10)

% of Max Energy Shield to Barrier Shield
80
179
Necklace
1

(8–10)

Mana restored on hit
50
204
Ring
1

+(47–60)

% Minion Damage
80
0
Ring
1
Adds

(3–4)

% of Physical Damage as Fire, Cold, and Lightning Damage
82
204
Ring
1

+(7–8)

% Life Regain
35
0
Ring
1

+(7–8)

% Energy Shield Regain
35
0
Ring
1
+

4

Command per second
82
204
Ring
1

-10

% additional Regain Interval
82
204
Ring
1
For every

60

Growth a Spirit Magus has, it

+1

% additional damage
80
204
Ring
1
Max Tenacity Blessing Stacks

+1

82
204
Ring
1
Max Agility Blessing Stacks

+1

82
204
Ring
1
Max Focus Blessing Stacks

+1

82
204
Ring
1

(-12–-10)

% additional damage taken at Low Mana
80
244
Belt
1

+(38–50)

% additional Defense gained from Chest Armor
82
244
Belt
1
Regenerates

2

% Mana per second
82
244
Belt
1
Regenerates

2

% Life per second
80
0
Belt
1

+(16–20)

% Defense
80
244
Belt
1
While Reconjuring, Spirit Magi regenerate

20

% Life per second
80
244
Belt
1
Spirit Magi's Skill Duration

+(24–30)

%
80
244
Belt
1
+

4

Command per second
80
244
Belt
1

+1

Max Deflection stacks
80
244
Belt
1
Adds

(34–36)

-

(41–44)

Physical Damage to the gear


+(3–5)

% Attack Speed
82
270
Pistol
1

+(13–15)

% additional Evasion if you have recently moved more than

5

m
82
270
Pistol
1
Adds

2

-

4

Fire Damage to Attacks per

12

Strength
82
270
Pistol
1
Adds

1

-

5

Lightning Damage to Attacks per

12

Dexterity
82
270
Pistol
1

(-10–-8)

% additional Regain Interval
80
0
Pistol
1
Adds

(3–5)

% of Main-Hand Weapon Damage to Base Shock Damage
78
0
Pistol
1
Adds

(111–144)

% of Main-Hand Weapon Damage to Base Ignite Damage
82
0
Pistol
1
Adds

2

-

4

Cold Damage to Attacks per

12

Intelligence
82
270
Pistol
1

+(9–10)

% Armor DMG Mitigation Penetration
80
270
Pistol
1

+(39–50)

% Attack Block Chance
80
270
Pistol
1
Adds

(68–72)

-

(84–89)

Physical Damage to the gear
Adds

(3–5)

Base Elemental Ailment Damage
82
303
Musket
1
Adds

2

-

4

Fire Damage to Attacks per

8

Strength
82
0
Musket
1
Adds

1

-

5

Lightning Damage to Attacks per

6

Dexterity
82
303
Musket
1
Adds

2

-

4

Cold Damage to Attacks per

6

Intelligence
82
303
Musket
1
If a type of Elemental Damage was dealt recently,

+(13–18)

% additional damage for 2 other types of Elemental Damage
82
303
Musket
1
Enemies take

+(5–8)

% additional Elemental Damage for every Ailment they have (multiplies)
84
0
Musket
1
Adds

(3–5)

% of Main-Hand Weapon Damage to Base Shock Damage
78
0
Musket
1
Adds

(251–324)

% of Main-Hand Weapon Damage to Base Ignite Damage
82
303
Musket
1

+(16–20)

% Armor DMG Mitigation Penetration
80
303
Musket
1
Adds

(68–72)

-

(84–89)

Physical Damage to the gear


+10

% Skill Radius
82
303
Fire Cannon
1

+(36–45)

% additional Armor while standing still
80
303
Fire Cannon
1
Adds

2

-

4

Fire Damage to Attacks per

6

Strength
82
303
Fire Cannon
1
Adds

(251–324)

% of Main-Hand Weapon Damage to Base Ignite Damage
82
303
Fire Cannon
1

+(16–20)

% Armor DMG Mitigation Penetration
80
303
Fire Cannon
1
Adds

(68–72)

-

(84–89)

Physical Damage to the gear


+(3–5)

% chance to cause Knockbacks
82
303
Crossbow
1
Adds

(40–43)

-

(44–47)

Physical Damage to Attacks per

800

Life recently consumed
82
303
Crossbow
1
Adds

2

-

4

Physical Damage to Attacks per

6

Strength
82
303
Crossbow
1
Adds

2

-

4

Physical Damage to Attacks per

6

Dexterity
82
303
Crossbow
1
Adds

(265–344)

% of Physical Damage of the Main-Hand Weapon to Base Trauma Damage
82
303
Crossbow
1

+(16–20)

% Armor DMG Mitigation Penetration
80
303
Crossbow
1
Converts

(40–60)

% Physical Damage to Fire Damage
80
270
STR Gloves
1
Converts

(40–60)

% of Physical Damage to Cold Damage
80
270
STR Gloves
1
Converts

(40–60)

% of Physical Damage to Lightning Damage
80
270
STR Gloves
1
Adds

(29–34)

-

(40–46)

Fire Damage to Attacks and Spells
82
270
STR Gloves
1

(-10–-8)

% additional Regain Interval
82
0
STR Gloves
1

+(8–9)

% Armor DMG Mitigation Penetration if you have hit an enemy recently
80
270
STR Gloves
1

+5

% Armor DMG Mitigation Penetration for Minions
80
270
STR Gloves
1
Converts

(40–60)

% Physical Damage to Fire Damage
80
263
DEX Gloves
1
Converts

(40–60)

% of Physical Damage to Cold Damage
80
263
DEX Gloves
1
Converts

(40–60)

% of Physical Damage to Lightning Damage
80
263
DEX Gloves
1
Adds

(3–4)

-

(66–76)

Lightning Damage to Attacks and Spells
82
263
DEX Gloves
1

(-10–-8)

% additional Regain Interval
82
0
DEX Gloves
1

+(8–9)

% Armor DMG Mitigation Penetration if you have hit an enemy recently
80
263
DEX Gloves
1

+5

% Armor DMG Mitigation Penetration for Minions
80
263
DEX Gloves
1
Converts

(40–60)

% Physical Damage to Fire Damage
80
250
INT Gloves
1
Converts

(40–60)

% of Physical Damage to Cold Damage
80
250
INT Gloves
1
Converts

(40–60)

% of Physical Damage to Lightning Damage
80
250
INT Gloves
1
Adds

(29–34)

-

(39–45)

Cold Damage to Attacks and Spells
82
250
INT Gloves
1

(-10–-8)

% additional Regain Interval
82
0
INT Gloves
1

+(8–9)

% Armor DMG Mitigation Penetration if you have hit an enemy recently
80
250
INT Gloves
1

+5

% Armor DMG Mitigation Penetration for Minions
80
250
INT Gloves
1

+(25–32)

% Max Life


-16

% Life Regeneration Speed
80
312
STR Boots
1
Adds

(9–11)

% of Physical Damage as Fire Damage
80
312
STR Boots
1

(-12–-10)

% additional Physical Damage taken
80
0
STR Boots
1

+4

% chance to avoid damage
82
312
STR Boots
1
For every

6

m moved, gains

1

stack(s) of Deflection
80
312
STR Boots
1

+1

additional refraction(s) for the Beam Skill
80
312
STR Boots
1

+(25–32)

% Max Life


-16

% Life Regeneration Speed
80
303
DEX Boots
1

(-12–-10)

% additional Physical Damage taken
80
0
DEX Boots
1
Adds

(9–11)

% of Physical Damage as Lightning Damage
80
303
DEX Boots
1

+4

% chance to avoid damage
82
303
DEX Boots
1
For every

6

m moved, gains

1

stack(s) of Deflection
80
303
DEX Boots
1

+1

additional refraction(s) for the Beam Skill
80
303
DEX Boots
1

+(17–18)

% Max Energy Shield


+5

% additional Energy Shield Charge Interval
80
294
INT Boots
1

(-12–-10)

% additional Physical Damage taken
80
0
INT Boots
1
Added

(9–11)

% of Physical Damage to Cold Damage
80
294
INT Boots
1

+4

% chance to avoid damage
82
294
INT Boots
1
For every

6

m moved, gains

1

stack(s) of Deflection
80
294
INT Boots
1

+1

additional refraction(s) for the Beam Skill
80
294
INT Boots
1

+(19–24)

% Max Life
82
250
STR Chest Armor
1
Converts

(16–20)

% of Physical Damage taken to Fire Damage
80
250
STR Chest Armor
1

(-18–-14)

% additional Physical Damage taken
80
250
STR Chest Armor
1
Blocks additional damage equal to

2

% of Max Life
82
0
STR Chest Armor
1
Adds

(7–8)

% of Max Life to Minion Energy Shield
82
250
STR Chest Armor
1

+(13–15)

% additional Evasion if you haven't been hit recently
82
256
DEX Chest Armor
1
Converts

(16–20)

% of Physical Damage taken to Lightning Damage
80
256
DEX Chest Armor
1

(-18–-14)

% additional Physical Damage taken
80
0
DEX Chest Armor
1

+(8–9)

% chance for Minions to avoid damage
80
256
DEX Chest Armor
1
Adds

(10–12)

% of Max Mana as Energy Shield
82
250
INT Chest Armor
1
Converts

(16–20)

% of Physical Damage taken to Cold Damage
80
250
INT Chest Armor
1

(-18–-14)

% additional Physical Damage taken
80
250
INT Chest Armor
1
Adds

(7–8)

% of Max Life to Minion Energy Shield
82
250
INT Chest Armor
1

+(25–32)

% Max Life


-16

% Life Regeneration Speed
80
238
STR Helmet
1
Converts

(11–13)

% of Physical Damage taken to Fire Damage
80
238
STR Helmet
1

(-12–-10)

% additional Physical Damage taken
80
0
STR Helmet
1
Blocks additional damage equal to

2

% of Max Life
82
0
STR Helmet
1

+(30–38)

% Minion's Attack and Spell Block Chance
82
238
STR Helmet
1
For every

100

Growth a Spirit Magus has,

+6

% Cooldown Recovery Speed for its Ultimate
80
238
STR Helmet
1

+5

% Barrier Absorption Rate
80
238
STR Helmet
1

-20

% additional Barrage Wave Interval
80
238
STR Helmet
1
Adds

4

-

8

Fire Damage to Attacks and Spells per stack of Tenacity Blessing
82
238
STR Helmet
1

+(25–32)

% Max Life


-16

% Life Regeneration Speed
80
233
DEX Helmet
1

(-12–-10)

% additional Physical Damage taken
80
0
DEX Helmet
1
Converts

(11–13)

% of Physical Damage taken to Lightning Damage
80
233
DEX Helmet
1

+(6–8)

% additional Evasion if you haven't been hit recently
82
0
DEX Helmet
1

+5

% chance for Minions to avoid damage
80
233
DEX Helmet
1
For every

100

Growth a Spirit Magus has,

+6

% Cooldown Recovery Speed for its Ultimate
80
233
DEX Helmet
1

+5

% Barrier Absorption Rate
80
233
DEX Helmet
1

-20

% additional Barrage Wave Interval
80
233
DEX Helmet
1
Adds

1

-

11

Lightning Damage to Attacks and Spells per stack of Agility Blessing
82
233
DEX Helmet
1

+(17–18)

% Max Energy Shield


+5

% additional Energy Shield Charge Interval
80
222
INT Helmet
1

-20

% additional Energy Shield Charge Interval
82
0
INT Helmet
1
Converts

(11–13)

% of Physical Damage taken to Cold Damage
80
222
INT Helmet
1

(-12–-10)

% additional Physical Damage taken
80
0
INT Helmet
1
Adds

5

% of Max Life to Minion Energy Shield
82
222
INT Helmet
1

+(4–5)

% Spell Damage per

680

Mana recently consumed
70
222
INT Helmet
1
For every

100

Growth a Spirit Magus has,

+6

% Cooldown Recovery Speed for its Ultimate
80
222
INT Helmet
1

+5

% Barrier Absorption Rate
80
222
INT Helmet
1

-20

% additional Barrage Wave Interval
80
222
INT Helmet
1
Adds

4

-

8

Cold Damage to Attacks and Spells per stack of Focus Blessing
82
222
INT Helmet
1

+(25–32)

% Max Life


-16

% Life Regeneration Speed
82
263
STR Shield
1
Adds

(17–23)

% of Physical Damage as Fire Damage
80
263
STR Shield
1

(-12–-10)

% additional Physical Damage taken
80
263
STR Shield
1

4

% Life restored on Block
82
263
STR Shield
1

+(26–32)

% Life Regeneration Speed if you have Blocked recently
80
263
STR Shield
1

+(25–32)

% Max Life


-16

% Life Regeneration Speed
82
250
DEX Shield
1

(-12–-10)

% additional Physical Damage taken
80
250
DEX Shield
1

+(13–15)

% additional Evasion if you haven't been hit recently
82
250
DEX Shield
1
Adds

(17–23)

% of Physical Damage as Lightning Damage
80
250
DEX Shield
1

+(26–32)

% Life Regeneration Speed if you have Blocked recently
80
250
DEX Shield
1

-20

% additional Energy Shield Charge Interval
82
0
INT Shield
1
Adds

(12–14)

-

(16–18)

Cold Damage to Spells per

680

Mana recently consumed
82
263
INT Shield
1

(-12–-10)

% additional Physical Damage taken
80
0
INT Shield
1
Restores

4

% of Energy Shield on Block
82
263
INT Shield
1
Added

(17–23)

% of Physical Damage to Cold Damage
80
263
INT Shield
1

+(93–120)

% Mana Regeneration Speed if you have Blocked recently
80
263
INT Shield
1

+(26–32)

% Energy Shield Charge Speed if you have Blocked recently
80
263
INT Shield
1
Damage Penetrates

(16–24)

% Elemental Resistance
80
0
Claw
1

+(16–24)

% additional Erosion Damage
80
0
Claw
1

(16–24)

% additional damage applied to Life
80
0
Claw
1

+(120–180)

% gear Physical Damage


+(3–5)

% chance to cause Blinding on hit
80
0
Claw
1

+2

Spell Skill Level
78
0
Wand
1
Damage Penetrates

(16–24)

% Elemental Resistance
80
0
Wand
1

+(16–24)

% Erosion Penetration
80
0
Wand
1
Reaps

1.5

s of DoT Damage on hit. The effect has a

6

s cooldown against the same target
85
0
Wand
1

+(120–180)

% gear Physical Damage


+(3–5)

% chance to cause Blinding on hit
80
0
Cane
1

+(16–24)

% additional Projectile Damage against Shocked enemies
80
0
Cane
1

+3

Active Skill Level
78
0
Cane
1
Damage Penetrates

(16–24)

% Elemental Resistance
80
0
Cane
1
Damage Penetrates

(16–24)

% Elemental Resistance
80
0
One-Handed Hammer
1

+3

Main Skill Level
78
0
One-Handed Hammer
1

(16–24)

% additional damage applied to Life
80
0
One-Handed Hammer
1

+(120–180)

% gear Physical Damage


+(3–5)

% chance to cause Knockbacks
80
0
One-Handed Hammer
1

+2

Spell Skill Level
78
0
Sacrificial Blade
1
Damage Penetrates

(16–24)

% Elemental Resistance
80
0
Sacrificial Blade
1

+(16–24)

% Erosion Penetration
80
0
Sacrificial Blade
1

+(16–24)

% additional damage for the next Spell Skill on Critical Strike
85
0
Sacrificial Blade
1
Damage Penetrates

(16–24)

% Elemental Resistance
80
0
One-Handed Sword
1

+2

Melee Skill Level
78
0
One-Handed Sword
1

(16–24)

% additional damage applied to Life
80
0
One-Handed Sword
1

+(120–180)

% gear Physical Damage


+(3–5)

% Attack and Spell Block while Dual Wielding
80
0
One-Handed Sword
1

+(20–30)

% additional damage at Low Life
80
0
One-Handed Axe
1

+2

Melee Skill Level
78
0
One-Handed Axe
1

+(55–67)

% additional Physical Damage against Low Life enemies
80
0
One-Handed Axe
1

+(120–180)

% gear Physical Damage


+(3–5)

% chance to inflict Paralysis on hit
80
0
One-Handed Axe
1
Damage Penetrates

(16–24)

% Elemental Resistance
80
0
Dagger
1

+(16–24)

% Erosion Penetration
80
0
Dagger
1

(16–24)

% additional damage applied to Life
80
0
Dagger
1

+(120–180)

% gear Physical Damage


+(3–5)

% chance to Mark the target on hit
80
0
Dagger
1

+(120–180)

% gear Physical Damage


+10

% Projectile Speed
80
0
Bow
1

+(28–36)

% additional Projectile Damage
80
0
Bow
1

+3

Projectile Skill Level
78
0
Bow
1
Damage Penetrates

(24–36)

% Elemental Resistance
80
0
Bow
1
Damage Penetrates

(24–36)

% Elemental Resistance
80
0
Two-Handed Sword
1

+3

Melee Skill Level
78
0
Two-Handed Sword
1

(24–36)

% additional damage applied to Life
80
0
Two-Handed Sword
1

+(120–180)

% gear Physical Damage
Restores

1

% of Life on defeat
80
0
Two-Handed Sword
1
Damage Penetrates

(24–36)

% Elemental Resistance
80
0
Two-Handed Hammer
1

+5

Main Skill Level
78
0
Two-Handed Hammer
1

+(30–45)

% additional damage for Minions when they are at Low Life
80
0
Two-Handed Hammer
1

+(120–180)

% gear Physical Damage


+(3–5)

% chance to cause Knockbacks
80
0
Two-Handed Hammer
1

+(20–30)

% additional Max Mana
75
0
Tin Staff
1

+3

Spell Skill Level
78
0
Tin Staff
1
Damage Penetrates

(24–36)

% Elemental Resistance
80
0
Tin Staff
1

+(24–36)

% additional Minion Damage if you have used a Summon Skill recently
80
0
Tin Staff
1

+(30–45)

% additional damage at Low Life
80
0
Two-Handed Axe
1

+3

Melee Skill Level
78
0
Two-Handed Axe
1

+(90–100)

% additional Physical Damage against Low Life enemies
80
0
Two-Handed Axe
1

+(120–180)

% gear Physical Damage


+(3–5)

% chance to inflict Paralysis on hit
80
0
Two-Handed Axe
1
Damage Penetrates

(24–36)

% Elemental Resistance
80
0
Cudgel
1

+3

Melee Skill Level
78
0
Cudgel
1

(24–36)

% additional damage applied to Life
80
0
Cudgel
1

+(120–180)

% gear Physical Damage


+30

% chance to inflict Frostbite
80
0
Cudgel
1

+(1–2)

Active Skill Level
78
0
Necklace
1

-8

% Sealed Mana
80
0
Necklace
1
Damage Penetrates

(8–12)

% Elemental Resistance
80
0
Necklace
1

+(28–30)

% Defense
75
0
Necklace
1
Adds

(47–54)

-

(58–66)

Physical Damage to Attacks and Spells
80
0
Ring
1
Adds

(44–51)

-

(60–69)

Fire Damage to Attacks and Spells
80
0
Ring
1
Adds

(44–51)

-

(59–68)

Cold Damage to Attacks and Spells
80
0
Ring
1
Adds

(5–6)

-

(101–114)

Lightning Damage to Attacks and Spells
80
0
Ring
1

+(15–20)

% Max Life


+10

% Defense
75
0
Ring
1

+(3–5)

% XP earned
78
0
Ring
1

+(23–30)

% Reaping Cooldown Recovery Speed
84
0
Ring
1
Triggers Lv.

(1–5)

Blind Curse on hit. Cooldown:

4

s.
78
0
Ring
1
Triggers Lv.

(1–5)

Elemental Destruction Curse on hit. Cooldown:

4

s.
78
0
Ring
1

+(20–30)

% skill Duration
75
0
Belt
1

+(18–20)

% Max Life


+(14–16)

% Max Mana
75
0
Belt
1
Damage Penetrates

(8–12)

% Elemental Resistance
80
0
Belt
1
Warcry is cast immediately


+1

Warcry Skill Charge Limit
78
0
Belt
1

+(120–180)

% gear Physical Damage


+10

% Projectile Speed
80
0
Pistol
1

+2

Projectile Skill Level
78
0
Pistol
1
Damage Penetrates

(16–24)

% Elemental Resistance
80
0
Pistol
1

+(16–24)

% additional Projectile Damage
80
0
Pistol
1

+(120–180)

% gear Physical Damage
Adds

2

% Physical Damage as random Elemental Damage
80
0
Musket
1
Damage Penetrates

(24–36)

% Elemental Resistance
80
0
Musket
1

+3

Projectile Skill Level
78
0
Musket
1

+(24–36)

% additional Elemental Damage for Projectile Skills
80
0
Musket
1

+(120–180)

% gear Physical Damage


+(3–5)

% chance to inflict Paralysis on hit
80
0
Fire Cannon
1

+3

Projectile Skill Level
78
0
Fire Cannon
1
Damage Penetrates

(24–36)

% Elemental Resistance
80
0
Fire Cannon
1

(8–12)

% Life Regeneration per second while standing still
80
0
Fire Cannon
1

+(120–180)

% gear Physical Damage


+30

% chance to inflict Trauma
80
0
Crossbow
1

(24–36)

% additional damage applied to Life
80
0
Crossbow
1

+3

Projectile Skill Level
78
0
Crossbow
1

+(28–36)

% additional Physical Damage against Traumatized enemies
80
0
Crossbow
1
Damage Penetrates

(8–12)

% Elemental Resistance
80
0
STR Gloves
1

+1

Melee Skill Level
78
0
STR Gloves
1
Eliminate enemies under

10

% Life
84
0
STR Gloves
1

+(6–10)

% Life Regeneration Speed and Attack Damage for each recent Block
84
0
STR Gloves
1
Damage Penetrates

(8–12)

% Elemental Resistance
80
0
DEX Gloves
1

+1

Projectile Skill Level
78
0
DEX Gloves
1
Eliminate enemies under

10

% Life
84
0
DEX Gloves
1

+(8–12)

% Attack Damage on every recent Evasion
84
0
DEX Gloves
1
Damage Penetrates

(8–12)

% Elemental Resistance
80
0
INT Gloves
1

+1

Spell Skill Level
78
0
INT Gloves
1
Eliminate enemies under

10

% Life
84
0
INT Gloves
1

+(8–12)

% additional Spell Damage when the Energy Shield is not full
80
0
INT Gloves
1
Damage Penetrates

(8–12)

% Elemental Resistance
80
0
STR Boots
1

+1

Physical Skill Level
78
0
STR Boots
1

+1

Fire Skill Level
78
0
STR Boots
1
Obtains additional Evasion equal to

5

% of Armor
84
0
STR Boots
1
Damage Penetrates

(8–12)

% Elemental Resistance
80
0
DEX Boots
1

+1

Lightning Skill Level
78
0
DEX Boots
1

+1

Erosion Skill Level
78
0
DEX Boots
1

+(8–12)

% additional Evasion while moving
80
0
DEX Boots
1
Damage Penetrates

(8–12)

% Elemental Resistance
80
0
INT Boots
1

+1

Cold Skill Level
78
0
INT Boots
1

+1

Minion Skill Level
78
0
INT Boots
1

+(30–45)

% Energy Shield Charge Speed while moving
75
0
INT Boots
1
Defeated enemies have a

30

% chance to explode, dealing Secondary Fire Damage equal to

10

% of its Max Life
80
0
STR Chest Armor
1

-8

% Sealed Mana
80
0
STR Chest Armor
1

+(1–2)

Active Skill Level
78
0
STR Chest Armor
1

+(48–72)

% damage
80
0
STR Chest Armor
1
Defeated enemies have a

30

% chance to explode, dealing Secondary Lightning Damage equal to

10

% of its Max Life
80
0
DEX Chest Armor
1

-8

% Sealed Mana
80
0
DEX Chest Armor
1

+(1–2)

Active Skill Level
78
0
DEX Chest Armor
1

+(30–45)

% Max Life
75
0
DEX Chest Armor
1
Defeated enemies have a

30

% chance to explode, dealing Secondary Cold Damage equal to

10

% of its Max Life
80
0
INT Chest Armor
1

-8

% Sealed Mana
80
0
INT Chest Armor
1

+(1–2)

Active Skill Level
78
0
INT Chest Armor
1

(20–30)

% of damage is taken from Mana before life
80
0
INT Chest Armor
1

+(12–15)

% skill Duration


+(6–10)

% Cooldown Recovery Speed
80
0
STR Helmet
1

-8

% Sealed Mana
80
0
STR Helmet
1

+1

Support Skill Level
78
0
STR Helmet
1

+(16–20)

% additional Armor
84
0
STR Helmet
1

+(12–15)

% skill Duration


+(6–10)

% Cooldown Recovery Speed
80
0
DEX Helmet
1

-8

% Sealed Mana
80
0
DEX Helmet
1

+1

Support Skill Level
78
0
DEX Helmet
1

+(16–20)

% additional Evasion
84
0
DEX Helmet
1

+(12–15)

% skill Duration


+(6–10)

% Cooldown Recovery Speed
80
0
INT Helmet
1

-8

% Sealed Mana
80
0
INT Helmet
1

+1

Support Skill Level
78
0
INT Helmet
1

+(8–12)

% additional Max Energy Shield
84
0
INT Helmet
1

+(7–12)

% Spell Damage per

680

Mana recently consumed
84
0
INT Helmet
1

+(16–24)

% Elemental and Erosion Resistance Penetration
80
0
STR Shield
1

+3

Physical Skill Level
78
0
STR Shield
1

+3

Fire Skill Level
78
0
STR Shield
1

+3

Cold Skill Level
78
0
STR Shield
1

+3

Lightning Skill Level
78
0
STR Shield
1

+3

Erosion Skill Level
78
0
STR Shield
1

+2

Minion Skill Level
78
0
STR Shield
1
Adds

(75–81)

-

(87–93)

Physical Damage to Minions' Attacks and Spells
80
0
STR Shield
1

+(20–30)

% additional Defense gained from Energy Shield
80
0
STR Shield
1

+(16–24)

% Elemental and Erosion Resistance Penetration
80
0
DEX Shield
1

+3

Physical Skill Level
78
0
DEX Shield
1

+3

Fire Skill Level
78
0
DEX Shield
1

+3

Cold Skill Level
78
0
DEX Shield
1

+3

Lightning Skill Level
78
0
DEX Shield
1

+3

Erosion Skill Level
78
0
DEX Shield
1

+2

Minion Skill Level
78
0
DEX Shield
1

+(14–15)

% Movement Speed
75
0
DEX Shield
1

+(9–14)

% chance to avoid damage
80
0
DEX Shield
1

+3

Physical Skill Level
78
0
INT Shield
1

+3

Fire Skill Level
78
0
INT Shield
1

+3

Cold Skill Level
78
0
INT Shield
1

+3

Lightning Skill Level
78
0
INT Shield
1

+3

Erosion Skill Level
78
0
INT Shield
1

+2

Minion Skill Level
78
0
INT Shield
1

-12

% Sealed Mana
80
0
INT Shield
1

+(16–24)

% Elemental and Erosion Resistance Penetration
80
0
INT Shield
1
Adds

(75–81)

-

(87–93)

Physical Damage to Minions' Attacks and Spells
80
0
INT Shield
1

+(28–32)

% gear Physical Damage


+5

% chance to cause Blinding on hit
82
303
Claw
1

+(12–16)

% Elemental and Erosion Resistance Penetration
82
303
Claw
1

(12–16)

% additional damage applied to Life
82
303
Claw
1

+2

Spell Skill Level
82
204
Wand
1

+(12–16)

% Elemental and Erosion Resistance Penetration
82
204
Wand
1

(12–16)

% additional damage applied to Life
82
204
Wand
1

+(28–32)

% gear Physical Damage


+20

% Projectile Speed
82
278
Cane
1

+2

Projectile Skill Level
82
278
Cane
1

(12–16)

% additional damage applied to Life
82
278
Cane
1

+(28–32)

% gear Physical Damage


+5

% chance to cause Knockbacks
82
303
One-Handed Hammer
1

+2

Active Skill Level
82
303
One-Handed Hammer
1

(12–16)

% additional damage applied to Life
82
303
One-Handed Hammer
1

+2

Spell Skill Level
82
256
Sacrificial Blade
1

+(12–16)

% Elemental and Erosion Resistance Penetration
82
256
Sacrificial Blade
1

(12–16)

% additional damage applied to Life
82
256
Sacrificial Blade
1

+(28–32)

% gear Physical Damage


+5

% Attack and Spell Block while Dual Wielding
82
323
One-Handed Sword
1
Damage Penetrates

(12–16)

% Elemental Resistance
82
323
One-Handed Sword
1

(12–16)

% additional damage applied to Life
82
323
One-Handed Sword
1

+(28–32)

% gear Physical Damage


+5

% chance to inflict Paralysis on hit
82
312
One-Handed Axe
1

+(40–45)

% additional Physical Damage against Low Life enemies
82
312
One-Handed Axe
1

(12–16)

% additional damage applied to Life
82
312
One-Handed Axe
1

+(28–32)

% gear Physical Damage


+5

% chance to Mark the target on hit
82
312
Dagger
1

+(12–16)

% Elemental and Erosion Resistance Penetration
82
312
Dagger
1

(12–16)

% additional damage applied to Life
82
312
Dagger
1

+(44–48)

% gear Physical Damage


+10

% Critical Strike Rating
82
323
Bow
1

+(3–4)

Projectile Skill Level
82
323
Bow
1
Damage Penetrates

(27–32)

% Elemental Resistance
82
323
Bow
1

+(44–48)

% gear Physical Damage


+10

% Skill Radius
82
286
Two-Handed Sword
1
Damage Penetrates

(27–32)

% Elemental Resistance
82
286
Two-Handed Sword
1

(27–32)

% additional damage applied to Life
82
286
Two-Handed Sword
1

+(44–48)

% gear Physical Damage


+15

% chance to cause Knockbacks
82
263
Two-Handed Hammer
1

+(3–4)

Active Skill Level
82
263
Two-Handed Hammer
1

(27–32)

% additional damage applied to Life
82
263
Two-Handed Hammer
1
Damage Penetrates

(27–32)

% Elemental Resistance
82
238
Tin Staff
1

+(3–4)

Spell Skill Level
82
238
Tin Staff
1

(27–32)

% additional damage applied to Life
82
238
Tin Staff
1

+(44–48)

% gear Physical Damage
Eliminate enemies under

8

% Life
82
333
Two-Handed Axe
1

+(71–100)

% additional Physical Damage against Low Life enemies
82
333
Two-Handed Axe
1

(27–32)

% additional damage applied to Life
82
333
Two-Handed Axe
1

+(44–48)

% gear Physical Damage


5

Mana restored on hit
82
303
Cudgel
1
Damage Penetrates

(27–32)

% Elemental Resistance
82
303
Cudgel
1

(27–32)

% additional damage applied to Life
82
303
Cudgel
1

+1

Active Skill Level
82
179
Necklace
1

-8

% Sealed Mana
82
179
Necklace
1

+(13–16)

% Defense
82
179
Necklace
1

+(10–12)

% Max Life


+6

% Defense
82
204
Ring
1

+(3–4)

% XP earned
82
204
Ring
1
Triggers Lv.

(1–5)

Elemental Destruction Curse on hit. Cooldown:

4

s.
82
68
Ring
1

+(18–20)

% skill Duration
82
244
Belt
1
Warcry is cast immediately


+1

Warcry Skill Charge Limit
82
244
Belt
1
Damage Penetrates

(7–8)

% Elemental Resistance
82
244
Belt
1

+(28–32)

% gear Physical Damage


+10

% Movement Speed
82
270
Pistol
1
Damage Penetrates

(12–16)

% Elemental Resistance
82
270
Pistol
1

(12–16)

% additional damage applied to Life
82
270
Pistol
1

+(44–48)

% gear Physical Damage
Adds

4

% Physical Damage as random Elemental Damage
82
303
Musket
1
Damage Penetrates

(27–32)

% Elemental Resistance
82
303
Musket
1

(27–32)

% additional damage applied to Life
82
303
Musket
1

+(44–48)

% gear Physical Damage


+20

% Critical Strike Damage
82
303
Fire Cannon
1

+(3–4)

Active Skill Level
82
303
Fire Cannon
1

(27–32)

% additional damage applied to Life
82
303
Fire Cannon
1

+(44–48)

% gear Physical Damage


+30

% chance to inflict Trauma
82
303
Crossbow
1

(27–32)

% additional damage applied to Life
82
303
Crossbow
1

+(71–100)

% additional Physical Damage against Low Life enemies
82
303
Crossbow
1
Damage Penetrates

(7–8)

% Elemental Resistance
82
270
STR Gloves
1

+1

Melee Skill Level
82
270
STR Gloves
1
Eliminate enemies under

8

% Life
82
90
STR Gloves
1
Damage Penetrates

(7–8)

% Elemental Resistance
82
263
DEX Gloves
1

+1

Projectile Skill Level
82
263
DEX Gloves
1
Eliminate enemies under

8

% Life
82
88
DEX Gloves
1
Damage Penetrates

(7–8)

% Elemental Resistance
82
250
INT Gloves
1

+1

Spell Skill Level
82
250
INT Gloves
1
Eliminate enemies under

8

% Life
82
83
INT Gloves
1
Damage Penetrates

(7–8)

% Elemental Resistance
82
312
STR Boots
1

+1

Fire Skill Level
70
312
STR Boots
1

+(18–22)

% additional Armor while standing still
82
312
STR Boots
1
Damage Penetrates

(7–8)

% Elemental Resistance
82
303
DEX Boots
1

+1

Lightning Skill Level
70
303
DEX Boots
1

+(18–22)

% additional Evasion while moving
82
303
DEX Boots
1
Damage Penetrates

(7–8)

% Elemental Resistance
82
294
INT Boots
1

+1

Cold Skill Level
70
294
INT Boots
1

+8

% Energy Shield Charge Speed


-10

% additional Energy Shield Charge Interval
82
294
INT Boots
1
Defeated enemies have a

30

% chance to explode, dealing Secondary Fire Damage equal to

10

% of its Max Life
82
83
STR Chest Armor
1

+1

Active Skill Level
82
83
STR Chest Armor
1

+(37–48)

% damage
82
250
STR Chest Armor
1
Defeated enemies have a

30

% chance to explode, dealing Secondary Lightning Damage equal to

10

% of its Max Life
82
85
DEX Chest Armor
1

+1

Active Skill Level
82
85
DEX Chest Armor
1

+(37–48)

% damage
82
256
DEX Chest Armor
1
Defeated enemies have a

30

% chance to explode, dealing Secondary Cold Damage equal to

10

% of its Max Life
82
83
INT Chest Armor
1

+1

Active Skill Level
82
83
INT Chest Armor
1

+(37–48)

% damage
82
250
INT Chest Armor
1

-8

% Sealed Mana
82
238
STR Helmet
1

+2

Support Skill Level
82
79
STR Helmet
1

+(16–20)

% additional Armor
82
238
STR Helmet
1

-8

% Sealed Mana
82
233
DEX Helmet
1

+2

Support Skill Level
82
78
DEX Helmet
1

+(16–20)

% additional Evasion
82
233
DEX Helmet
1

-8

% Sealed Mana
82
222
INT Helmet
1

+2

Support Skill Level
82
222
INT Helmet
1

+(7–8)

% additional Max Energy Shield
82
222
INT Helmet
1

+(12–16)

% Elemental and Erosion Resistance Penetration
82
263
STR Shield
1

+2

Active Skill Level
82
263
STR Shield
1

+(18–20)

% additional Defense gained from Energy Shield
82
263
STR Shield
1

+(12–16)

% Elemental and Erosion Resistance Penetration
82
250
DEX Shield
1

+2

Active Skill Level
82
250
DEX Shield
1

+(18–20)

% additional Defense gained from Energy Shield
82
250
DEX Shield
1

+(12–16)

% Elemental and Erosion Resistance Penetration
82
263
INT Shield
1

+2

Active Skill Level
82
263
INT Shield
1

+(18–20)

% additional Defense gained from Energy Shield
82
263
INT Shield
Tier
Modifier
Lv
Weight
Type
1

+(49–54)

% Fire Resistance
82
179
Necklace
1

+(49–54)

% Cold Resistance
82
179
Necklace
1

+(49–54)

% Lightning Resistance
82
179
Necklace
1

+(33–36)

% Erosion Resistance
82
179
Necklace
1

+(49–54)

% Fire Resistance
82
204
Ring
1

+(49–54)

% Cold Resistance
82
204
Ring
1

+(49–54)

% Lightning Resistance
82
204
Ring
1

+(33–36)

% Erosion Resistance
82
204
Ring
1

+(49–54)

% Fire Resistance
82
244
Belt
1

+(49–54)

% Cold Resistance
82
244
Belt
1

+(49–54)

% Lightning Resistance
82
244
Belt
1

+(33–36)

% Erosion Resistance
82
244
Belt
1

+(17–20)

% Minion Elemental Resistance
82
244
Belt
1

+(49–54)

% Fire Resistance
82
270
STR Gloves
1

+(49–54)

% Cold Resistance
82
270
STR Gloves
1

+(49–54)

% Lightning Resistance
82
270
STR Gloves
1

+(33–36)

% Erosion Resistance
82
270
STR Gloves
1

+(49–54)

% Fire Resistance
82
263
DEX Gloves
1

+(49–54)

% Cold Resistance
82
263
DEX Gloves
1

+(49–54)

% Lightning Resistance
82
263
DEX Gloves
1

+(33–36)

% Erosion Resistance
82
263
DEX Gloves
1

+(49–54)

% Fire Resistance
82
250
INT Gloves
1

+(49–54)

% Cold Resistance
82
250
INT Gloves
1

+(49–54)

% Lightning Resistance
82
250
INT Gloves
1

+(33–36)

% Erosion Resistance
82
250
INT Gloves
1

+(49–54)

% Fire Resistance
82
312
STR Boots
1

+(49–54)

% Cold Resistance
82
312
STR Boots
1

+(49–54)

% Lightning Resistance
82
312
STR Boots
1

+(33–36)

% Erosion Resistance
82
312
STR Boots
1

+(17–20)

% Minion Elemental Resistance
82
312
STR Boots
1

+(49–54)

% Fire Resistance
82
303
DEX Boots
1

+(49–54)

% Cold Resistance
82
303
DEX Boots
1

+(49–54)

% Lightning Resistance
82
303
DEX Boots
1

+(33–36)

% Erosion Resistance
82
303
DEX Boots
1

+(17–20)

% Minion Elemental Resistance
82
303
DEX Boots
1

+(49–54)

% Fire Resistance
82
294
INT Boots
1

+(49–54)

% Cold Resistance
82
294
INT Boots
1

+(49–54)

% Lightning Resistance
82
294
INT Boots
1

+(33–36)

% Erosion Resistance
82
294
INT Boots
1

+(17–20)

% Minion Elemental Resistance
82
294
INT Boots
1

+(49–54)

% Fire Resistance
82
250
STR Chest Armor
1

+(49–54)

% Cold Resistance
82
250
STR Chest Armor
1

+(49–54)

% Lightning Resistance
82
250
STR Chest Armor
1

+(33–36)

% Erosion Resistance
82
250
STR Chest Armor
1

+(19–21)

% Elemental Resistance
82
250
STR Chest Armor
1

+(49–54)

% Fire Resistance
82
256
DEX Chest Armor
1

+(49–54)

% Cold Resistance
82
256
DEX Chest Armor
1

+(49–54)

% Lightning Resistance
82
256
DEX Chest Armor
1

+(33–36)

% Erosion Resistance
82
256
DEX Chest Armor
1

+(19–21)

% Elemental Resistance
82
256
DEX Chest Armor
1

+(49–54)

% Fire Resistance
82
250
INT Chest Armor
1

+(49–54)

% Cold Resistance
82
250
INT Chest Armor
1

+(49–54)

% Lightning Resistance
82
250
INT Chest Armor
1

+(33–36)

% Erosion Resistance
82
250
INT Chest Armor
1

+(19–21)

% Elemental Resistance
82
250
INT Chest Armor
1

+(49–54)

% Fire Resistance
82
238
STR Helmet
1

+(49–54)

% Cold Resistance
82
238
STR Helmet
1

+(49–54)

% Lightning Resistance
82
238
STR Helmet
1

+(33–36)

% Erosion Resistance
82
238
STR Helmet
1

+(49–54)

% Fire Resistance
82
233
DEX Helmet
1

+(49–54)

% Cold Resistance
82
233
DEX Helmet
1

+(49–54)

% Lightning Resistance
82
233
DEX Helmet
1

+(33–36)

% Erosion Resistance
82
233
DEX Helmet
1

+(49–54)

% Fire Resistance
82
222
INT Helmet
1

+(49–54)

% Cold Resistance
82
222
INT Helmet
1

+(49–54)

% Lightning Resistance
82
222
INT Helmet
1

+(33–36)

% Erosion Resistance
82
222
INT Helmet
1

+(49–54)

% Fire Resistance
82
263
STR Shield
1

+(49–54)

% Cold Resistance
82
263
STR Shield
1

+(49–54)

% Lightning Resistance
82
263
STR Shield
1

+(33–36)

% Erosion Resistance
82
263
STR Shield
1

+(17–20)

% Minion Elemental Resistance
82
263
STR Shield
1

+(49–54)

% Fire Resistance
82
250
DEX Shield
1

+(49–54)

% Cold Resistance
82
250
DEX Shield
1

+(49–54)

% Lightning Resistance
82
250
DEX Shield
1

+(33–36)

% Erosion Resistance
82
250
DEX Shield
1

+(17–20)

% Minion Elemental Resistance
82
250
DEX Shield
1

+(49–54)

% Fire Resistance
82
263
INT Shield
1

+(49–54)

% Cold Resistance
82
263
INT Shield
1

+(49–54)

% Lightning Resistance
82
263
INT Shield
1

+(33–36)

% Erosion Resistance
82
263
INT Shield
1

+(17–20)

% Minion Elemental Resistance
82
263
INT Shield
1

+(93–120)

Intelligence
82
303
Claw
1

+(93–120)

Dexterity
82
303
Claw
1

+(73–80)

Dexterity and Intelligence
80
303
Claw
1

+(93–120)

Intelligence
82
204
Wand
1

+(73–80)

Strength and Intelligence
80
204
Wand
1

+(73–80)

Dexterity and Intelligence
80
204
Wand
1

+(93–120)

Dexterity
82
278
Cane
1

+(93–120)

Intelligence
82
278
Cane
1

+(93–120)

Strength
82
278
Cane
1

+(49–60)

all stats
80
278
Cane
1

+(93–120)

Strength
82
303
One-Handed Hammer
1

+(93–120)

Intelligence
82
303
One-Handed Hammer
1

+(73–80)

Strength and Intelligence
80
303
One-Handed Hammer
1

+(93–120)

Intelligence
82
256
Sacrificial Blade
1

+(73–80)

Strength and Intelligence
80
256
Sacrificial Blade
1

+(73–80)

Dexterity and Intelligence
80
256
Sacrificial Blade
1

+(93–120)

Strength
82
323
One-Handed Sword
1

+(93–120)

Dexterity
82
323
One-Handed Sword
1

+(93–120)

Intelligence
82
323
One-Handed Sword
1

+(93–120)

Strength
82
312
One-Handed Axe
1

+(93–120)

Dexterity
82
312
One-Handed Axe
1

+(73–80)

Strength and Dexterity
80
312
One-Handed Axe
1

+(93–120)

Intelligence
82
312
Dagger
1

+(93–120)

Dexterity
82
312
Dagger
1

+(73–80)

Dexterity and Intelligence
80
312
Dagger
1

+(181–240)

Dexterity
82
323
Bow
1

+(181–240)

Strength
80
0
Bow
1

+(181–240)

Intelligence
82
323
Bow
1

+(97–120)

all stats
80
323
Bow
1

+(181–240)

Strength
82
286
Two-Handed Sword
1

+(181–240)

Dexterity
82
286
Two-Handed Sword
1

+(181–240)

Intelligence
82
286
Two-Handed Sword
1

+(181–240)

Strength
82
263
Two-Handed Hammer
1

+(181–240)

Intelligence
82
263
Two-Handed Hammer
1

+(145–160)

Strength and Intelligence
80
263
Two-Handed Hammer
1

+(181–240)

Intelligence
82
238
Tin Staff
1

+(10–12)

% Intelligence
82
238
Tin Staff
1

+(145–160)

Strength and Intelligence
80
238
Tin Staff
1

+(145–160)

Dexterity and Intelligence
80
238
Tin Staff
1

+(181–240)

Strength
82
333
Two-Handed Axe
1

+(181–240)

Dexterity
82
333
Two-Handed Axe
1

+(145–160)

Strength and Dexterity
80
333
Two-Handed Axe
1

+(181–240)

Strength
82
303
Cudgel
1

+(181–240)

Dexterity
82
303
Cudgel
1

+(181–240)

Intelligence
82
303
Cudgel
1

+(47–60)

Strength
82
179
Necklace
1

+(47–60)

Dexterity
82
179
Necklace
1

+(47–60)

Intelligence
82
179
Necklace
1

+(47–60)

Strength
82
204
Ring
1

+(47–60)

Dexterity
82
204
Ring
1

+(47–60)

Intelligence
82
204
Ring
1

+(25–30)

all stats
80
204
Ring
1

+(47–60)

Strength
82
244
Belt
1

+(47–60)

Dexterity
82
244
Belt
1

+(47–60)

Intelligence
82
244
Belt
1

+(93–120)

Dexterity
82
270
Pistol
1

+(93–120)

Intelligence
82
270
Pistol
1

+(49–60)

all stats
80
270
Pistol
1

+(93–120)

Strength
82
270
Pistol
1

+(181–240)

Strength
82
303
Musket
1

+(181–240)

Dexterity
82
303
Musket
1

+(181–240)

Intelligence
82
303
Musket
1

+(97–120)

all stats
80
303
Musket
1

+(181–240)

Strength
82
303
Fire Cannon
1

+(145–160)

Strength and Dexterity
80
303
Fire Cannon
1

+(145–160)

Strength and Intelligence
80
303
Fire Cannon
1

+(181–240)

Dexterity
82
303
Crossbow
1

+(181–240)

Strength
82
303
Crossbow
1

+(97–120)

all stats
80
303
Crossbow
1

+(47–60)

Strength
82
270
STR Gloves
1

+(37–40)

Strength and Dexterity
80
270
STR Gloves
1

+(37–40)

Strength and Intelligence
80
270
STR Gloves
1

+(47–60)

Dexterity
82
263
DEX Gloves
1

+(37–40)

Strength and Dexterity
80
263
DEX Gloves
1

+(37–40)

Dexterity and Intelligence
80
263
DEX Gloves
1

+(47–60)

Intelligence
82
250
INT Gloves
1

+(37–40)

Strength and Intelligence
80
250
INT Gloves
1

+(37–40)

Dexterity and Intelligence
80
250
INT Gloves
1

+(47–60)

Strength
82
312
STR Boots
1

+(37–40)

Strength and Dexterity
80
312
STR Boots
1

+(37–40)

Strength and Intelligence
80
312
STR Boots
1

+(47–60)

Dexterity
82
303
DEX Boots
1

+(37–40)

Strength and Dexterity
80
303
DEX Boots
1

+(37–40)

Dexterity and Intelligence
80
303
DEX Boots
1

+(47–60)

Intelligence
82
294
INT Boots
1

+(37–40)

Strength and Intelligence
80
294
INT Boots
1

+(37–40)

Dexterity and Intelligence
80
294
INT Boots
1

+(47–60)

Strength
82
250
STR Chest Armor
1

+(10–12)

% Strength
80
250
STR Chest Armor
1

+(25–30)

all stats
80
250
STR Chest Armor
1

+(47–60)

Dexterity
82
256
DEX Chest Armor
1

+(10–12)

% Dexterity
80
256
DEX Chest Armor
1

+(25–30)

all stats
80
256
DEX Chest Armor
1

+(47–60)

Intelligence
82
250
INT Chest Armor
1

+(10–12)

% Intelligence
82
250
INT Chest Armor
1

+(25–30)

all stats
80
250
INT Chest Armor
1

+(47–60)

Strength
82
238
STR Helmet
1

+(37–40)

Strength and Dexterity
80
238
STR Helmet
1

+(37–40)

Strength and Intelligence
80
238
STR Helmet
1

+(47–60)

Dexterity
82
233
DEX Helmet
1

+(37–40)

Strength and Dexterity
80
233
DEX Helmet
1

+(37–40)

Dexterity and Intelligence
80
233
DEX Helmet
1

+(47–60)

Intelligence
82
222
INT Helmet
1

+(37–40)

Strength and Intelligence
80
222
INT Helmet
1

+(37–40)

Dexterity and Intelligence
80
222
INT Helmet
1

+(93–120)

Strength
82
263
STR Shield
1

+(73–80)

Strength and Dexterity
80
263
STR Shield
1

+(73–80)

Strength and Intelligence
80
263
STR Shield
1

+(93–120)

Dexterity
82
250
DEX Shield
1

+(73–80)

Strength and Dexterity
80
250
DEX Shield
1

+(73–80)

Dexterity and Intelligence
80
250
DEX Shield
1

+(93–120)

Intelligence
82
263
INT Shield
1

+(73–80)

Strength and Intelligence
80
263
INT Shield
1

+(73–80)

Dexterity and Intelligence
80
263
INT Shield
1

+(24–30)

% gear Attack Speed
82
303
Claw
1

+(31–40)

% Attack Critical Strike Rating for this gear
82
303
Claw
1

+(62–80)

% Critical Strike Damage
80
0
Claw
1

+10

% Movement Speed
80
0
Claw
1

+(136–176)

% Critical Strike Rating if you have defeated an enemy recently
82
0
Claw
1

+(25–32)

% Minion Movement Speed, Attack Speed, and Cast Speed
82
204
Wand
1

+(25–32)

% Cast Speed
82
204
Wand
1

+(19–24)

% Cooldown Recovery Speed
82
204
Wand
1

+(124–160)

% Spell Critical Strike Rating
82
204
Wand
1

+(62–80)

% Spell Critical Strike Damage
80
0
Wand
1

+(78–100)

% Terra Charge Recovery Speed
80
204
Wand
1

+(124–160)

% Minion Critical Strike Rating
82
204
Wand
1

+(62–80)

% Minion Critical Strike Damage
82
204
Wand
1

+(51–60)

% Projectile Speed
82
278
Cane
1

+(24–30)

% gear Attack Speed
82
278
Cane
1

+(31–40)

% Attack Critical Strike Rating for this gear
82
278
Cane
1

+(62–80)

% Critical Strike Damage
80
0
Cane
1

+(136–176)

% Critical Strike Rating if you have defeated an enemy recently
82
0
Cane
1

+(24–30)

% gear Attack Speed
82
303
One-Handed Hammer
1

+(31–40)

% Attack Critical Strike Rating for this gear
82
303
One-Handed Hammer
1

+(62–80)

% Critical Strike Damage
80
0
One-Handed Hammer
1

+(16–20)

% chance to cause Knockbacks
80
0
One-Handed Hammer
1

+(8–10)

% Knockback distance
82
0
One-Handed Hammer
1

+(136–176)

% Critical Strike Rating if you have defeated an enemy recently
82
0
One-Handed Hammer
1

+(25–32)

% Cast Speed
82
256
Sacrificial Blade
1

+(19–24)

% Cooldown Recovery Speed
82
256
Sacrificial Blade
1

+(124–160)

% Spell Critical Strike Rating
82
256
Sacrificial Blade
1

+(62–80)

% Spell Critical Strike Damage
80
0
Sacrificial Blade
1

+(78–100)

% Terra Charge Recovery Speed
80
256
Sacrificial Blade
1

+(24–30)

% gear Attack Speed
82
323
One-Handed Sword
1

+(50–64)

% chance to Multistrike
82
323
One-Handed Sword
1

+(31–40)

% Attack Critical Strike Rating for this gear
82
323
One-Handed Sword
1

+(62–80)

% Critical Strike Damage
80
0
One-Handed Sword
1

+10

% Movement Speed
80
0
One-Handed Sword
1

+(136–176)

% Critical Strike Rating if you have defeated an enemy recently
82
0
One-Handed Sword
1

+(24–30)

% gear Attack Speed
82
312
One-Handed Axe
1

+(31–40)

% Attack Critical Strike Rating for this gear
82
312
One-Handed Axe
1

+(62–80)

% Critical Strike Damage
80
0
One-Handed Axe
1

+10

% Movement Speed
80
0
One-Handed Axe
1

+(136–176)

% Critical Strike Rating if you have defeated an enemy recently
82
0
One-Handed Axe
1

+(24–30)

% gear Attack Speed
82
312
Dagger
1

+(31–40)

% Attack Critical Strike Rating for this gear
82
312
Dagger
1

+(62–80)

% Critical Strike Damage
80
0
Dagger
1

+10

% Movement Speed
80
0
Dagger
1

+(136–176)

% Critical Strike Rating if you have defeated an enemy recently
82
0
Dagger
1

+(101–120)

% Projectile Speed
82
323
Bow
1

+(24–30)

% gear Attack Speed
82
323
Bow
1

+(31–40)

% Attack Critical Strike Rating for this gear
82
323
Bow
1

+(93–120)

% Critical Strike Damage
80
0
Bow
1

+10

% Movement Speed
80
0
Bow
1

+(24–30)

% gear Attack Speed
82
286
Two-Handed Sword
1

+(99–128)

% chance to Multistrike
82
286
Two-Handed Sword
1

+(31–40)

% Attack Critical Strike Rating for this gear
82
286
Two-Handed Sword
1

+(93–120)

% Critical Strike Damage
80
0
Two-Handed Sword
1

+10

% Movement Speed
80
0
Two-Handed Sword
1

+(204–264)

% Critical Strike Rating if you have defeated an enemy recently
82
0
Two-Handed Sword
1

+(24–30)

% gear Attack Speed
82
263
Two-Handed Hammer
1

+(31–40)

% Attack Critical Strike Rating for this gear
82
263
Two-Handed Hammer
1

+(93–120)

% Critical Strike Damage
80
0
Two-Handed Hammer
1

+(49–64)

% Minion Movement Speed, Attack Speed, and Cast Speed
82
263
Two-Handed Hammer
1

+(23–30)

% chance to cause Knockbacks
80
0
Two-Handed Hammer
1

+(12–15)

% Knockback distance
82
0
Two-Handed Hammer
1

+(165–213)

% Minion Critical Strike Rating
82
263
Two-Handed Hammer
1

+(49–64)

% Minion Movement Speed, Attack Speed, and Cast Speed
82
238
Tin Staff
1

+(49–64)

% Cast Speed
82
238
Tin Staff
1

+(37–48)

% Cooldown Recovery Speed
82
238
Tin Staff
1

+(247–320)

% Spell Critical Strike Rating
82
238
Tin Staff
1

+(93–120)

% Spell Critical Strike Damage
80
0
Tin Staff
1

+(24–30)

% gear Attack Speed
82
333
Two-Handed Axe
1

+(31–40)

% Attack Critical Strike Rating for this gear
82
333
Two-Handed Axe
1

+(93–120)

% Critical Strike Damage
80
0
Two-Handed Axe
1

+10

% Movement Speed
80
0
Two-Handed Axe
1

+(204–264)

% Critical Strike Rating if you have defeated an enemy recently
82
0
Two-Handed Axe
1

+(24–30)

% gear Attack Speed
82
303
Cudgel
1

+(31–40)

% Attack Critical Strike Rating for this gear
82
303
Cudgel
1

+(93–120)

% Critical Strike Damage
80
0
Cudgel
1

+10

% Movement Speed
80
0
Cudgel
1

+(204–264)

% Critical Strike Rating if you have defeated an enemy recently
82
0
Cudgel
1

+(62–80)

% Critical Strike Rating
82
179
Necklace
1

+(31–40)

% Critical Strike Damage
82
179
Necklace
1

+(13–16)

% Cast Speed
82
179
Necklace
1

+(13–16)

% Attack Speed
82
179
Necklace
1

+(13–16)

% Minion Movement Speed, Attack Speed, and Cast Speed
82
179
Necklace
1

+(62–80)

% Critical Strike Rating
82
204
Ring
1

+(13–16)

% Cast Speed
82
204
Ring
1

+(13–16)

% Attack Speed
82
204
Ring
1

+(51–60)

% Projectile Speed
82
270
Pistol
1

+(24–30)

% gear Attack Speed
82
270
Pistol
1

+(31–40)

% Attack Critical Strike Rating for this gear
82
270
Pistol
1

+(62–80)

% Critical Strike Damage
80
0
Pistol
1

+10

% Movement Speed
80
0
Pistol
1

+(101–120)

% Projectile Speed
82
303
Musket
1

+(24–30)

% gear Attack Speed
82
303
Musket
1

+(31–40)

% Attack Critical Strike Rating for this gear
82
303
Musket
1

+(93–120)

% Critical Strike Damage
80
0
Musket
1

+(204–264)

% Critical Strike Rating if you have defeated an enemy recently
82
0
Musket
1

+(101–120)

% Projectile Speed
82
303
Fire Cannon
1

+(24–30)

% gear Attack Speed
82
303
Fire Cannon
1

+(31–40)

% Attack Critical Strike Rating for this gear
82
303
Fire Cannon
1

+(93–120)

% Critical Strike Damage
80
0
Fire Cannon
1

+(204–264)

% Critical Strike Rating if you have defeated an enemy recently
82
0
Fire Cannon
1

+(101–120)

% Projectile Speed
82
303
Crossbow
1

+(24–30)

% gear Attack Speed
82
303
Crossbow
1

+(31–40)

% Attack Critical Strike Rating for this gear
82
303
Crossbow
1

+(93–120)

% Critical Strike Damage
80
0
Crossbow
1

+(12–15)

% Knockback distance
82
0
Crossbow
1

+(23–30)

% chance to cause Knockbacks
80
0
Crossbow
1

+(62–80)

% Critical Strike Rating
82
270
STR Gloves
1

+(31–40)

% Critical Strike Damage
82
270
STR Gloves
1

+(13–16)

% Attack Speed
82
270
STR Gloves
1

+(62–80)

% Critical Strike Rating
82
263
DEX Gloves
1

+(31–40)

% Critical Strike Damage
82
263
DEX Gloves
1

+(13–16)

% Attack Speed
82
263
DEX Gloves
1

+(25–30)

% Projectile Speed
82
263
DEX Gloves
1

+(62–80)

% Critical Strike Rating
82
250
INT Gloves
1

+(31–40)

% Critical Strike Damage
82
250
INT Gloves
1

+(13–16)

% Attack Speed
82
250
INT Gloves
1

+(37–40)

% Movement Speed
82
312
STR Boots
1

+(31–40)

% Movement Speed if you haven't been hit recently
50
0
STR Boots
1

+(31–40)

% Spell Burst Charge Speed
82
312
STR Boots
1

+(37–40)

% Movement Speed
82
303
DEX Boots
1

+(31–40)

% Movement Speed if you haven't been hit recently
50
0
DEX Boots
1

+(31–40)

% Spell Burst Charge Speed
82
303
DEX Boots
1

+(37–40)

% Movement Speed
82
294
INT Boots
1

+(31–40)

% Movement Speed if you haven't been hit recently
50
0
INT Boots
1

+(31–40)

% Spell Burst Charge Speed
82
294
INT Boots
1

+(62–80)

% Critical Strike Rating
82
250
STR Chest Armor
1

+(13–16)

% Cast Speed
82
250
STR Chest Armor
1

+(13–16)

% Attack Speed
82
250
STR Chest Armor
1

+(62–80)

% Critical Strike Rating
82
256
DEX Chest Armor
1

+(13–16)

% Cast Speed
82
256
DEX Chest Armor
1

+(13–16)

% Attack Speed
82
256
DEX Chest Armor
1

+(25–30)

% Projectile Speed
82
256
DEX Chest Armor
1

+(62–80)

% Critical Strike Rating
82
250
INT Chest Armor
1

+(13–16)

% Cast Speed
82
250
INT Chest Armor
1

+(13–16)

% Attack Speed
82
250
INT Chest Armor
1

+(62–80)

% Critical Strike Rating
82
238
STR Helmet
1

+(31–40)

% Critical Strike Damage
82
238
STR Helmet
1

+(13–16)

% Cast Speed
82
238
STR Helmet
1

+(23–30)

% Critical Strike Damage Mitigation
80
238
STR Helmet
1

+(62–80)

% Critical Strike Rating
82
233
DEX Helmet
1

+(31–40)

% Critical Strike Damage
82
233
DEX Helmet
1

+(13–16)

% Cast Speed
82
233
DEX Helmet
1

+(25–30)

% Projectile Speed
82
233
DEX Helmet
1

+(23–30)

% Critical Strike Damage Mitigation
80
233
DEX Helmet
1

+(62–80)

% Critical Strike Rating
82
222
INT Helmet
1

+(31–40)

% Critical Strike Damage
82
222
INT Helmet
1

+(13–16)

% Cast Speed
82
222
INT Helmet
1

+(23–30)

% Critical Strike Damage Mitigation
80
222
INT Helmet
1

+(25–32)

% Attack Speed
82
263
STR Shield
1

+(25–32)

% Cast Speed
82
263
STR Shield
1

+(124–160)

% Critical Strike Rating
82
263
STR Shield
1

+(62–80)

% Critical Strike Damage
82
263
STR Shield
1

+(51–60)

% Projectile Speed
82
250
DEX Shield
1

+(25–32)

% Attack Speed
82
250
DEX Shield
1

+(25–32)

% Cast Speed
82
250
DEX Shield
1

+(124–160)

% Critical Strike Rating
82
250
DEX Shield
1

+(62–80)

% Critical Strike Damage
82
250
DEX Shield
1

+(25–32)

% Attack Speed
82
263
INT Shield
1

+(25–32)

% Cast Speed
82
263
INT Shield
1

+(124–160)

% Critical Strike Rating
82
263
INT Shield
1

+(62–80)

% Critical Strike Damage
82
263
INT Shield
1

+(31–40)

% Wilt chance
80
0
Claw
1

+(16–20)

% chance to gain 1 stack of Agility Blessing on defeat
50
0
Claw
1

+(31–40)

% Shock chance
80
0
Claw
1

+(62–80)

% Critical Strike Damage
82
303
Claw
1

+(74–96)

% Skill Radius
80
204
Wand
1

+(55–72)

% curse effect
80
204
Wand
1

+(26–32)

% Aura Effect
82
204
Wand
1

+(32–40)

% Sentry Skill cast frequency
80
204
Wand
1

+(78–100)

% Terra Charge Recovery Speed
80
0
Wand
1

+(62–80)

% Spell Critical Strike Damage
82
204
Wand
1

+(31–40)

% Shock chance
80
0
Cane
1

+(74–96)

% Shock damage
80
0
Cane
1

+(74–96)

% Fervor effect
82
278
Cane
1

+(16–20)

% Agility Blessing Duration
80
0
Cane
1

+(62–80)

% Critical Strike Damage
82
278
Cane
1

+(16–20)

% chance to cause Knockbacks
80
0
One-Handed Hammer
1

+(8–10)

% Knockback distance
80
0
One-Handed Hammer
1

+(16–20)

% Blessing Duration
80
0
One-Handed Hammer
1

+(23–30)

% chance for Attacks to inflict Taunt on enemies on hit
80
303
One-Handed Hammer
1

+(62–80)

% Critical Strike Damage
82
303
One-Handed Hammer
1

+(25–32)

% Blur Effect
82
256
Sacrificial Blade
1

+(16–20)

% Agility Blessing Duration
80
0
Sacrificial Blade
1

+(78–100)

% Terra Charge Recovery Speed
80
0
Sacrificial Blade
1

+(20–24)

% Ailment Duration
80
256
Sacrificial Blade
1

+(74–96)

% Ailment Damage
82
256
Sacrificial Blade
1

+(62–80)

% Critical Strike Damage
82
256
Sacrificial Blade
1

+(31–40)

% chance to inflict Elemental Ailment
80
0
One-Handed Sword
1

+(16–20)

% chance to gain 1 stack of Tenacity Blessing on defeat
50
0
One-Handed Sword
1

+(16–20)

% chance to gain 1 stack of Agility Blessing on defeat
50
0
One-Handed Sword
1

+(16–20)

% chance to gain 1 stack of Focus Blessing on defeat
50
0
One-Handed Sword
1

+(62–80)

% Critical Strike Damage
82
323
One-Handed Sword
1

+(31–40)

% chance to inflict Trauma
80
0
One-Handed Axe
1

+(37–48)

% Trauma Duration
80
312
One-Handed Axe
1

+(74–96)

% Trauma Damage
82
312
One-Handed Axe
1

+(16–20)

% chance to gain 1 stack of Tenacity Blessing on defeat
50
0
One-Handed Axe
1

+(62–80)

% Critical Strike Damage
82
312
One-Handed Axe
1

+(31–40)

% Wilt chance
80
0
Dagger
1

+(16–20)

% chance to gain 1 stack of Agility Blessing on defeat
50
0
Dagger
1

+(16–20)

% chance to gain 1 stack of Focus Blessing on defeat
50
0
Dagger
1

+(31–40)

% chance to inflict Frostbite
80
0
Dagger
1

+(62–80)

% Critical Strike Damage
82
312
Dagger
1

+(23–30)

% chance to gain 1 stack of Tenacity Blessing on defeat
50
0
Bow
1

+(23–30)

% chance to gain 1 stack of Agility Blessing on defeat
50
0
Bow
1

+(23–30)

% chance to gain 1 stack of Focus Blessing on defeat
50
0
Bow
1

+(46–60)

% chance to inflict Elemental Ailment
80
0
Bow
1

+(124–160)

% Critical Strike Damage
82
323
Bow
1

+(46–60)

% chance to cause Ailments
80
0
Two-Handed Sword
1

+(23–30)

% Blessing Duration
80
0
Two-Handed Sword
1

+(148–192)

% Skill Radius
80
286
Two-Handed Sword
1

+(124–160)

% Critical Strike Damage
82
286
Two-Handed Sword
1

+(23–30)

% chance to cause Knockbacks
80
0
Two-Handed Hammer
1

+(12–15)

% Knockback distance
80
0
Two-Handed Hammer
1

+(23–30)

% Blessing Duration
80
0
Two-Handed Hammer
1

+(34–45)

% chance for Attacks to inflict Taunt on enemies on hit
80
263
Two-Handed Hammer
1

+(124–160)

% Critical Strike Damage
82
263
Two-Handed Hammer
1

+(124–160)

% Minion Critical Strike Damage
82
263
Two-Handed Hammer
1

+(23–30)

% Focus Blessing Duration
80
0
Tin Staff
1

+(82–105)

% Barrier Shield
80
0
Tin Staff
1

+(37–48)

% Blur Effect
80
0
Tin Staff
1

+(111–144)

% curse effect
80
238
Tin Staff
1

+(51–64)

% Aura Effect
82
238
Tin Staff
1

+(148–192)

% Skill Radius
80
238
Tin Staff
1

+(124–160)

% Spell Critical Strike Damage
82
238
Tin Staff
1

+(46–60)

% chance to inflict Trauma
80
0
Two-Handed Axe
1

+(23–30)

% chance to gain 1 stack of Tenacity Blessing on defeat
50
0
Two-Handed Axe
1

+(148–192)

% Trauma Damage
82
333
Two-Handed Axe
1

+(75–96)

% Trauma Duration
80
333
Two-Handed Axe
1

+(124–160)

% Critical Strike Damage
82
333
Two-Handed Axe
1

+(46–60)

% chance to inflict Elemental Ailment
80
0
Cudgel
1

+(39–48)

% Ailment Duration
80
303
Cudgel
1

+(23–30)

% chance to gain 1 stack of Tenacity Blessing on defeat
50
0
Cudgel
1

+(23–30)

% chance to gain 1 stack of Agility Blessing on defeat
50
0
Cudgel
1

+(23–30)

% chance to gain 1 stack of Focus Blessing on defeat
50
0
Cudgel
1

+(124–160)

% Critical Strike Damage
82
303
Cudgel
1

+(16–20)

% chance to cause Ailments
80
0
Necklace
1

+(8–10)

% Blessing Duration
80
0
Necklace
1

+(29–40)

% Affliction effect
82
179
Necklace
1
Reaps

0.5

s of DoT Damage on hit. The effect has a

6

s cooldown against the same target
80
179
Necklace
1

+(16–20)

% Reaping Duration
80
204
Ring
1

+(29–40)

% Affliction effect
82
204
Ring
1

+(13–16)

Affliction inflicted per second
80
204
Ring
1

+(16–20)

% Reaping Cooldown Recovery Speed
82
204
Ring
1

+(16–20)

% chance to cause Ailments
80
0
Belt
1

+(8–10)

% Blessing Duration
80
0
Belt
1

+(10–12)

% Ailment Duration
80
244
Belt
1

+(29–40)

% Affliction effect
82
0
Belt
1

+(16–20)

% chance to gain 1 stack of Agility Blessing on defeat
50
0
Pistol
1

+(6–10)

% Movement Speed while Blur is active
84
0
Pistol
1

+(25–32)

% Blur Effect
82
270
Pistol
1

+(31–40)

% chance to inflict Elemental Ailment
80
0
Pistol
1

+(62–80)

% Critical Strike Damage
82
270
Pistol
1

+(46–60)

% chance to inflict Elemental Ailment
80
0
Musket
1

+(39–48)

% Ailment Duration
80
303
Musket
1

+(148–192)

% Elemental Ailment Damage
82
303
Musket
1

+(11–20)

% Frostbite Duration
82
0
Musket
1

+(124–160)

% Critical Strike Damage
82
303
Musket
1

+(23–30)

% chance to gain 1 stack of Tenacity Blessing on defeat
50
0
Fire Cannon
1

+(23–30)

% Tenacity Blessing Duration
80
0
Fire Cannon
1

+(82–105)

% Barrier Shield
80
0
Fire Cannon
1

-36

% Barrage Skill Wave Interval
80
0
Fire Cannon
1

+(124–160)

% Critical Strike Damage
82
303
Fire Cannon
1

+(148–192)

% Trauma Damage
82
303
Crossbow
1

+(75–96)

% Trauma Duration
80
303
Crossbow
1

+(46–60)

% chance to inflict Trauma
80
0
Crossbow
1

(23–30)

% chance to gain Fervor on defeat
50
0
Crossbow
1

+(124–160)

% Critical Strike Damage
82
303
Crossbow
1

+(8–10)

% chance to avoid Elemental Ailment
80
0
STR Boots
1

+(8–10)

% chance to gain Blur on defeat
80
0
STR Boots
1

+(8–10)

% chance to avoid Elemental Ailment
80
0
DEX Boots
1

+(8–10)

% chance to gain Blur on defeat
80
0
DEX Boots
1

+(8–10)

% chance to avoid Elemental Ailment
80
0
INT Boots
1

+(8–10)

% chance to gain Blur on defeat
80
0
INT Boots
1

+(37–48)

% Skill Radius
80
250
STR Chest Armor
1

+(28–36)

% curse effect
80
250
STR Chest Armor
1

+(8–10)

% Blessing Duration
80
0
STR Chest Armor
1

+(37–48)

% Skill Radius
80
256
DEX Chest Armor
1

+(28–36)

% curse effect
80
256
DEX Chest Armor
1

+(8–10)

% Blessing Duration
80
0
DEX Chest Armor
1

+(37–48)

% Skill Radius
80
250
INT Chest Armor
1

+(28–36)

% curse effect
80
250
INT Chest Armor
1

+(8–10)

% Blessing Duration
80
0
INT Chest Armor
1

+(37–48)

% Skill Radius
80
238
STR Helmet
1

+(28–36)

% curse effect
80
238
STR Helmet
1

(8–10)

% chance to gain a Barrier on defeat
50
0
STR Helmet
1

+(29–40)

% Affliction effect
82
238
STR Helmet
1

+(37–48)

% Skill Radius
80
233
DEX Helmet
1

+(28–36)

% curse effect
80
233
DEX Helmet
1

(8–10)

% chance to gain a Barrier on defeat
50
0
DEX Helmet
1

+(29–40)

% Affliction effect
82
233
DEX Helmet
1

+(37–48)

% Skill Radius
80
222
INT Helmet
1

+(28–36)

% curse effect
80
222
INT Helmet
1

+(8–10)

% Minion aggressiveness
80
0
INT Helmet
1

(8–10)

% chance to gain a Barrier on defeat
50
0
INT Helmet
1

+(29–40)

% Affliction effect
82
222
INT Helmet
1

+(25–32)

Affliction inflicted per second
80
303
Claw
1
Reaps

1.5

s of the DoT Damage against enemy on Critical Strike. The effect has a

6

s cooldown against the same target
80
303
Claw
1

+1

Max Mobility Skill Charges
70
0
Claw
1

+20

% Movement Speed, Attack Speed and Damage Avoidance for 1s after using Mobility Skills
80
303
Claw
1
For every 1% Attack Speed,

-0.2

% additional Regain Interval
70
303
Claw
1

+(16–20)

% additional damage if you have Blocked recently while Dual Wielding
80
303
Claw
1

+1

% Cast Speed per

25

Intelligence
80
204
Wand
1

+(13–16)

% chance for Minions to deal Double Damage
85
0
Wand
1

+(25–32)

Affliction inflicted per second
80
204
Wand
1

+(58–80)

% Affliction effect
82
204
Wand
1
Max Channeled Stacks

+1

70
0
Wand
1
Max Sentry Quantity

+1

78
0
Wand
1

+(30–36)

% additional damage for skills cast by Spell Burst
82
204
Wand
1

+(16–20)

% additional damage if you have Blocked recently while Dual Wielding
80
204
Wand
1
Spirit Magi's Enhanced Skills

+(16–20)

% additional damage
80
204
Wand
1

+(26–32)

% additional Spirit Magus Ultimate Damage
80
204
Wand
1

+1

% Shock Damage per

12

stats
80
0
Cane
1

+(3–5)

% Attack Speed for every time Shock is settled recently, up to

50

%
80
278
Cane
1

+1

Horizontal Projectile Penetration(s)
70
278
Cane
1

+1

stacks of Horizontal Projectile Jumps
70
278
Cane
1
Projectile Quantity

+1

70
278
Cane
1

+(16–20)

% additional damage if you have Blocked recently while Dual Wielding
80
278
Cane
1

+(16–20)

% chance to gain Tenacity Blessing when hitting a Taunted enemy
80
303
One-Handed Hammer
1

+(11–20)

% chance to get Demolisher Charge when it is consumed
84
0
One-Handed Hammer
1

+(37–48)

% Demolisher Charge Restoration Speed
80
303
One-Handed Hammer
1

+(13–16)

% additional Attack Speed, Cast Speed, and Movement Speed when channeling
82
303
One-Handed Hammer
1

20

% chance to consume all Tenacity Blessing.

+5

% additional damage for this attack for each stack consumed
82
303
One-Handed Hammer
1
Reaps

1

s of DoT Damage on hit. The effect has a

6

s cooldown against the same target
80
0
One-Handed Hammer
1

+(16–20)

% additional damage if you have Blocked recently while Dual Wielding
80
303
One-Handed Hammer
1

+1

% Cast Speed per

25

Intelligence
80
256
Sacrificial Blade
1

+(62–80)

% Spell Critical Strike Damage if you have used an Attack Skill recently
80
256
Sacrificial Blade
1

+(4–6)

% Cast Speed per stack of Agility Blessing owned
80
0
Sacrificial Blade
1

+(108–140)

Spell Critical Strike Rating if you have gained Blur recently
80
0
Sacrificial Blade
1
Reaps

1.5

s of the DoT Damage against enemy on Critical Strike. The effect has a

6

s cooldown against the same target
80
256
Sacrificial Blade
1

(20–30)

% chance to inflict

1

additional stacks of Wilt
82
256
Sacrificial Blade
1

+(16–24)

% Fire Penetration against Ignited enemies
82
256
Sacrificial Blade
1

+(16–20)

% additional damage if you have Blocked recently while Dual Wielding
80
256
Sacrificial Blade
1

-10

% additional damage taken when performing Multistrikes
80
323
One-Handed Sword
1

+(5–6)

% damage per stack of any Blessing
80
323
One-Handed Sword
1

+(37–48)

% chance to Multistrike
Multistrikes deal

8

% increasing damage
82
323
One-Handed Sword
1
Inflicts

4

additional Frostbites on hit.
82
0
One-Handed Sword
1

+(16–20)

% additional damage if you have Blocked recently while Dual Wielding
80
323
One-Handed Sword
1

+(74–96)

% Skill Radius
80
0
One-Handed Axe
1

+(54–70)

% chance to obtain Steep Strike attempts
80
312
One-Handed Axe
1

+(58–80)

% Affliction effect
85
312
One-Handed Axe
1

+(31–40)

% Reaping Cooldown Recovery Speed
82
312
One-Handed Axe
1
Reaps

1

s of DoT Damage when dealing Trauma Damage. The effect has a

6

s cooldown against the same target
80
312
One-Handed Axe
1

+(16–20)

% additional damage if you have Blocked recently while Dual Wielding
80
312
One-Handed Axe
1

+(20–26)

% additional Shadow Damage
82
312
Dagger
1

(16–20)

% chance to gain Agility Blessing on Critical Strike
80
312
Dagger
1
Wilt has a

20

% chance to spread to Nearby targets
80
0
Dagger
1
Shadow Quantity

+1

84
0
Dagger
1

-1

% Elemental Resistance and Erosion Resistance per

6

Frostbites on enemy
80
0
Dagger
1
Reaps

1.5

s of the DoT Damage against enemy on Critical Strike. The effect has a

6

s cooldown against the same target
80
312
Dagger
1

+(16–20)

% additional damage if you have Blocked recently while Dual Wielding
80
312
Dagger
1

+20

% Movement Speed if you have dealt a Critical Strike recently
82
0
Bow
1

+(5–7)

% Critical Strike Damage per stack of any Blessing owned
80
0
Bow
1

+3

Horizontal Projectile Penetration(s)
70
323
Bow
1

+3

stacks of Horizontal Projectile Jumps
70
323
Bow
1
Projectile Quantity

+3

70
323
Bow
1
Reaps

1.5

s of DoT Damage on hit. The effect has a

4

s cooldown against the same target
80
323
Bow
1

+(56–72)

% chance to Multistrike
Multistrikes deal

20

% increasing damage
82
286
Two-Handed Sword
1
Min Channeled Stacks

+(3–4)

70
286
Two-Handed Sword
1
Max Tenacity Blessing Stacks

+(2–3)

70
286
Two-Handed Sword
1

+(8–15)

% Critical Strike Damage per recent Critical Strike, up to

10

stacks
84
0
Two-Handed Sword
1

-20

% additional damage against Frostbitten enemies
80
286
Two-Handed Sword
1
Max Agility Blessing Stacks

+(2–3)

70
286
Two-Handed Sword
1
Max Focus Blessing Stacks

+(2–3)

70
286
Two-Handed Sword
1

+(61–80)

% chance to gain Tenacity Blessing when hitting a Taunted enemy
80
263
Two-Handed Hammer
1

+(61–80)

% additional damage for this skill when Demolisher Charge is consumed
80
263
Two-Handed Hammer
1

+(25–32)

% additional Attack Speed, Cast Speed, and Movement Speed when channeling
82
263
Two-Handed Hammer
1

20

% chance to consume all Tenacity Blessing.

+(7–8)

% additional damage for this attack for each stack consumed
82
0
Two-Handed Hammer
1

+(25–32)

% chance for Minions to deal Double Damage
82
263
Two-Handed Hammer
1
Reaps

1.5

s of DoT Damage on hit. The effect has a

6

s cooldown against the same target
84
0
Two-Handed Hammer
1

+(25–32)

% additional Affliction effect
82
263
Two-Handed Hammer
1
Spirit Magi's Enhanced Skills

+(31–45)

% additional damage
80
263
Two-Handed Hammer
1

+(50–64)

% additional Spirit Magus Ultimate Damage
80
263
Two-Handed Hammer
1
Min Channeled Stacks

+(3–4)

70
238
Tin Staff
1

+(296–443)

Spell Critical Strike Rating
82
238
Tin Staff
1

+(19–24)

% chance for Minions to deal Double Damage
82
0
Tin Staff
1

+1

% Spell Critical Strike Rating for every

15

Max Mana
80
238
Tin Staff
1
Max Terra Quantity

+2

78
0
Tin Staff
1
Reaps

1.5

s of the DoT Damage against enemy on Critical Strike. The effect has a

4

s cooldown against the same target
80
238
Tin Staff
1

+(55–81)

% additional damage for skills cast by Spell Burst
82
238
Tin Staff
1
Spirit Magi's Enhanced Skills

+(31–45)

% additional damage
80
238
Tin Staff
1

+(50–64)

% additional Spirit Magus Ultimate Damage
80
238
Tin Staff
1
Max Channeled Stacks

+(3–4)

70
238
Tin Staff
1

+(25–32)

% additional damage taken by enemies when they have Max Affliction
80
0
Two-Handed Axe
1

+3

Max Steep Strikes
82
0
Two-Handed Axe
1

+(4–6)

% Attack Speed per stack of Tenacity Blessing owned
80
0
Two-Handed Axe
1

+(47–60)

% Reaping Duration
84
0
Two-Handed Axe
1
Reaps

1.5

s of DoT Damage when dealing Trauma Damage. The effect has a

4

s cooldown against the same target
80
333
Two-Handed Axe
1
Defeated enemies have a

30

% chance to explode, dealing Secondary Physical Damage equal to

30

% of its Max Life
82
333
Two-Handed Axe
1

+(61–80)

% Reaping Cooldown Recovery Speed
82
333
Two-Handed Axe
1

+(25–32)

% additional Attack Damage and Attack Skill Radius if a Spell Skill have been used recently
82
303
Cudgel
1
Max Channeled Stacks

+(3–4)

70
303
Cudgel
1
Max Tenacity Blessing Stacks

+(2–3)

70
303
Cudgel
1
Max Focus Blessing Stacks

+(2–3)

70
303
Cudgel
1
Reaps

1.5

s of the DoT Damage against enemy on Critical Strike. The effect has a

4

s cooldown against the same target
80
303
Cudgel
1

+(7–8)

% all stats
82
179
Necklace
1

+(29–40)

% Affliction effect
82
0
Necklace
1

+(18–21)

% Elemental Resistance
82
179
Necklace
1
Max Channeled Stacks

+1

70
179
Necklace
1
Max Terra Quantity

+1




+10

% skill Duration
80
0
Necklace
1

+1

Barrage Skill Waves


-10

% additional damage for Barrage Skills per 1 wave of Barrage
80
0
Necklace
1
Min Channeled Stacks

+1

70
179
Necklace
1
Reaps

0.5

s of DoT Damage on hit. The effect has a

6

s cooldown against the same target
84
0
Necklace
1

+1

Max Spell Burst
82
179
Necklace
1
Spirit Magi

+(26–32)

initial Growth
80
179
Necklace
1

+3

% Critical Strike Damage per stack of any Blessing owned
70
179
Necklace
1

+5

% additional damage for Barrage Skills per 1 wave of Barrage
80
179
Necklace
1

+(13–16)

Affliction inflicted per second
85
0
Ring
1
Adds

(6–7)

-

(7–8)

Fire Damage to Attacks and Spells per stack of Tenacity Blessing
80
0
Ring
1

+10

% Movement Speed
80
0
Ring
1
Adds

(6–7)

-

(7–8)

Lightning Damage to Attacks and Spells per stack of Agility Blessing
80
0
Ring
1
Adds

(6–7)

-

(7–8)

Cold Damage to Attacks and Spells per stack of Focus Blessing
80
0
Ring
1

+(16–20)

% Reaping Duration
84
0
Ring
1

+(29–40)

% Affliction effect
85
0
Ring
1

+(28–36)

% curse effect
80
204
Ring
1

+(39–50)

% Terra Charge Recovery Speed
80
204
Ring
1

+(26–32)

% chance to increase Total Waves by 1 when using a Barrage Skill
80
204
Ring
1

+(23–30)

% Critical Strike Damage Mitigation
80
0
Belt
1

+(7–8)

% all stats
82
244
Belt
1
Restoration Skills:

+(16–20)

% restoration effect
80
0
Belt
1

+3

% damage per stack of any Blessing
80
244
Belt
1

+(19–24)

% Warcry Effect
80
244
Belt
1
Reaps

0.5

s of DoT Damage on hit. The effect has a

6

s cooldown against the same target
80
244
Belt
1

+(29–40)

% Affliction effect
82
244
Belt
1

+1

% Attack Speed for every

50

stats
82
0
Pistol
1

+20

% Movement Speed if you have dealt a Critical Strike recently
82
270
Pistol
1

+1

Horizontal Projectile Penetration(s)
70
270
Pistol
1
Parabolic Projectile Splits

+1

70
270
Pistol
1

+1

stacks of Horizontal Projectile Jumps
70
270
Pistol
1
Projectile Quantity

+1

70
270
Pistol
1
Reaps

1

s of DoT Damage on hit. The effect has a

6

s cooldown against the same target
80
270
Pistol
1

+(16–20)

% additional damage if you have Blocked recently while Dual Wielding
80
270
Pistol
1

75

% chance for your Elemental Ailment to spread to Nearby enemies
80
303
Musket
1
Reaps

1.5

s of DoT Damage when dealing Elemental Damage. The effect has a

4

s cooldown against the same target
80
303
Musket
1

+2

Horizontal Projectile Penetration(s)
70
0
Musket
1
Parabolic Projectile Splits

+3

70
303
Musket
1
Projectile Quantity

+3

70
303
Musket
1
Enemies take

+(9–12)

% additional Elemental Damage for every Ailment they have (multiplies)
82
303
Musket
1

+(11–15)

% Attack and Cast Speed for every

1

s while standing still, up to

150

%
82
303
Fire Cannon
1

+1

% Skill Radius per

20

Strength
80
303
Fire Cannon
1
Parabolic Projectile Splits

+3

70
303
Fire Cannon
1
Projectile Quantity

+3

70
303
Fire Cannon
1
Reaps

1.5

s of DoT Damage when dealing Area Damage. The effect has a

4

s cooldown against the same target
80
303
Fire Cannon
1

+(181–240)

% Critical Strike Damage against Traumatized enemies
80
303
Crossbow
1

+(51–60)

% additional Trauma Damage dealt by Projectile Skills
82
303
Crossbow
1

+3

Horizontal Projectile Penetration(s)
70
303
Crossbow
1

+2

stacks of Horizontal Projectile Jumps
70
0
Crossbow
1
Projectile Quantity

+3

70
303
Crossbow
1
Reaps

1.5

s of DoT Damage when dealing Trauma Damage. The effect has a

4

s cooldown against the same target
80
303
Crossbow
1

+(10–12)

% Strength
80
270
STR Gloves
1

+(76–98)

Attack Critical Strike Rating
82
270
STR Gloves
1

+(76–98)

Spell Critical Strike Rating
82
270
STR Gloves
1
Have Fervor
80
0
STR Gloves
1
Reaps

0.5

s of DoT Damage on hit. The effect has a

6

s cooldown against the same target
80
270
STR Gloves
1

+(25–35)

% additional Beam Length
80
270
STR Gloves
1

+1

Jumps
80
270
STR Gloves
1

+(6–10)

% Projectile Speed and Movement Speed when Fervor is owned
80
263
DEX Gloves
1

+(76–98)

Attack Critical Strike Rating
82
263
DEX Gloves
1

+(76–98)

Spell Critical Strike Rating
82
263
DEX Gloves
1
Have Fervor
80
0
DEX Gloves
1
Reaps

0.5

s of DoT Damage on hit. The effect has a

6

s cooldown against the same target
80
263
DEX Gloves
1

+(25–35)

% additional Beam Length
80
263
DEX Gloves
1

+1

Jumps
80
263
DEX Gloves
1

+(6–10)

% Cast Movement Speed and while Fervor is active
80
250
INT Gloves
1

+(76–98)

Attack Critical Strike Rating
82
250
INT Gloves
1

+(76–98)

Spell Critical Strike Rating
82
250
INT Gloves
1
Have Fervor
80
0
INT Gloves
1
Reaps

0.5

s of DoT Damage on hit. The effect has a

6

s cooldown against the same target
80
250
INT Gloves
1

+(25–35)

% additional Beam Length
80
250
INT Gloves
1

+1

Jumps
80
250
INT Gloves
1

+(13–16)

% Aura Effect
82
312
STR Boots
1

-10

% Nearby enemy Movement Speed
82
0
STR Boots
1

+(16–20)

% Cooldown Recovery Speed for Mobility Skills
82
0
STR Boots
1

+20

% chance to gain Blur when using Mobility Skills
82
0
STR Boots
1
For every

100

Growth a Spirit Magus has, its Movement Speed

+15

%
80
312
STR Boots
1

(-21–-17)

% additional DoT Damage taken
82
312
STR Boots
1

+(13–16)

% Aura Effect
82
303
DEX Boots
1

+(10–12)

% Dexterity
80
303
DEX Boots
1

+20

% Movement Speed if you have evaded recently
82
0
DEX Boots
1

+(16–20)

% Cooldown Recovery Speed for Mobility Skills
82
0
DEX Boots
1

20

% chance to gain Blur per

10

m you move
82
0
DEX Boots
1
For every

100

Growth a Spirit Magus has, its Movement Speed

+15

%
80
303
DEX Boots
1

(-21–-17)

% additional DoT Damage taken
82
303
DEX Boots
1

+(13–16)

% Aura Effect
82
294
INT Boots
1

+20

% Movement Speed when the Energy Shield is not full
82
0
INT Boots
1

+(16–20)

% Cooldown Recovery Speed for Mobility Skills
82
0
INT Boots
1
Gains Blur when Energy Shield starts to Charge
82
0
INT Boots
1
For every

100

Growth a Spirit Magus has, its Movement Speed

+15

%
80
294
INT Boots
1

(-21–-17)

% additional DoT Damage taken
82
294
INT Boots
1

+2

% Max Fire Resistance
80
250
STR Chest Armor
1

+2

% Max Erosion Resistance
80
250
STR Chest Armor
1
Own

1

additional stacks of Tenacity Blessing
82
250
STR Chest Armor
1
Adds

3

-

5

Physical Damage to Attacks per

5

Strength when Unarmed
80
250
STR Chest Armor
1

+(23–30)

% chance to gain 1 stack of Tenacity Blessing on taking Damage
80
0
STR Chest Armor
1

+(7–8)

% Armor Effective Rate for Non-Physical Damage
80
250
STR Chest Armor
1

(-32–-25)

% additional DoT Damage taken
80
250
STR Chest Armor
1

+(41–53)

% Barrier Shield
80
250
STR Chest Armor
1

+2

% Max Lightning Resistance
80
256
DEX Chest Armor
1

+2

% Max Erosion Resistance
80
256
DEX Chest Armor
1
Adds

3

-

5

Physical Damage to Attacks per

8

Dexterity when Unarmed
80
256
DEX Chest Armor
1

20

% chance to gain Agility Blessing per

10

m you move
82
0
DEX Chest Armor
1
Own

1

additional stacks of Agility Blessing
80
256
DEX Chest Armor
1

+(20–25)

% additional Evasion on Spell Damage
80
256
DEX Chest Armor
1

(-32–-25)

% additional DoT Damage taken
80
256
DEX Chest Armor
1

+(41–53)

% Barrier Shield
80
256
DEX Chest Armor
1

+2

% Max Cold Resistance
80
250
INT Chest Armor
1

+2

% Max Erosion Resistance
80
250
INT Chest Armor
1

+1

% Energy Shield Charge Speed per

100

Intelligence
82
250
INT Chest Armor
1
Gains

1

stacks of Focus Blessing for every

40

% Mana consumed
80
0
INT Chest Armor
1
Own

1

additional stacks of Focus Blessing
80
250
INT Chest Armor
1

(-32–-25)

% additional DoT Damage taken
80
250
INT Chest Armor
1

+(41–53)

% Barrier Shield
80
250
INT Chest Armor
1

+(13–16)

% Aura Effect
82
238
STR Helmet
1

+(6–8)

% chance for Minions to deal Double Damage
82
238
STR Helmet
1

+(27–35)

% chance to obtain Steep Strike attempts
80
0
STR Helmet
1

+(24–30)

% Demolisher Charge Restoration Speed
80
0
STR Helmet
1

(8–10)

% chance to gain a Barrier when hit
80
0
STR Helmet
1

+(29–40)

% Affliction effect
82
238
STR Helmet
1

+1

Max Spell Burst
82
238
STR Helmet
1

+(23–30)

% chance to gain a Barrier when taking damage
80
238
STR Helmet
1
Max Terra Charge Stacks

+1

80
238
STR Helmet
1

+(28–35)

% Barrier Shield
80
238
STR Helmet
1

+(13–16)

% Aura Effect
82
233
DEX Helmet
1

+(6–8)

% chance for Minions to deal Double Damage
82
233
DEX Helmet
1

(6–8)

% chance to gain

+1

Shadows when using the Shadow Strike skill
82
0
DEX Helmet
1

-20

% Barrage Skill Wave Interval
80
0
DEX Helmet
1

(8–10)

% chance to gain a Barrier when hit
80
0
DEX Helmet
1

+(29–40)

% Affliction effect
82
233
DEX Helmet
1

+1

Max Spell Burst
82
233
DEX Helmet
1

10

% chance to gain a Barrier for every

5

m you move
80
233
DEX Helmet
1
Max Terra Charge Stacks

+1

80
233
DEX Helmet
1

+(28–35)

% Barrier Shield
80
233
DEX Helmet
1

+(10–12)

% Intelligence
82
222
INT Helmet
1

+(13–16)

% Aura Effect
82
222
INT Helmet
1

+(6–8)

% chance for Minions to deal Double Damage
82
222
INT Helmet
1

+(16–20)

% Sentry Skill cast frequency
80
0
INT Helmet
1

+(39–50)

% Terra Charge Recovery Speed
80
0
INT Helmet
1

(8–10)

% chance to gain a Barrier when hit
80
0
INT Helmet
1

+(29–40)

% Affliction effect
85
0
INT Helmet
1

+1

Max Spell Burst
82
222
INT Helmet
1

+5

% chance to gain a Barrier upon using a Spell Skill
80
222
INT Helmet
1
Max Terra Charge Stacks

+1

80
222
INT Helmet
1

+(28–35)

% Barrier Shield
80
222
INT Helmet
1

+3

% Max Fire Resistance
80
263
STR Shield
1

+1

Warcry Skill Charge Limit
70
263
STR Shield
1

+(37–48)

% Warcry Effect
80
263
STR Shield
1

+(29–32)

% Minion Erosion Resistance
82
263
STR Shield
1
Max Sentry Quantity

+1

70
263
STR Shield
1

+1

% Spell Block for every

3

% Attack Block
80
263
STR Shield
1

+3

% Max Lightning Resistance
80
250
DEX Shield
1

(-40–-31)

% additional DoT Damage taken
82
250
DEX Shield
1

+(19–24)

% Warcry Cooldown Recovery Speed
80
250
DEX Shield
1

+(31–40)

% Warcry Cast Speed
80
250
DEX Shield
1
Max Sentry Quantity

+1

70
250
DEX Shield
1

+1

% Spell Block for every

3

% Attack Block
80
250
DEX Shield
1

+3

% Max Cold Resistance
80
263
INT Shield
1

(-20–-16)

% additional damage taken at Full Energy Shield
80
0
INT Shield
1

+(25–32)

% Cast Speed if you have Blocked recently
80
0
INT Shield
1

+16

% Spell Block Chance if you have Blocked an Attack recently
82
0
INT Shield
1
Max Sentry Quantity

+1

70
263
INT Shield
1

+1

% Spell Block for every

3

% Attack Block
80
263
INT Shield
1
For every 1% Attack Speed,

-0.3

% additional Regain Interval
80
0
Claw
1

+(16–24)

% chance to deal Double Damage
80
0
Claw
1

+(20–30)

% additional Attack Damage at Low Life
80
0
Claw
1

(-18–-14)

% Elemental Resistance and Erosion Resistance for Nearby enemies
80
0
Claw
1

+(24–36)

% chance to deal Double Damage


-80

% Spell Critical Strike Rating
80
0
Wand
1
Gains

1

stacks of Focus Blessing for every

600

Mana consumed
80
0
Wand
1
The Main Spell Skill

+(19–24)

% chance to be triggered an additional time when being cast
80
0
Wand
1

+(20–30)

% chance for the summoned Minions to gain 1 stack of Focus Blessing when you use a Summon Skill
84
0
Wand
1
Defeated enemies have a

30

% chance to explode, dealing Secondary Physical Damage equal to

10

% of its Max Life
80
0
Cane
1

+(36–48)

% Attack Speed if you have used a Spell Skill recently
80
0
Cane
1

+20

% chance to gain Fervor when hitting a Shocked enemy
80
0
Cane
1

+(25–30)

% additional Projectile Damage


-20

% additional Projectile Speed
80
0
Cane
1
Keeps Taunting Nearby enemies while a Blessing lasts
85
0
One-Handed Hammer
1

+(40–60)

% Attack Critical Strike Rating for this gear


+10

% Skill Radius
80
0
One-Handed Hammer
1

+(16–24)

% chance to deal Double Damage
80
0
One-Handed Hammer
1

(-18–-14)

% Elemental Resistance and Erosion Resistance for Nearby enemies
80
0
One-Handed Hammer
1

+(20–30)

% additional Critical Strike Rating against enemies affected by Ailment
80
0
Sacrificial Blade
1

+(128–150)

% Critical Strike Damage


-96

% Skill Radius
75
0
Sacrificial Blade
1

+(19–24)

% chance to gain Blur on Critical Strike
80
0
Sacrificial Blade
1

+(86–120)

% Affliction effect
85
0
Sacrificial Blade
1
Gains 1 stack of Agility Blessing for every

6

times Spell Skill is used
80
0
Sacrificial Blade
1

+(40–48)

% Attack Critical Strike Rating for this gear
Your Critical Strikes eliminate enemies under

(6–8)

% Life
80
0
One-Handed Sword
1

+(16–24)

% chance to deal Double Damage
80
0
One-Handed Sword
1

(-18–-14)

% Elemental Resistance and Erosion Resistance for Nearby enemies
80
0
One-Handed Sword
1
For every recent Attack Skill used,

-5

% Attack Speed,

+(12–15)

% Critical Strike Rating and Critical Strike Damage, stacking up to

10

times
80
0
One-Handed Sword
1

+(40–48)

% Attack Critical Strike Rating for this gear
Your Critical Strikes eliminate enemies under

(6–8)

% Life
80
0
One-Handed Axe
1

+(16–24)

% chance to deal Double Damage
80
0
One-Handed Axe
1

+(228–295)

Attack Critical Strike Rating against Traumatized enemies
80
0
One-Handed Axe
1

1.5

% Movement Speed per

1000

Life recently consumed
80
0
One-Handed Axe
1

-30

% Attack Speed


+(136–180)

% Shadows Triggering Range and Shadow Strike Range
80
0
Dagger
1

+(16–24)

% chance to deal Double Damage
80
0
Dagger
1

+(80–120)

% Critical Strike Damage against Wilt enemies
80
0
Dagger
1

+(20–30)

% additional Attack Critical Strike Rating
80
0
Dagger
1
Rapid Shots
85
0
Bow
1

+(24–36)

% chance to deal Double Damage
80
0
Bow
1

+(40–60)

% Attack Critical Strike Rating for this gear


+(3–5)

% chance to Mark the enemy on Critical Strike
80
0
Bow
1
Max Agility Blessing Stacks

+2

78
0
Bow
1

+(40–60)

% Attack Critical Strike Rating for this gear
Critical Strikes can eliminate enemies under

(8–10)

% Life
80
0
Two-Handed Sword
1

+(24–36)

% chance to deal Double Damage
80
0
Two-Handed Sword
1
Sprinkle
85
0
Two-Handed Sword
1

+(30–45)

% additional Attack Critical Strike Rating
80
0
Two-Handed Sword
1
Defeated enemies have a

30

% chance to explode, dealing Secondary Physical Damage equal to

20

% of its Max Life
80
0
Two-Handed Hammer
1

+(300–420)

Minion Critical Strike Rating
80
0
Two-Handed Hammer
1

+(24–36)

% chance to deal Double Damage
80
0
Two-Handed Hammer
1
Focused Strike
85
0
Two-Handed Hammer
1
Off The Beaten Track
85
0
Tin Staff
1
Max Focus Blessing Stacks

+2

78
0
Tin Staff
1
Max Synthetic Troop Minion Quantity

+1

84
0
Tin Staff
1

+30

% chance to gain a Barrier when Blocking
80
0
Tin Staff
1

+30

% Physique,

-27

% additional damage taken for 4s after consuming a total of

150

% Life.
78
0
Two-Handed Axe
1
Defeated enemies have a

30

% chance to explode, dealing Secondary Physical Damage equal to

20

% of its Max Life
80
0
Two-Handed Axe
1

+(24–36)

% chance to deal Double Damage
80
0
Two-Handed Axe
1
Open Wounds
85
0
Two-Handed Axe
1

+6

% additional Critical Strike Rating and Critical Strike Damage for every

5

% Spell Block Chance you have
80
0
Cudgel
1

+(40–60)

% Attack Critical Strike Rating for this gear


+10

% Skill Radius
80
0
Cudgel
1

+(24–36)

% chance to deal Double Damage
80
0
Cudgel
1

(-27–-21)

% Elemental Resistance and Erosion Resistance for Nearby enemies
80
0
Cudgel
1

+(5–6)

% damage per stack of any Blessing
80
0
Necklace
1

+(8–12)

% chance to deal Double Damage
80
0
Necklace
1

+(12–18)

% Aura Effect
75
0
Necklace
1

+1

% damage per

12

stats
80
0
Necklace
1

+(18–21)

% Elemental Resistance


+(18–21)

% Erosion Resistance
75
0
Ring
1

+(40–60)

% Critical Strike Damage
80
0
Ring
1

+(42–54)

% curse effect
75
0
Ring
1

+(56–72)

% Skill Radius
80
0
Ring
1
Restoration Skills:

+(20–30)

% Restoration Duration
75
0
Belt
1

+(21–33)

% Elemental Resistance


+40

% chance to avoid Elemental Ailment
75
0
Belt
1

+(16–24)

% Cooldown Recovery Speed
80
0
Belt
1

+1

% damage per

12

stats
80
0
Belt
1

20

% chance to gain Blur per

5

m you move
80
0
Pistol
1

+(30–45)

% Attack Speed and Movement Speed when there are no enemies Nearby
75
0
Pistol
1

+(228–295)

Attack Critical Strike Rating if you have gained Blur recently
80
0
Pistol
1

+(25–30)

% additional Projectile Damage


-20

% additional Projectile Speed
80
0
Pistol
1
Peculiar Vibe
85
0
Musket
1

+(30–40)

% additional Elemental Ailment Damage if you have dealt a Critical Strike recently
80
0
Musket
1
Each Ailment on target grants

+(50–60)

% Critical Strike Damage on hit
75
0
Musket
1

+(35–50)

% additional Critical Strike Rating for Elemental Attack Skills


-8

% additional Attack Speed
80
0
Musket
1
Fueling
85
0
Fire Cannon
1

+(24–36)

% chance for Area Skills to deal Double Damage
75
0
Fire Cannon
1

+(35–45)

% additional Projectile Damage


-20

% additional Projectile Speed
80
0
Fire Cannon
1
Max Tenacity Blessing Stacks

+2

78
0
Fire Cannon
1
Close Range Fire
85
0
Crossbow
1
Traumatized enemies will explode on defeat, dealing Secondary Physical Damage equal to

20

% of Max Life to nearby enemies
80
0
Crossbow
1
Attack Skills:

50

% chance to ignore Armor
84
0
Crossbow
1

+(30–45)

% additional Critical Strike Rating for Projectile Skills
80
0
Crossbow
1

+4

% Max Fire Resistance
84
0
STR Gloves
1

+(8–12)

% chance to deal Double Damage
80
0
STR Gloves
1

+(56–72)

% Fervor effect
80
0
STR Gloves
1

+1

% Critical Strike Damage and Movement Speed for every

3

points of Fervor Rating
80
0
STR Gloves
1

+(56–72)

% Fervor effect
80
0
DEX Gloves
1

+1

% Projectile Speed per

25

Dexterity
80
0
DEX Gloves
1

+4

% Max Lightning Resistance
84
0
DEX Gloves
1

+(8–12)

% chance to deal Double Damage
80
0
DEX Gloves
1

+(56–72)

% Fervor effect
80
0
INT Gloves
1

+1

% Skill Radius per

25

Intelligence
80
0
INT Gloves
1

+4

% Max Cold Resistance
84
0
INT Gloves
1

+(8–12)

% chance to deal Double Damage
80
0
INT Gloves
1

+(19–24)

% Blur Effect
80
0
STR Boots
1

+(31–40)

% Movement Speed
Own

1

additional stacks of Agility Blessing
80
0
STR Boots
1

+(16–24)

% Cooldown Recovery Speed
80
0
STR Boots
1

+4

% Max Fire Resistance
84
0
STR Boots
1

+(31–40)

% Movement Speed
Own

1

additional stacks of Agility Blessing
80
0
DEX Boots
1

+(16–24)

% Cooldown Recovery Speed
80
0
DEX Boots
1

+4

% Max Lightning Resistance
84
0
DEX Boots
1

+(19–24)

% Blur Effect
80
0
DEX Boots
1

+(31–40)

% Movement Speed
Own

1

additional stacks of Agility Blessing
80
0
INT Boots
1

+(16–24)

% Cooldown Recovery Speed
80
0
INT Boots
1

+4

% Max Cold Resistance
84
0
INT Boots
1

+(19–24)

% Blur Effect
80
0
INT Boots
1
You can cast

1

additional Curses
78
0
STR Chest Armor
1

+3

% Max Elemental Resistance
78
0
STR Chest Armor
1

+(12–18)

% Aura Effect
75
0
STR Chest Armor
1

+(114–147)

Attack Critical Strike Rating
80
0
STR Chest Armor
1
You can cast

1

additional Curses
78
0
DEX Chest Armor
1

+3

% Max Elemental Resistance
78
0
DEX Chest Armor
1

+(12–18)

% Aura Effect
75
0
DEX Chest Armor
1

+(114–147)

Attack Critical Strike Rating
80
0
DEX Chest Armor
1
You can cast

1

additional Curses
78
0
INT Chest Armor
1

+3

% Max Elemental Resistance
78
0
INT Chest Armor
1

+(12–18)

% Aura Effect
75
0
INT Chest Armor
1

+(114–147)

Spell Critical Strike Rating
80
0
INT Chest Armor
1

+(26–33)

% additional Barrier Shield
84
0
STR Helmet
1

+5

% Barrier Absorption Rate
80
0
STR Helmet
1

(-14–-9)

% additional damage dealt by Nearby enemies
80
0
STR Helmet
1

+4

% Max Fire Resistance
84
0
STR Helmet
1

+(16–24)

% Cooldown Recovery Speed
80
0
DEX Helmet
1

+5

% Barrier Absorption Rate
80
0
DEX Helmet
1

(-14–-9)

% additional damage dealt by Nearby enemies
80
0
DEX Helmet
1

+4

% Max Lightning Resistance
84
0
DEX Helmet
1

+(16–24)

% Cooldown Recovery Speed
80
0
INT Helmet
1

+5

% Barrier Absorption Rate
80
0
INT Helmet
1

(-14–-9)

% additional damage dealt by Nearby enemies
80
0
INT Helmet
1

+4

% Max Cold Resistance
84
0
INT Helmet
1

20

% chance to gain 1 stack of Tenacity Blessing when Blocking
80
0
STR Shield
1

+4

% Critical Strike Rating and Critical Strike Damage for every

5

% of Attack Block
80
0
STR Shield
1

+3

% Max Elemental Resistance
78
0
STR Shield
1

+(24–36)

% Aura Effect
75
0
STR Shield
1

+3

% Max Elemental Resistance
78
0
DEX Shield
1

+20

% chance to gain 1 stack of Agility Blessing when Blocking
80
0
DEX Shield
1

+1

% Attack Speed and Movement Speed for every

6

% of Attack or Spell Block
80
0
DEX Shield
1

+(24–36)

% Aura Effect
75
0
DEX Shield
1

+3

% Max Elemental Resistance
78
0
INT Shield
1

+20

% chance to gain 1 stack of Focus Blessing when Blocking
80
0
INT Shield
1

+1

% Cast Speed and Skill Radius for every

6

% of Spell Block
80
0
INT Shield
1

+(24–36)

% Aura Effect
75
0
INT Shield
1

-10

% additional Regain Interval
82
303
Claw
1

+(20–24)

% additional Attack Speed at Low Life
82
303
Claw
1

+(12–16)

% chance to deal Double Damage
82
303
Claw
1
Reaps

1

s of the DoT Damage when dealing DoT Damage. Interval:

6

s
82
204
Wand
1

+(12–16)

% chance to deal Double Damage
82
204
Wand
1

+(12–16)

% chance for Minions to deal Double Damage
82
204
Wand
1
For each Spell Skill used recently,

+4

% Attack Speed, up to

10

82
278
Cane
1

+(16–20)

% additional Projectile Damage


-20

% additional Projectile Speed
82
278
Cane
1

+(12–16)

% chance to deal Double Damage
82
278
Cane
1

+(20–24)

% chance to get Demolisher Charge when it is consumed
82
303
One-Handed Hammer
1

+(100–120)

% Critical Strike Damage


-96

% Skill Radius
82
303
One-Handed Hammer
1

+(12–16)

% chance to deal Double Damage
82
303
One-Handed Hammer
1

+(70–80)

% Affliction effect
82
256
Sacrificial Blade
1

+(16–20)

% additional Critical Strike Rating against enemies affected by Ailment
82
256
Sacrificial Blade
1

+(12–16)

% chance to deal Double Damage
82
256
Sacrificial Blade
1

+(14–16)

% additional Critical Strike Rating
82
323
One-Handed Sword
1

+1

% Attack Speed and Movement Speed for every

7

% of Attack or Spell Block
82
323
One-Handed Sword
1

+(12–16)

% chance to deal Double Damage
82
323
One-Handed Sword
1

+(180–204)

Attack Critical Strike Rating against Traumatized enemies
82
312
One-Handed Axe
1

1.5

% Movement Speed per

1000

Life recently consumed
82
312
One-Handed Axe
1

+(12–16)

% chance to deal Double Damage
82
312
One-Handed Axe
1
Shadow Quantity

+1




+(40–50)

% Shadows Tracking Radius
82
312
Dagger
1

+(14–16)

% additional Critical Strike Rating
82
312
Dagger
1

+(12–16)

% chance to deal Double Damage
82
312
Dagger
1
Max Focus Blessing Stacks

+(1–2)


Max Agility Blessing Stacks

+(1–2)

82
323
Bow
1
Rapid Shots
82
108
Bow
1

+(27–32)

% chance to deal Double Damage
82
323
Bow
1

+(16–20)

% Critical Strike Damage per recent Critical Strike, up to

10

stacks
82
286
Two-Handed Sword
1
Sprinkle
82
95
Two-Handed Sword
1

+(27–32)

% chance to deal Double Damage
82
286
Two-Handed Sword
1

+(310–400)

Minion Critical Strike Rating
82
263
Two-Handed Hammer
1
Focused Strike
82
88
Two-Handed Hammer
1

+(27–32)

% chance to deal Double Damage
82
263
Two-Handed Hammer
1
Max Focus Blessing Stacks

+(1–2)


Max Tenacity Blessing Stacks

+(1–2)

82
238
Tin Staff
1
Off The Beaten Track
82
79
Tin Staff
1

+(27–32)

% chance to deal Double Damage
82
238
Tin Staff
1
+30% Physique, -30% additional damage taken for 4s after consuming a total of

50

% Life.
82
333
Two-Handed Axe
1
Open Wounds
82
111
Two-Handed Axe
1

+(27–32)

% chance to deal Double Damage
82
333
Two-Handed Axe
1

+7

% additional Critical Strike Rating and Critical Strike Damage for every

5

% Spell Block Chance you have
82
303
Cudgel
1

+50

% all stats


-20

% gear Attack Speed
82
303
Cudgel
1

+(27–32)

% chance to deal Double Damage
82
303
Cudgel
1

+(13–16)

% Aura Effect
82
179
Necklace
1

+1

% damage per

12

stats
82
179
Necklace
1

+(7–8)

% chance to deal Double Damage
82
179
Necklace
1

+(31–40)

% Critical Strike Damage
82
204
Ring
1

+(12–15)

% Elemental Resistance


+(12–15)

% Erosion Resistance
82
204
Ring
1

+(37–48)

% Skill Radius
80
204
Ring
1

+(15–18)

% Elemental Resistance


+20

% chance to avoid Elemental Ailment
82
244
Belt
1

+(10–12)

% Cooldown Recovery Speed
82
244
Belt
1

+1

% damage per

12

stats
82
244
Belt
1

+(14–16)

% additional Critical Strike Rating
82
270
Pistol
1

50

% chance to gain Blur per

5

m you move
82
270
Pistol
1

+(12–16)

% chance to deal Double Damage
82
270
Pistol
1
Each Ailment on target grants

+(25–32)

% Critical Strike Damage on hit
82
303
Musket
1
Peculiar Vibe
82
101
Musket
1

+(27–32)

% chance to deal Double Damage
82
303
Musket
1
Max Focus Blessing Stacks

+(1–2)


Max Tenacity Blessing Stacks

+(1–2)

82
303
Fire Cannon
1
Fueling
82
101
Fire Cannon
1

+(27–32)

% chance to deal Double Damage
82
303
Fire Cannon
1
Attack Skills:

50

% chance to ignore Armor
82
303
Crossbow
1
Close Range Fire
82
101
Crossbow
1

+(27–32)

% chance to deal Double Damage
82
303
Crossbow
1
Have Fervor
82
90
STR Gloves
1

+3

% Max Fire Resistance
80
270
STR Gloves
1

+(7–8)

% chance to deal Double Damage
82
270
STR Gloves
1
Have Fervor
82
88
DEX Gloves
1

+3

% Max Lightning Resistance
80
263
DEX Gloves
1

+(7–8)

% chance to deal Double Damage
82
263
DEX Gloves
1
Have Fervor
82
83
INT Gloves
1

+3

% Max Cold Resistance
80
250
INT Gloves
1

+(7–8)

% chance to deal Double Damage
82
250
INT Gloves
1

+(10–12)

% Cooldown Recovery Speed
82
312
STR Boots
1

+(13–16)

% Blur Effect
82
312
STR Boots
1
Own

1

additional stacks of Tenacity Blessing
82
104
STR Boots
1

+(10–12)

% Cooldown Recovery Speed
82
303
DEX Boots
1

+(13–16)

% Blur Effect
82
303
DEX Boots
1
Own

1

additional stacks of Agility Blessing
82
101
DEX Boots
1

+(10–12)

% Cooldown Recovery Speed
82
294
INT Boots
1

+(13–16)

% Blur Effect
82
294
INT Boots
1
Own

1

additional stacks of Focus Blessing
82
98
INT Boots
1
You can cast

1

additional Curses
82
83
STR Chest Armor
1

+2

% Max Elemental Resistance
82
250
STR Chest Armor
1

+(13–16)

% Aura Effect
82
250
STR Chest Armor
1
You can cast

1

additional Curses
82
85
DEX Chest Armor
1

+2

% Max Elemental Resistance
82
256
DEX Chest Armor
1

+(10–12)

% Aura Effect
82
256
DEX Chest Armor
1
You can cast

1

additional Curses
82
83
INT Chest Armor
1

+2

% Max Elemental Resistance
82
250
INT Chest Armor
1

+(13–16)

% Aura Effect
82
250
INT Chest Armor
1

+(10–12)

% Cooldown Recovery Speed
82
238
STR Helmet
1

+3

% Max Fire Resistance
80
238
STR Helmet
1

(-10–-8)

% additional damage dealt by Nearby enemies
82
238
STR Helmet
1

+(10–12)

% Cooldown Recovery Speed
82
233
DEX Helmet
1

+3

% Max Lightning Resistance
80
233
DEX Helmet
1

(-10–-8)

% additional damage dealt by Nearby enemies
82
233
DEX Helmet
1

+(10–12)

% Cooldown Recovery Speed
82
222
INT Helmet
1

+3

% Max Cold Resistance
80
222
INT Helmet
1

(-10–-8)

% additional damage dealt by Nearby enemies
82
222
INT Helmet
1

+3

% Max Elemental Resistance
82
263
STR Shield
1

+3

% Critical Strike Rating and Critical Strike Damage for every

5

% of Attack Block
82
263
STR Shield
1

+(26–32)

% Aura Effect
82
263
STR Shield
1

+3

% Max Elemental Resistance
82
250
DEX Shield
1

+1

% Attack Speed and Movement Speed for every

7

% of Attack or Spell Block
82
263
DEX Shield
1

+(26–32)

% Aura Effect
82
250
DEX Shield
1

+3

% Max Elemental Resistance
82
263
INT Shield
1

+1

% Cast Speed and Skill Radius for every

3

% of Spell Block
82
263
INT Shield
1

+(26–32)

% Aura Effect
82
263
INT Shield
Craft - Prototype Crafting - Help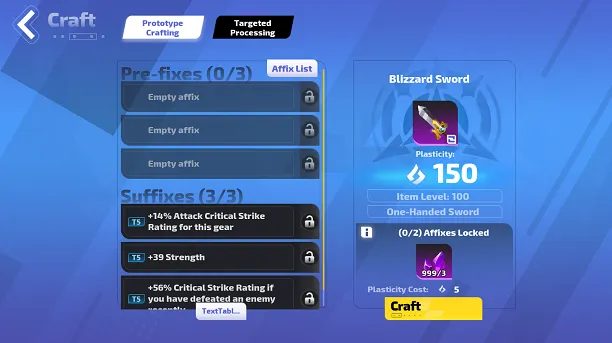 Prototype Crafting can lock specific gear affixes while randomly assigning others.
As the gear level increases, higher-level affixes may be generated.
Craft - Targeted Processing - Help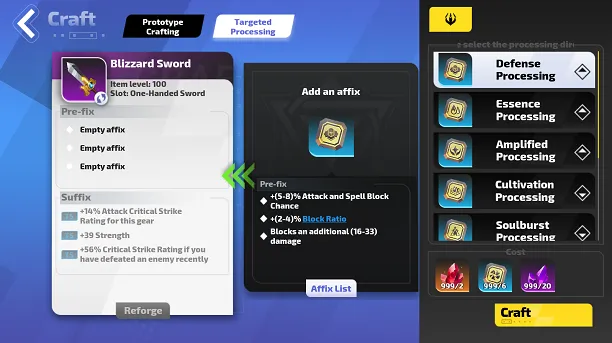 Targeted Processing can add certain affix categories to gear more precisely.
Craft - Greater Ember - Help
When a gear has 4 affixes (enchantments not included), using greater embers on it has a chance to further increase the number of affixes.
Craft - Ultimate Ember - Help
When a piece of gear has 6 affixes (enchantments not included), using Ultimate Ember on it can randomly replace >pre-fixes> with special affixes.>
Craft - Restless Ember - Help
When a gear has 6 affixes (enchantment affixes not included), use Restless Embers to randomly replace a >Suffix> with a special affix.>